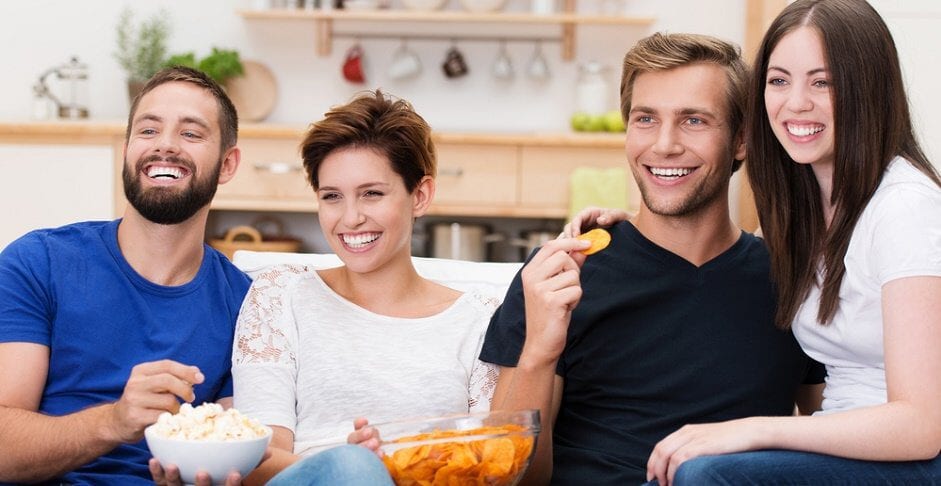 Tips: Show Football Fans the Power of NutriVerus™ at the Big Game Party
If you're hosting a party this Sunday for the Big Game, Mannatech has a few last minute recipes that you can whip up with an extra dose of nutrition through our NutriVerus powder. NutriVerus is a whole-food supplement of real vitamins, minerals, glyconutrients and antioxidants, made with stabilized rice bran and organic fruits and vegetables. This supplement addresses your nutritional needs by filling in where your diet may stop short. If Game Day falls on your diet "cheat day," try the following recipes without sacrificing flavor and just add NutriVerus for a winning combo.
If you're participating in our Refresh and Rejuvenate 30-Day Purification Program, read our tips for how to attend a party and still eat and enjoy yourself.
Note: We recommend that all produce and canned items be organic.
Layered Bean Dip
1 16-ounce can nonfat, low sodium refried beans
1 15-ounce can low sodium black beans, rinsed
2 Scoops NutriVerus
4 scallions, sliced
1/2 cup prepared salsa
1/2 teaspoon ground cumin
1/2 teaspoon chili powder
1/4 cup pickled jalapeño slices, chopped
1 cup shredded Monterey Jack, or Cheddar cheese
1/2 cup non-fat Greek yogurt
1 1/2 cups chopped romaine lettuce
1 medium tomato, chopped
1 medium avocado, chopped
1/4 cup canned sliced black olives, (optional)
Instructions: Combine refried beans, black beans, scallions, salsa, cumin, chili powder, NutriVerus powder and jalapeños in a medium bowl. Transfer to a shallow 2-quart dish; sprinkle with cheese. Spread non-fat Greek yogurt evenly over the bean mixture, then scatter with lettuce, tomato, avocado and olives.
---
Nutri-Licious Guacamole
1 scoop NutriVerus powder
2 large, ripe avocados
2 tablespoons fresh lemon juice
¼ teaspoon sea salt
½ teaspoon garlic powder
Instructions: Mash avocados and combine remaining ingredients with avocado mixture, mixing well.
Tips: Serve with baked or gluten-free tortilla chips.
---
Vegetable Dip
1 scoop NutriVerus powder
2 cups plain Greek yogurt
1 cup minced spinach
2 tablespoons minced onion or ½ teaspoon onion powder
½ teaspoon dried dill
¼ teaspoon sea salt
Fresh vegetables of your choice
Instructions: Combine ingredients and stir well.
Tips: Serve with fresh vegetables like carrots, celery, cucumbers, red peppers, broccoli and cherry tomatoes.
---
Fried Chicken
3 medium chicken breasts (free range)
2 eggs
1 cup almond flour
1 teaspoon garlic powder
½ teaspoon salt
½ teaspoon pepper
2 cups coconut oil for cooking
Instructions: Cut chicken in to strips or nugget size. Beat eggs in large bowl or container. Add chicken strips and toss well. In another bowl, mix almond flour, garlic powder, salt and pepper. Heat coconut oil in a large skillet over medium high heat. Once oil is hot, coat chicken in egg mixture and then dredge in almond flour mixture and place in pan. Cook 3-4 minutes per side or until golden brown and cooked through. Remove from pan and keep in oven to keep warm while additional batches are cooking. Once all are cooked through, sprinkle with additional salt and pepper.
Tips: Try a few dashes of Tabasco® for some kick!
---
Ranch Dipping Sauce
1 1/2 cups plain organic Greek yogurt
1/2 teaspoon dried chives (or 1 1/2 teaspoons fresh chives)
3/4 teaspoon dried parsley
1/4 teaspoon dried dill weed
1/4 teaspoon garlic powder
1/4 teaspoon onion powder
1/4 teaspoon black pepper
1/8 teaspoon sea salt
1 scoop NutriVerus
Instructions: Mix all the ingredients together, and serve! To make the dip into dressing, add almond milk to the prepared dip one tablespoon at a time, whisking until you reach the desired consistency. Store unused dip in an airtight container in the fridge.
---
Your friends are sure to love these game-winning NutriVerus recipes. What other dishes have you served NutriVerus with?