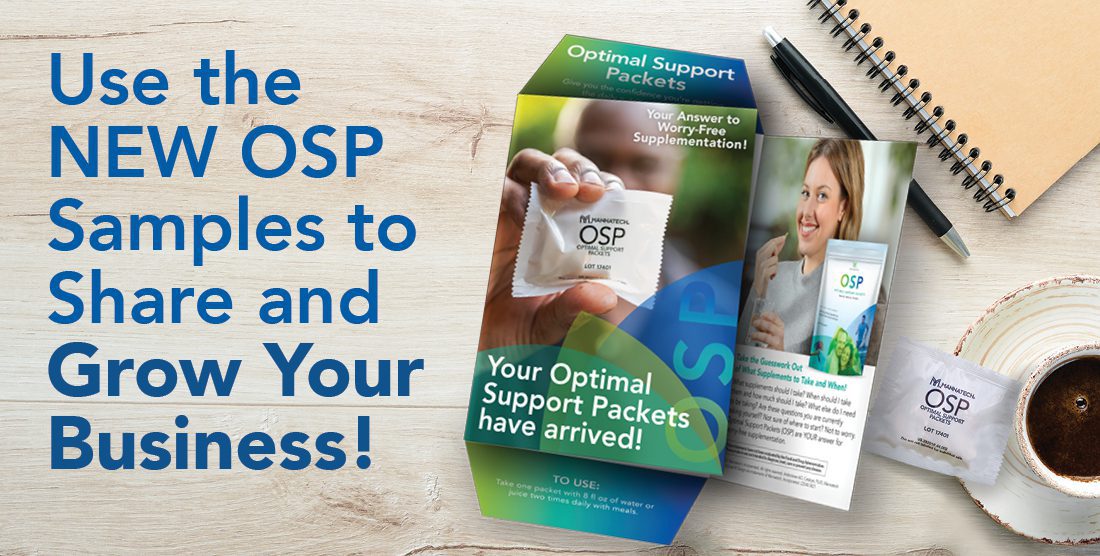 Use the NEW OSP Samples to Share and Grow Your Business!
We are excited to share with you that we have expanded our sampling program to now include Optimal Support Packets (OSP)!
 The sampling program can be a great way to not only create interest, but it also gets new customers started on their wellness journey. Use your Mannatech+ Microsite to invite your social media followers to try OSP for just the cost of $5.95 in S/H. For this purchase price, they get two full days of OSP. Or, you can purchase credits yourself to send OSP samples through the Mannatech+ system to potential prospects.
Reach out to people who used to buy Ambrotose AO®, PLUS™ or Catalyst™ Multivitamin products from you and let them experience the convenience of the OSP packets. In addition to the new OSP samples, our sampling program also includes EMPACT+®, Ambrotose LIFE®, GlycoCafe®, and TruPLENISH™ samples. Your business will grow as you share these samples!
To take advantage of the sampling system, you must have an active US-based Mannatech+ subscription. If you have not subscribed to Mannatech+, log into your Mannatech.com Back Office and select a subscription level (FREE for Lite, $9.95/mo. for Premium Success Tracker or $19.95/mo. for Premium with Success Tracker). Samples are available to BOTH Lite and Premium subscribers.
Additionally:
You will have a personalized FREE Sample Request website through which people can request samples (they pay $5.95 S&H). Samples will be sent out on your behalf. This is a NO COST way for you to share samples with the customer paying for the Shipping and Handling.
We will mail sample packs to your prospective customers† for $5.95 each.
Everyone likes to try something for free, so this is the perfect opportunity to have them try Mannatech!
Build your business with these low-cost samples!
†Valid for US mailing addresses only.