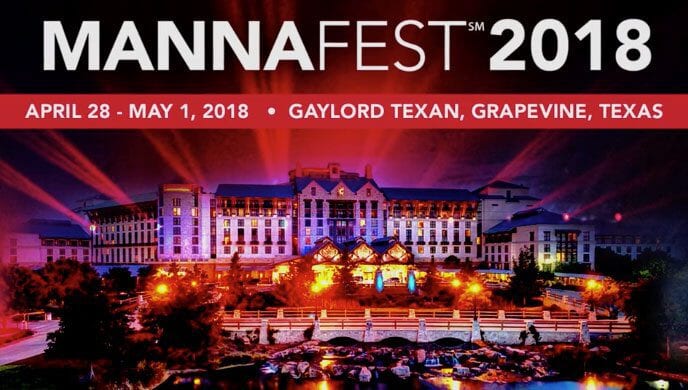 Be Part of History with Our Biggest Product Launch Ever! (中文 / Español)
Mannafest 2018 will feature the biggest product launch in company history, with special product training by Dr. Nugent, Joel Bikman, and your Global Scientific Advisory Board. This year will be extra special as we:
Introduce the biggest product launch in history (made available first to MannaFest attendees 30-60 days in advance of local market launches)
Learn sale strategies and goal setting from keynote speaker Brian Tracy
Provide life-changing business and product training for every level of experience
Celebrate M5M's successes in nourishing children around the world
Enjoy entertainment from the world-famous Emerald City Band
Honor new Rank Up positions in a new, exciting way
Enjoy the storefront with specific event specials
Use our new app that allows you to place orders from your phone for later pick-up – you won't miss a minute of mainstage!
Provide tours of our new headquarters — including our new-and-improved Recognition Hall of Fame
Feature speakers from all leadership levels and they will be sharing their stories and their successes for all to be inspired and take action
Register now at MannaFest.com and reserve your room at the Gaylord Texan before our specially-priced block of rooms sells out. Call 877-491-5138 (toll free).
We can't wait to see you there!
---
Mannafest 2018 大会将成为公司有史以来规模最盛大的一次产品发布会,届时 Nugent 博士、Joel Bikman 和全球科学咨询委员会将进行特殊的产品培训。今年将不同以往,因为我们将:
举行史上规模最盛大的产品发布会(MannaFest 大会出席者将比各地市场提前 30-60 天获得产品)
主题发言人 Brian Tracy 将讲授销售策略和目标设定
向各个级别的人员提供不断改变生活的业务和产品培训
庆祝 M5M 在为全球儿童提供营养补剂方面取得的成功
欣赏全球知名乐队翡翠城 (Emerald City ) 带来的精彩演出
以激动人心的全新方式嘉奖新晋级的经销商
享受门店特惠
使用我们的新应用程序先通过手机下单稍后再提货,这样您就不会错过主会场精彩的每一刻!
参观美泰新总部 – 包括焕然一新的荣誉名人堂
将安排各个级别的领导人上台演讲,分享他们的感人故事和成功经历,激发所有人的热情并付诸行动
立即访问 MannaFest.com 注册并在我们的特价客房售罄之前预订自己的房间。致电 877-491-5138(免费电话)。
我们热切期待您到时出席大会!
---
Mannafest 2018 presentará el lanzamiento de producto más grande en la historia de la compañía, y contará con entrenamiento especial del producto por parte de Dr. Nugent, Joel Bikman y el Consejo Asesor Científico Global. Este año será extra especial, debido a que:
Presentaremos el lanzamiento de producto más grande en la historia (disponible primero para los asistentes a MannaFest, con de 30 a 60 días de anticipación respecto al lanzamiento en los mercados locales)
Aprenderemos sobre estrategias de negocios y establecimiento de metas del presentador principal, Brian Tracy
Ofreceremos entrenamiento de producto y negocio que cambiará tu vida, y diseñado para cada nivel de experiencia
Celebraremos los éxitos de M5M de alimentar a niños alrededor del mundo
Disfrutaremos a la mundialmente famosa Emerald City Band
Reconoceremos a las nuevas posiciones de quienes han subido de nivel, de una forma nueva y muy emocionante
Disfrutaremos la tienda con ofertas especiales para el evento
Usaremos nuestra nueva aplicación que permite levantar pedidos en el teléfono para que los recojas después, ¡así no te perderás ni un minuto de las presentaciones en el escenario!
Ofreceremos recorridos guiados de nuestra nueva sede – ¡lo que incluye en nuevo y mejorado Salón de la Fama!
Tendremos oradores en todos los niveles de liderazgo y ellos compartirán sus historias y sus éxitos para inspirar a todos y ponerlos en acción
Regístrate hoy en MannaFest.com y reserva tu habitación en el Gaylord Texan antes de que se agoten las habitaciones con el precio especial. Llama al 877-491-5138 (línea gratuita).
¡No podemos esperar a verte en MannaFest!