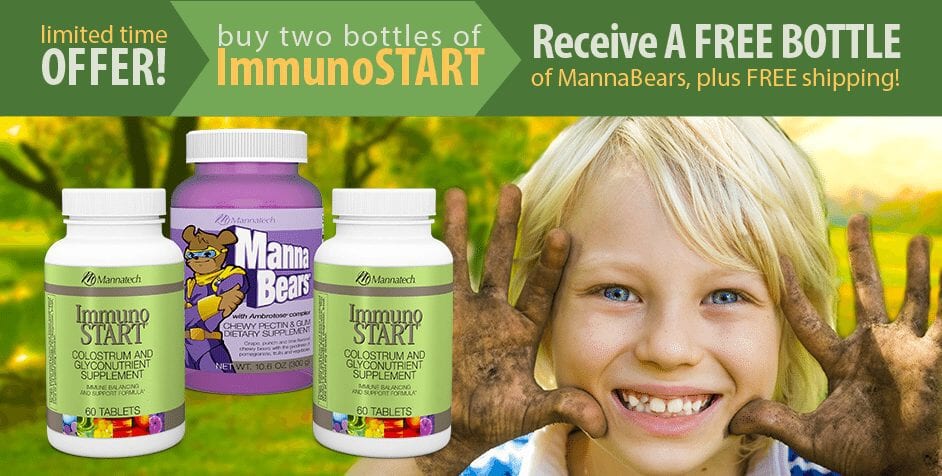 Buy 2 Bottles of ImmunoSTART®, Get 1 FREE Bottle of MannaBears™ and FREE SHIPPING
As summer comes to a close and the fall approaches, we're offering you the support your immune system needs with our ImmunoSTART promotion!
Between August 10 and September 25, when you buy two bottles of ImmunoSTART, you'll receive one FREE bottle of MannaBears and FREE ground shipping on your entire order.
Take advantage of all that ImmunoSTART has to offer you and your family to keep your immune system fully supported. ImmunoSTART:
Supports a healthy immune system*
Primes the immune system*
Features a targeted array of nutrients to build and nurture immune system health*
Provides peptides, amino acids and glycoproteins designed to stimulate immune responses*
The only nutritional supplement with a proprietary chewable formula containing colostrum, lactoferrin, β-glucan and modified citrus pectin*
Supplies natural antibodies*
Be sure to order your ImmunoSTART today to keep your immune system fully-supported throughout the coming winter months.
Order item #90101. Associate Price: $76.99/APO $13.80. Member Price: $80.99/APO $2.50. Retail Price: $84.99. U.S. one-time orders and Canada NFR orders only.