90 Days to Ūth™ Contest Period 2 Winner Announced, Rewards Include Great Skin, Cash
The second period of our 90 Days to Ūth Contest has come to a close and we are excited to announce our second winner.
Congratulations to Mark Wettler and his sponsor and enroller, Qun Liu, both from California. Mark and Qun have each won $500 cash and the chance to win a free trip to #MannaFest2016 and a three-day getaway.
Mark says:
"My wife has been using Ūth for over a year and got me interested in becoming an Associate when she took me along with her to MannaFest℠ 2015.
I have been taking Mannatech's nutritional products, but never really thought I would be selling beauty products. A potential client challenged me by saying that if I use the anti-aging Ūth Rejuvenation Crème on one side of my face and she can see the difference right to left, then she might purchase Mannatech products.
My wife took a photo July 21 and, after a month, I noticed the crow's feet wrinkles are not as deep on the right side as on the left side of my face.
At the LA Super Regional event, Mannatech Skincare Director Tammie Mayer inspired me to do the 90 Days to Ūth Contest. My pictures and video show the progress made after 90 days of using the Rejuvenation Crème on the right side of my face."
See Mark's pictures below to see the 90-day difference on the right side of his face. And watch his video here, which demonstrates the difference between the right and left sides of his face.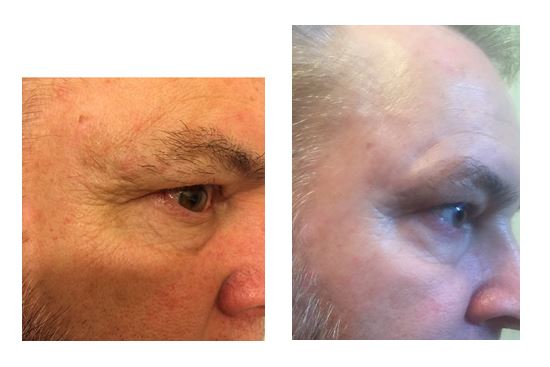 Although the second period of the contest is over, there's still one chance left to enter the last qualifying period, which is going on now through March 31, 2016.
How do you enter?
All you have to do is take two selfies: one before the use of our Generation Ūth Skincare System and the second when you start seeing visible results. Even if you've been using the Generation Ūth Skincare System before the contest, you can still enter! We estimate best results to show after approximately 90 days of using the products. But if you start seeing noticeable results sooner, go ahead and take your second picture and show off your youth! Send both photos with a written or video story about your experience using the product to uthpictures@mannatech.com.
A grand prize winner will be selected on March 31, 2016 and introduced on-stage at the Global #MannaFest2016 event held April 6-10, 2016 in Dallas, Texas. This winner will receive their trip to MannaFest 2016 completely free as well as a three-day getaway with a friend or loved one.
To read all of the Contest Rules & Regulations, please click here.
Watch this video to learn how to take the perfect selfie for the contest.