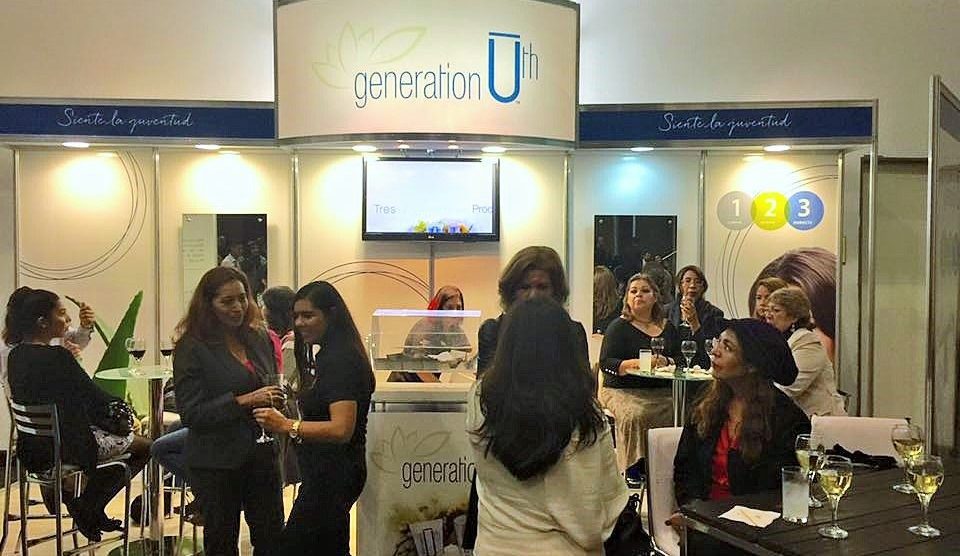 Generation Ūth™ System Mexico Launch Met with Great Enthusiasm
On Saturday, December 5, Mannatech launched the new Generation Ūth Skincare System to the Mexico market to a full house of Associates at a leadership training event. The Foro de Líderes Renovación event was held at the Hotel Presidente Intercontinental in Guadalajara, Jalisco, Mexico.
Mannatech CEO and President, Al Bala, as well as Mannatech Co-Founder and Double Platinum Presidential Director, Ray Robbins, spoke at the event, recognizing and encouraging leaders to share the Mannatech opportunity and products with everyone in their lives. Mannatech's Sales Director of Hispanic Markets, Olga Zamudio, and Director of Skincare Sales, Tammie Mayer, shared product details and business training with attendees on how to use the Generation Ūth Skincare System to grow their Mannatech businesses.
The Generation Ūth Skincare System is comprised of three products that work together to support beautiful-looking skin. The first product in the system is the Ūth Facial Cleanser, which gently cleanses and exfoliates the face and neck. The cleanser contains milled grape seed and Jeunesse 7, a proprietary, French mineral blend of ingredients that can play an important role in maintaining healthy, younger-looking skin. The second product to apply is the nutrient-rich Ūth Rejuvenation Crème to help restore a youthful appearance. This crème is gluten and paraben-free and uses Mannatech's unique microsphere delivery system that is designed to penetrate the deepest layers of the skin, to help stimulate collagen production. Finally, lock in daily hydration with the Ūth Moisturizer, which treats the skin with the finest natural ingredients to reduce the appearance of fine lines and wrinkles and leave radiant-looking skin.
"The Generation Ūth Skincare System has been anxiously awaited by the Mexico market since its launch in the U.S. earlier this year," said Mannatech CEO and President, Al Bala. "We are thrilled to finally launch this product in a market that is so passionate about excellent skincare. I believe that this system will revolutionize the way our Associates do business in Mexico and will transform a way of thinking in regards to safe and results-oriented skincare products."
Event attendees were the first to be able to purchase a Generation Ūth Skincare System. The Mexico market has also introduced FIRM with Ambrotose® body cream as an additional new skincare product. FIRM is a rich, botanically-based, paraben-free body cream containing special conditioning ingredients such as milk thistle extract and aloe vera.
For more information on Mannatech Mexico, please visit the Mannatech Mexicol Facebook page. To learn more about the GenerationŪth Skincare System, please visit the Mannatech website.