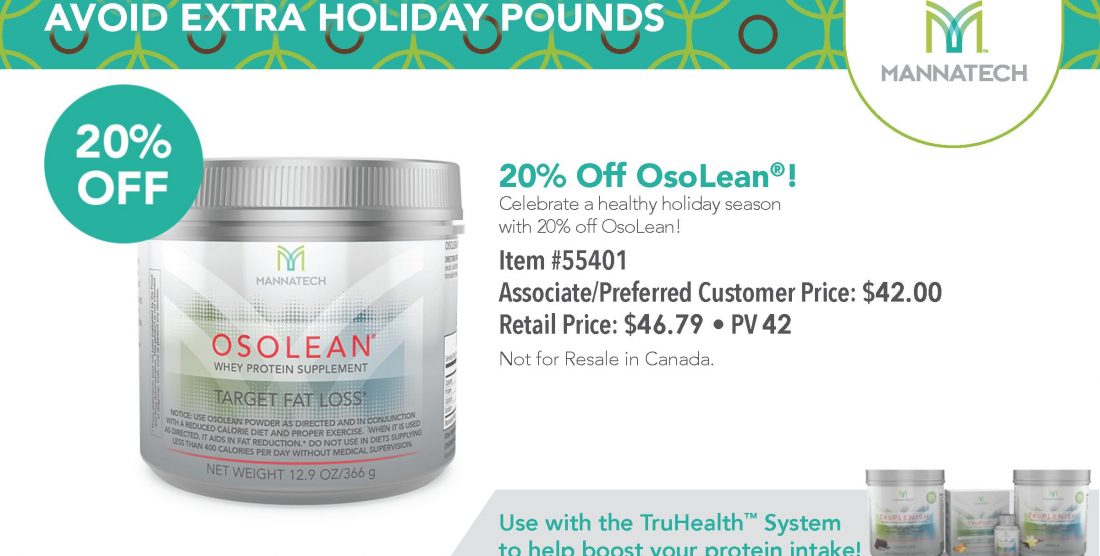 Get 20 Percent Off OsoLean To Help Sustain Strength, Metabolism
Get one of Mannatech's most effective tools in your battle against fat* with OsoLean at a 20 percent discount, while supplies last. Click HERE to order now, while supplies last!
Sometimes when you lose weight, you're also losing precious muscle. Fight flab and maintain lean muscle with our clinically proven OsoLean whey protein supplement.  OsoLean can help you sustain a high metabolism and body strength.*†
This special is Item #55401. Associate/Preferred Customer Price: $42.00; Retail Price: $46.79; PV 42. Available in the U.S. Not for Resale in Canada. This promotion is available for one-time orders only and is redeemable with loyalty points.
At Mannatech, we believe in providing high quality weight management solutions that can help you to achieve your personal health goals; and now is a great time to take action!
OsoLean powder is a leucine-rich whey protein supplement with advanced peptide technology. This gold standard product is backed by two human clinical trials, one of which was a double-blind, placebo-controlled trial, the best type of trial possible. These studies, conducted on 169 overweight subjects ranging in age from 18-75 years, showed that consuming a reduced calorie diet and two servings of OsoLean powder (20 g/day leucine-rich whey protein [2.6 g leucine] and 500 mg calcium) supported fat loss while protecting against muscle loss.*1,2
† When combined with a healthy diet and regular exercise.
1. Frestedt, J.L., Zenk, J.L., Kuskowski, M.A., et al. Nutr Metab (Lond) 2008; 5(8): 1-17.2. Sinnott, R.A., Maddela, R.L., Nelson, E.D., et al. Open Nutraceuticals J 2009; 2: 36-