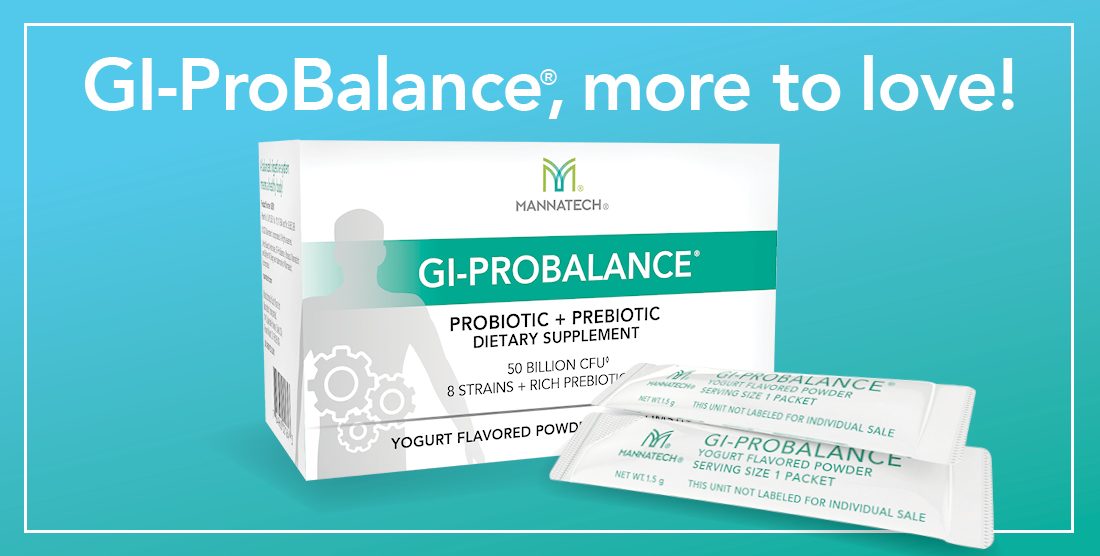 GI-ProBalance formula is even better
We know you love GI-ProBalancee® slimsticks. Now there are more great benefits in each slimstick, at the same great price!
GI-ProBalance is one of our best-selling products and we have made it even better. Now you can enjoy a new and improved formula, offering powerful benefits such as increased shelf life, more probiotic strains and increased CFUs, to name a few.
With this new and improved formula, you will enjoy these added benefits:
CFU increased to 50 billion (previously 15 billion)
Guaranteed 8.5 Billion CFU at time of expiration (previously 1.5 billion)
Additional 2 probiotic cultures: Bifidobacterium lactis and Bifidobacterium casei
Shelf life increased to 18 months (previously 12 months)
Maltodextrin Removed
Added Manapol® powder, AmbroGuard® and additional prebiotic fibers/Glyconutrients (prebiotic fibers "feed" the probiotic bacteria)
Mannatech cares for your health. That's why when we see an opportunity to make a great product even better, we feel it's a necessity.
**The new and improved GI-ProBalance (New SKU 18601) formula is currently available for purchase in the U.S. and NFR Canada.
---
美泰益生菌粉新配方更加完善
我们知道您喜欢美泰益生菌粉。现在,同样的价格可以享受这个益生菌粉条带来的更多的益处!
美泰益生菌粉是我们最畅销的产品之一,我们使其变得更加完善。现在我们改进了该产品原来的配方,以便大家可以享受更多的强大益处,例如延长产品保质期、更多的益生菌菌株和更多的菌落形成单位 (CFU),等等。
通过此次改进,您将在不增加额外费用的情况下获得更多益处:
CFU 提高到 500 亿(先前为 150 亿)
保证在到期时仍有 85 亿 CFU(先前为 15 亿)
增加 2 种益生菌:乳酸双歧杆菌和干酪双歧杆菌
保质期增加到 18 个月(先前为 12 个月)
去除了麦芽糖糊精
添加美泰醣质芦荟萃取粉、AmbroGuard® 和其他益生元纤维/醣质营养素(益生元纤维为益生菌提供营养)
美泰一直注重呵护您的健康。这就是为何我们抓住一切机会让优质的产品更至臻完善,因为我们相信,不断的改进是势在必行的。
**全新升级配方的美泰益生菌GI-Problance(新产品编号SKU 18601)已经可以在美国和加拿大(加拿大不得转售)购买了。
---
La fórmula de GI-ProBalance ahora es mejor que nunca
Sabemos que te encantan los paquetes individuales GI-ProBalanceÒ slimsticks ¡Ahora hay más beneficios maravillosos en cada paquete individua, al mismo gran precio!
GI-ProBalance es uno de nuestros productos de mejor venta, y ahora es incluso mejor. Ahora puede disfrutar de una fórmula mejorada que ofrecerá poderosos beneficios adicionales como un incremento en la vigencia del producto, más cadenas probióticas y más Unidades Formadoras de Colonias (CFU, por sus siglas en inglés), por mencionar solo algunos.
Con esta actualización, disfrutarás de estos beneficios adicionales sin costo adicional:
Las CFU se incrementan a 50,000 millones (previamente eran 15,000 millones)
8,500 millones de CFU garantizadas al momento de la expiración
2 cultivos probióticos adicionales: Bifidobacterium lactis y Bifidobacterium casei
La vigencia del producto se incrementa a 18 meses (previamente era de 12 meses)
Se elimina la maltodextrina
Hemos agregado el polvo Manapol® polvo, AmbroGuard y fibras prebióticas/Gliconutrientes adicionales (las fibras prebióticas "alimentan" la bacteria probiótica)
A Mannatech le importa tu salud. Es por eso que cuando vemos una oportunidad de hacer que un maravilloso producto sea todavía mejor, lo tomamos como una necesidad.
**La nueva y mejorada fórmula de GI-ProBalance (SKU Nuevo 18601) actualmente está disponible para su compra en EE. UU. y No Para Reventa en Canadá.
---
더 좋아진 GI-ProBalance
GI-ProBalanceÒ 슬림스틱은 많은 분들의 사랑을 받고 있습니다. 이제 각 슬림스틱에 더 많은 이점이 생겼습니다!
GI-ProBalance는 매나테크의 베스트셀러 제품 중 하나로 이제 더 향상된 모습으로 출시됩니다. 현재의 제조 방식을 개선해 유통 기한을 늘리고, 프로바이오틱스 균주를 추가하고, CFU를 증가시키는 등의 강력한 이점을 제공하게 되었습니다.
이번 업데이트를 통해 다음과 같이 더 많아진 이점을 즐길 수 있게 되었습니다.
500억개로 증가된 CFU(이전에는 150억 개)
유통 기한 만료까지 85억개의 CFU 보장(이전에는 15억 개)
프로바이오틱스 배양균 2개 추가: 비피도박테리움 락티스 및 비피도박테리움 카세이
18개월로 늘어난 유통기한(이전에는 12개월)
말토덱스트린 제거
Manapol® 파우더, AmbroGuard® 및 프리바이오틱 섬유/글리코뉴트리션 (프로바이오틱 박테리아의 "먹이"가 되는 프리바이오틱 섬유) 추가
매나테크는 여러분의 건강을 생각합니다. 때문에 더 나은 제품을 만들 수 있는 기회가 있다면 놓치지 않아야 한다고 믿습니다.
**새롭게 향상된 GI-ProBalance는 미국과 NFR 프로그램을 통해 캐나다에서 구매가 현재 가능합니다.