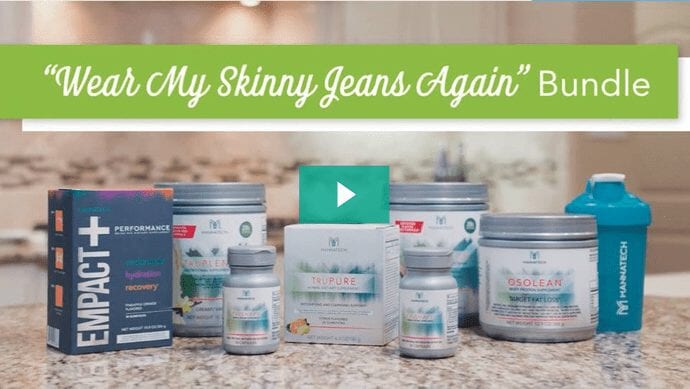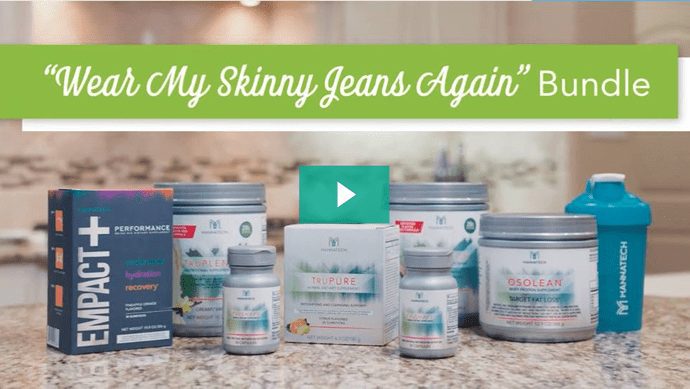 Introducing the "Wear My Skinny Jeans Again" Bundle! *† (Video) (Español)
You probably have a pair folded away in your closet somewhere – those jeans that used to fit just right, but don't anymore. But you hang on to them, because getting rid of them would mean that you are giving up on your dream of ever fitting into them again. Don't give up hope, we can help!
We're excited to introduce our new TruHealth™ product bundle, the "Wear My Skinny Jeans Again" bundle. We're providing extra help and motivation for losing fat in 2018 with this new bundle that combines the very best fat-loss products Mannatech has to offe*†:
(2) canisters of TruPLENISH™ nutritional shakes
(1) box of TruPURE® cleanse slimsticks
(1) bottle of TruSHAPE™ fat-loss capsules
(1) canister of OsoLean® powder
(1) box of EMPACT+™ performance drink mix
(1) FREE Shaker bottle
It is available now for only $299.99 (Associate / Preferred Customer) through March 31, 2019 – while supplies last! So, stop dreaming and start achieving! You'll be wearing those jeans again!
(Retail price $377.94; PV 300; SKU# 81401).  20% Loyalty points with purchase (one-time and Auto Orders). Not for resale in Canada.
†When combined with a reduced calorie diet and exercise.
---
Presentamos el paquete "Vestir mis ajustados pantalones vaqueros otra vez"*†
Probablemente tienes un par guardado en tu armario…  esos pantalones vaqueros que te quedaban tan bien, pero ya no. Pero los guardaste, debido a que deshacerte de ellos significaría que renuncias a tu sueño de volver a usarlos otra vez. No renuncies a tu sueño, ¡te podemos ayudar!
Estamos muy entusiasmados de presentar nuestro paquete de productos TruHealth™, el paquete "Vestir mis ajustados pantalones vaqueros otra vez". Estamos ofreciendo ayuda y motivación extras para perder grasa en 2018 con este nuevo paquete que combina los mejores productos de pérdida de grasa que Mannatech tiene para ofrecer*†:
(2) botes de malteadas nutricionales TruPLENISH™
(1) una caja de paquetes individuales slimsticks de TruPURE®
(1) frasco de cápsulas de pérdida de grasa TruSHAPE™
(1) bote del polvo OsoLean®
(1) caja de la mezcla para bebida deportiva EMPACT+™
(1) botella agitadora GRATIS
Disponible ahora por solo $299.99 (Asociados / Clientes Preferenciales) hasta el 31 de marzo de 2019, ¡hasta agotar existencias! Así que, ¡deja de soñar y empieza a lograr! ¡Te pondrás esos pantalones vaqueros otra vez!
(Precio al público: $377.94; PV 300; SKU# 81401).  20% puntos de lealtad con la compra (pedidos únicos y Órdenes Automáticas). No para reventa en Canadá.
†Cuando se combina con una dieta baja en calorías y ejercicio.