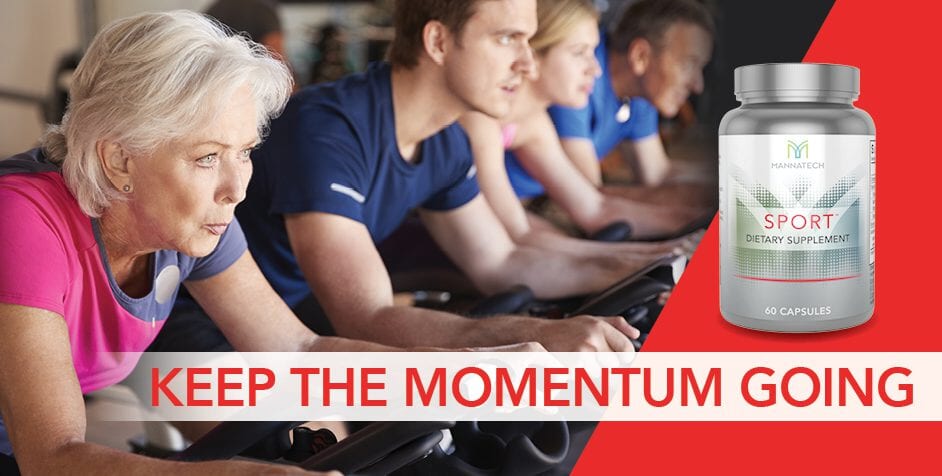 Stay Active With Sport
As we move into the holiday season, planning and festivities can start to take over, causing our exercise routine to go by the wayside. That's why now is more important than ever to stay focused on health.
If taking the time to work out is getting harder, let SPORT capsules help keep you going!
SPORT is made from a proprietary blend of herbs and herbal extracts to help maintain normal blood sugar levels so you can stay active and motivated during—and after—the gym.* This special plant sterol supplement includes a combination of classic Ambrotose® Complex and wild yam.
How can you keep the momentum going into the fall and winter months? Try these 3 tips:
Write down your workout schedule on a calendar
Invite a friend to exercise with you (and hold you accountable)
Take SPORT every morning as a reminder that your exercise and health matter
Take your daily dose of SPORT and give your body what it needs to:
Help maintain existing normal blood sugar levels.*
Help support carbohydrate utilization.*
Provide a propriety blend of chromium, boron, herbs, natural extracts, plant sterols and glyconutrients.†
Enjoy a healthy and happy holiday season!
Item # 12101, Associate/Preferred Customer Price $32.99, Retail $36.99, PV 31
†Glyconutrients are beneficial saccharides found in nature
---
运动宝胶囊助您保持活力
随着假期的到来,假期规划和活动庆祝占据了我们大部分的生活,而日常锻炼则被搁置在一旁。因此,持续专注于我们的健康在此时变得尤为重要。
如果对您来说抽时间锻炼变得越来越困难,那就让运动胶囊来帮助您保持活力吧!
美泰运动宝胶囊采用植物和植物提取物专利配方,服用此胶囊可帮助您保持正常血糖水平,让您在健身时和健身后保持持续活力和充满激情。* 这种特殊的植物甾醇类补充剂由美泰经典型醣质营养素和野生山药混合配制而成。
如何在秋冬季节继续保持健康活力?试试这三种方法:
在日历上写上您的锻炼计划
邀请朋友一起锻炼(督促您对自己负责)
每天早上服用运动宝胶囊,提醒自己运动和健康的重要性
每日服用运动宝胶囊,满足您身体的各项需求:
帮助保持当前的正常血糖水平。*
帮助提高对碳水化合物的利用。*
采用铬、硼、植物、天然提取物、植物甾醇和醣质营养素混合物专利配方。†
祝您度过一个健康愉快的假期!
货号 # 12101,经销商/优惠客户价 32.99 美元,零售价 36.99 美元,PV 31
*此说明尚未经过食品药物管理局评估。本产品不可用于诊断、治疗、治愈或预防任何疾病。
†醣质营养素是源自天然的有益糖类
---
MANTÉN TU NIVEL DE ACTIVIDAD CON SPORT™
Conforme llegamos a la temporada de fiestas, los planes y las festividades pueden meterse en nuestro camino y causar que nuestra rutina de ejercicios quede de lado. Por eso ahora es más importante que nunca mantenernos enfocados en la salud.
Si dedicar el tiempo para hacer ejercicio es cada vez más difícil, ¡deja que las cápsulas SPORT te ayuden a mantener tu nivel de actividad!
SPORT está hecho con una mezcla exclusiva de hierbas y extractos herbales para mantener los niveles saludables de azúcar en la sangre para que puedas mantener tu nivel de actividad y motivación durante y después de tu visita al gimnasio.* Este suplemento especial de esteroles de plantas incluye una combinación del clásico Ambrotose® Complex y batata silvestre.
¿Cómo puedes mantener la energía durante los meses de otoño e invierno? Trata estos 3 consejos:
Escribe tu programa de ejercicios en un calendario
Invita a un amigo a que haga ejercicio contigo (y para que le tengas que rendir cuentas)
Toma SPORT cada mañana como un recordatorio de que tu ejercicio y tu salud son importantes
Toma tu dosis diaria de SPORT y dale a tu cuerpo lo que necesita para:
Ayudar a mantener los niveles normales de azúcar en la sangre.*
Ayudar a respaldar la utilización de carbohidratos.*
Otorgar una mezcla exclusiva de cromo, boro, hierbas, extractos naturales, esteroles de plantas y gliconutrientes.†
¡Disfruta de una temporada de fiestas saludable y feliz!
Producto # 12101, Precio para Asociados/clientes preferenciales: $32.99 Precio al público: $36.99 / PV 31
*Estas declaraciones no han sido evaluadas por la Administración de Medicamentos y Alimentos de Estados Unidos. Estos productos no tienen la intención de curar, tratar o prevenir ninguna enfermedad.
†Los Gliconutrientes son sacáridos benéficos que se encuentran en la naturaleza.