Announcing the M5M℠ China Run!
Ultra-endurance athlete Jason Lester is taking our mission and running with it!
We're proud to announce Mannatech's sponsorship of Jason Lester's M5MChina Run. Jason will be the first athlete to attempt a solo run of The Great Wall of China – the only man-made structure in the world that's visible from space. Jason's goal is to run approximately 2,500 miles of the wall within 100 days (though the wall is roughly 5,500 miles long, only about 2,500 miles are runnable). He'll have to average almost a marathon a day to make that happen!
For years, Jason has considered Mannatech products his secret weapon. As he's shared before, "Mannatech's Ambrotose® product has been a secret weapon for me in competitions and training. It has played a huge role in my training, recovery, endurance and overall quality of life.*"
Now, Jason is linking arms with the Mission 5 Million℠ movement and shining the spotlight on global malnutrition with his run later this year, while also honoring the Wall – one of the world's great wonders.
Every mile Jason runs will trigger a donation of PhytoBlend™ powder to a child in need. There will also be additional ways you can get involved to help increase the giving and impact of the M5M China Run.
Here's What You Can Do Now
You'll be hearing so much more about Jason Lester and the M5M China Run over the next several weeks and months. For now, take these steps to get more involved in the Run right now:
Visit M5MRun.com to learn more about Jason, the run and what you can do.
Like and Share the official Facebook Page, Facebook.com/M5MRun. It's the easiest, fastest way to get the word out now.
Be looking for The Insider in your next order – it features tons of details and stories related to the M5M Run and Jason Lester.
Share M5M proudly and boldly. We're taking a huge step in making our vision a reality, and you're a critical part of it all.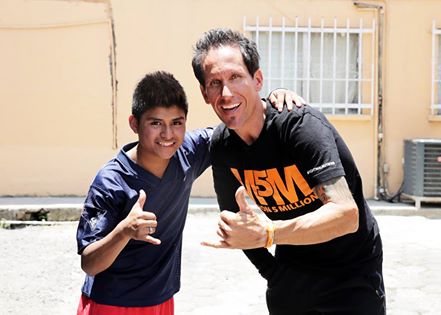 ---
*These statements have not been evaluated by the Food and Drug Administration. These products are not intended to diagnose, treat, cure or prevent any disease.