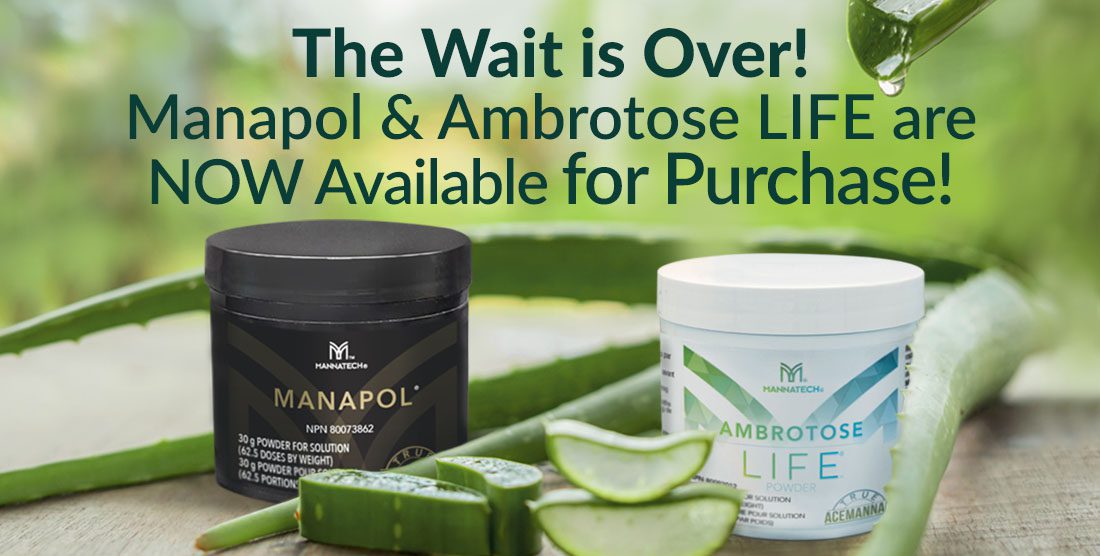 Manapol & Ambrotose LIFE are Now Available!
We've heard from many of you that you've been looking forward to this day, and we're happy to say it's here.
These two products are a powerful addition to your daily nutrition regimen:
Manapol® Immune Support Formula is a 100% Aloe vera gel powder that's harvested from nutrient-rich volcanic soil of Costa Rica for ultra-purity. You can't get a richer, natural source of Aloe anywhere in the world.
Ambrotose LIFE® powder is the most important nutritional supplement for your health. It supports your body's cell-to-cell communication, supports improved cognitive function, and promotes gastrointestinal health.
Here are a few benefits of purchasing these two amazing products from Canada:
No Purchase Quantity limitations
Promote and share product with others
Products are licensed and approved to be marketed in CA
Convenience of placing orders direct from the Mannatech Canadian website
Earn 1,000 Points Toward Punta Cana Trip!
During the months of May, June, and July every NEW Associate that enrolls and places orders during the same month of enrollment that cumulatively reaches 500 PV or more in their Associate account will receive 1,000 BONUS POINTS towards the Punta Cana incentive trip.
Make sure to add Manapol and Ambrotose LIFE to your monthly subscription today.
---
美泰醣质芦荟萃取粉和新生代醣质营养素现已上市!
我们知道大家一直在等待这个日子,我们也很高兴这一天终于到来。
这两款产品是您日常养生的有力补充:
美泰醣质芦荟萃取粉帮助增加免疫力,其配方采用 100% 芦荟凝胶粉,产品所使用的芦荟均生长在哥斯达黎加富含营养的超纯度火山土上。世界上其他任何地方都找不出含量如此丰富,来源如此天然的芦荟。
新生代醣质营养素粉剂是对您健康最为关键的营养保健补充剂。这款产品可以促进人体内细胞间通讯,帮助增强认知功能,改善肠胃健康。
以下是从加拿大订购这两款绝佳产品的几大优势:
订购数量不设限制
可向更多的人宣传和分享产品
产品已得到许可,并已获准在加拿大销售
可直接在美泰的加拿大官网轻松订购
为 Punta Cana 奖励之旅赢取 1,000 点积分!
在 5 月至 7 月期间,每个新注册经销商,在注册当月在其经销商账户中累计下单达 500 或以上 PV 的新经销商,将获得 1,000 点奖励积分,增加赢取 Punta Cana 奖励旅行的机会。
请务必将美泰醣质芦荟萃取粉和新生代醣质营养素立即添加到您的自动订单。