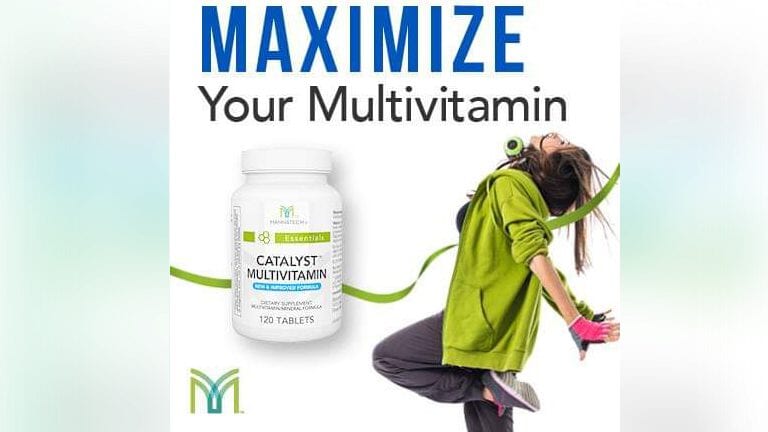 New! Catalyst™ Multivitamin Tablets
We've combined natural, plant-based nutrients with the best of science to create a multivitamin with maximum nutritional benefits and easy physical absorption.* Infused with glycans, Catalyst Multivitamin provides at least 100% DV of 19 essential nutrients your body needs, and also now includes the adaptogen, ashwagandha, to support you physically and emotionally.*
Catalyst Multivitamin provides 100% of the Daily Value of vitamin D and iodine, and provides more than 100% of the Daily Value of vitamin A, vitamin C, vitamin E, thiamin, riboflavin, niacin, vitamin B6, Folate, vitamin B12, biotin, pantothenic acid, magnesium, zinc, selenium, copper, molybdenum and chromium.
Catalyst multivitamin comes with a long list of benefits:
Supports cardiovascular health*
May Increase energy and vitality*
Supports a healthy immune system*
Prove antioxidant support*
Provides fat loss support*
Supports the liver, kidneys and nervous system*
Supports endocrine health*
Maintains healthy blood pressure and blood sugar levels*
Supports healthy skin, hair, eyes and joints*
Supports mood, the mind and body's feeling of normalcy and calmness*
Supports endocrine health*
Get more from your multivitamin than ever before. Available Now!
*These statements have not been evaluated by the Food and Drug Administration. These products are not intended to diagnose, treat, cure or prevent any disease.
¡Nuevas! Tabletas de Multivitaminas Catalyst™
No te conformes con cualquier multivitamina. Querrás tomar las nuevas Multivitaminas Catalyst con Gliconutrientes. Hemos combinado nutrientes provenientes de plantas con lo mejor de la ciencia para crear unas multivitaminas con máximos beneficios nutricionales y con fácil absorción física.*
Las Multivitaminas Catalyst ofrecen el 100 % del valor diario recomendado de: vitamina A, vitamina D, niacina, ácido fólico, biotina, calcio, yodo, zinc, cobre, manganeso y molibdeno, y más del 100 % del valor diario recomendado de: vitamina C, vitamina E, tiamina, riboflavina, vitamina B6, vitamina B12, ácido pantoténico, magnesio, selenio y cromo.
Las Multivitaminas Catalyst vienen con una larga lista de beneficios:
Respaldan la salud cardiovascular*
Pueden incrementar la energía y vitalidad*
Promueven un sistema inmunitario saludable*
Otorgan respaldo antioxidante*
Ofrecen apoyo para la pérdida de grasa* ‡
Apoyan la salud del hígado, riñones y del sistema nervioso*
Apoyan la salud endócrina*
Mantienen los niveles saludables de azúcar en la sangre*
Respaldan una piel, cabello, ojos y articulaciones saludables*
Respaldan el estado de ánimo, y la sensación de normalidad y calma en el cuerpo y la mente*
Apoyan la salud endócrina*
Obtén más beneficios que nunca de tus multivitaminas. !Disponible Ahora!
*Estas declaraciones no han sido evaluadas por la Administración de Medicamentos y Alimentos de Estados Unidos. Estos productos no tienen la intención de curar, tratar o prevenir ninguna enfermedad.
全新的 Catalyst™ 复合维生素片:最大限度满足您的多种维生素需求
不要勉强接受任何复合维生素。您需要的是含醣质营养素的 Catalyst 复合维生素。我们将天然的植物性营养素与最佳的科研成果相组合,打造具有最大营养益处和易于人体吸收的复合维生素。*
Catalyst 复合维生素提供每日所需的全部维生素 D 和碘的全部摄取量,并提供超过 100% 日摄取量的维生素 A、维生素 C、维生素 E、硫胺素、核黄素、烟酸、维生素 B6、叶酸、维生素 B12、生物素、泛酸,镁、锌、硒、铜、钼和铬。
Catalyst 复合维生素具有以下诸多功效:
帮助保持心血管健康*
提升精力和活力*
促进免疫系统健康*
提供抗氧化支持*
支持减脂*
促进肝脏、肾脏和神经系统健康*
促进内分泌健康*
保持健康的血压和血糖水平*
保持皮肤、头发、眼睛和关节健康*
促进情绪平衡,帮助保持身心平和*
促进内分泌健康*
从复合维生素中获取比以往更多的营养成分。现已上市!
*此说明尚未经过食品药物管理局评估。
本产品不可用于诊断、治疗、治愈或预防任何疾病。