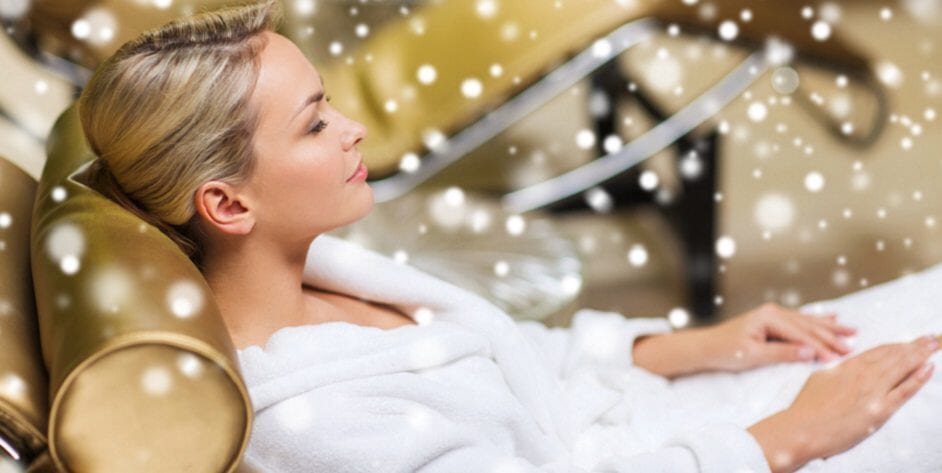 Overcome Holiday Stress With A Home Spa Treatment
The holiday months can take a toll, but treating yourself to a spa day can be just the ticket to easing stress and making it through the rush of holiday activities.
But who has the extra cash for a deluxe spa day during the holidays?  Mannatech, a global developer of health and wellness and skincare products, may have the answer – create your own home spa, using Mannatech products to help you escape and unwind from the craziness in the comfort of your own house and while sparing your budget.
The products found in Mannatech's holiday promotions, Mannatech 100% Essential Oils™ line, cranberry-flavored AmbroStart® drink mix and Ūth™ Rejuvenation Cream,  are the perfect building blocks for creating your home spa. To master a true, luxurious home spa experience, you need a few essential elements:
Hydrating spa water
Essential oils
Candles
Fluffy towels and/or robes
Steamy Shower
Hot bath
Nourishing lotion
Setting the Stage
Plan ahead and set aside some time to treat yourself to a spa day. That means unplugging from the Internet and cell phones, taking a break from the kids and other distractions and closing off all other intrusions.
Make sure to ready your bathroom: make sure it is dark (close the curtains, if you have them) with light provided by a sweet-smelling candle. Turn off the overhead light and place small jar candles on the counter and safely around the tub. Make sure you choose a single candle scent to keep the aromas from clashing.
When it comes to setting a spa mood, acoustic music and soothing nature sounds will relax you. Create a playlist on your phone of your favorite soothing sounds, and with the touch of a button, you can be transported to the beach or the mountains.
The next step in preparing for your spa day is to create spa water. This takes a few hours of time to fully develop its flavor, so plan this in advance.
Cranberry Spa Water
Get things going with a refreshing drink, enhanced with Mannatech's new Cranberry AmbroStart® drink mix. This recipe, which is similar to the spa water found at luxury hotel spas, is easy to make and will help keep you hydrated, energized and maintain healthy digestion* throughout the holidays:
Ingredients (serves 2)
2 quarts spring water
2 lemons (sliced)
1 cucumber (sliced)
¼ watermelon (cut chunks or balls)
4 Tablespoons of Cranberry AmbroStart drink mix
Instructions
Combine Cranberry AmbroStart drink mix, cucumbers, lemons and watermelon in large container. Set in refrigerator for about an hour before serving. Remove from the refrigerator and add ice and water and stir to dissolve the Cranberry AmbroStart drink mix.
Spa Treatment Step 1: Steam shower with essential oils
This step will awaken your senses, while relaxing your spirit. Turn on your shower and run it at its hottest temperature to fill the room with steam. While the steam is building up, run your essential oils diffuser to create a stress-relieving mist.
Next, while the shower is still running, and place a few drops of your favorite oil on a warm washcloth. When you step into your shower, put the washcloth up to your face and take a deep breath of your soothing, oil-scented steam.
Spa Treatment Step 2: Hot bath
Once your finish with your shower, fill your tub with water at just the right temperature, whether you like it piping hot or just this side of warm. While the tub is filling, dim the lights and let your candles add to the mood.
Once your tub is ready, apply essential oils to the water. This is a great way to enhance your bath and give you the benefits of aromatherapy as well. You don't have to limit yourself to essential oils. Feel free to add bubble bath, bath salts, bath beads and anything else that helps you relax.
To help your skin become baby-soft*, try adding Mannatech's Sweet Almond oil.
This is where drinking your spa water comes in most handy. It will refresh and hydrate you and balance the hot water and steam with cool refreshment. It's at this point you can take in the relaxing mist from your essential oils diffuser, enjoy the sounds of your spa music and sink into a tub of relaxing bliss.
Spa Treatment Step 3: Post-bath lotion
Once you finish your bath, seal in the moisture by applying moisturizer, such as Mannatech LIFT™ Body Cream, to your damp skin on your arms, legs, and torso. After your body is covered in lotion, put on your bathrobe to give it time to absorb into your skin before getting dressed.
Spa Treatment Step 4: Rest
Use this opportunity of calm and quiet to give your body the best treatment possible – a good rest. Take the relaxed state you are in and climb in bed and take a nice long nap. That will help heal and revitalize your mind, body and soul to help you take on the holiday rush.
Learn more about Mannatech's 100% Essential Oils. For more information on Mannatech's holiday product promos, please click here.
Add these items to your order today and to create your own home spa.