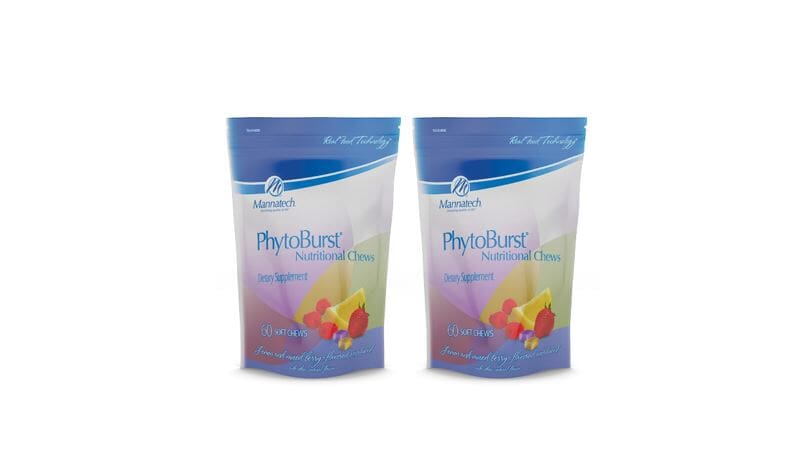 PhytoBurst Nutritional Chews – Buy 1, Get 1 FREE!
These tasty fruit chews won't be around much longer, and will soon be unavailable. If you love Mannatech's PhytoBurst Nutritional Chews, take advantage of our new promotion before it's too late!
Now available through June 30, or while supplies last, when you purchase one bag of PhytoBurst Chews, you'll get a second one completely free!
PhytoBurst Nutritional Chews supply your daily serving of good nutrition on-the-go with essential food-sourced vitamins and minerals that are natural and safe for the whole family.
Mannatech's PhytoBurst Chews:
Help support the immune system, keep energy going and promote longevity and vitality.*
Contain phytonutrients from broccoli, cranberry, grape and rutin to provide additional antioxidant support.*
Provide essential nutrients with a food-sourced vitamin complex, minerals and phytonutrients.
Help support an overall level of nutrition.
Are gluten free, vegan, dairy-free and have no MSG, artificial colors or flavors and no preservatives.
Are convenient, tasty nutritional chews for the whole family!
Purchase item #12801. Associate Price: $35.50. Member Price: $36.36. Associate one-time APO: $9.37. Member one-time APO: $4.37. Available for purchase in the U.S. Not for resale in Canada.
On June 30, 2017, PhytoBurst Chews (Item #12801) will officially be discontinued in the U.S. These products will expire on August 31, 2017.
But don't miss out on this fruity snack when summer time comes. Purchase your nutrition in advance and enjoy the delicious flavors from real fruits and vegetables. Buy yours today!