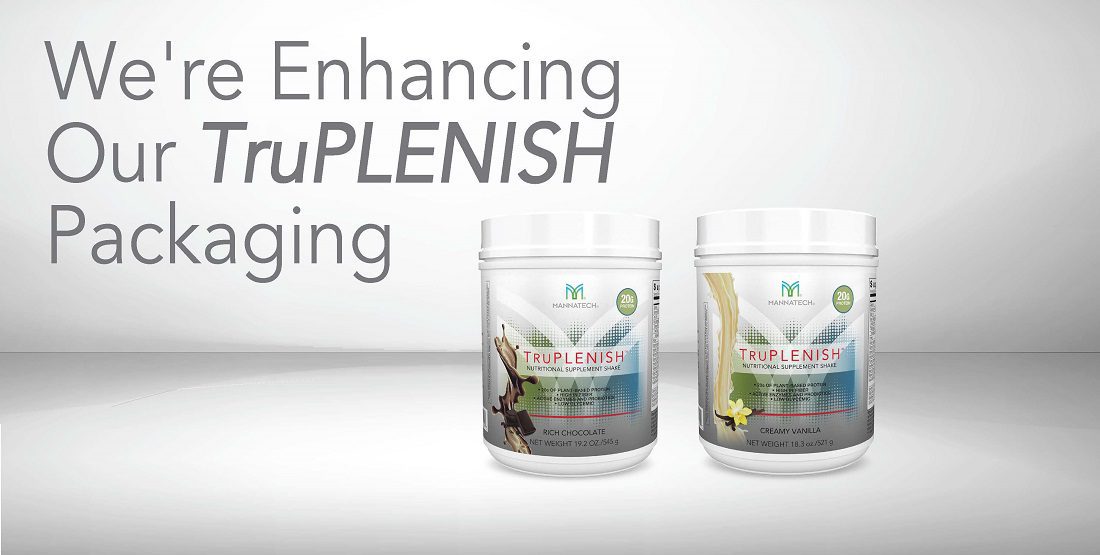 Same TruPLENISH Shake. New Package.
At Mannatech, we believe our customer experience should be the best experience. When we heard that the TruPLENISH™ nutritional shake gusseted bags were less than ideal for our customers, we listened and decided to make a change. Beginning the first week of December, we will be transitioning from the gusseted bags to canisters with a longer scoop for the Creamy Vanilla (SKU 16301) and Rich Chocolate (SKU 16201) flavors. 
TruPLENISH packaging will change, but its price, quality, volume, and delicious taste remain the same. No action is required on your part, and any Monthly Subscription order will update automatically. If you do not have an order, a TruPLENISH Subscription would be the perfect addition to any holiday wish list.
Also, for your awareness the single serve pouches have been discontinued, this decision was made due to increased costs and the demand for the pouches have decreased over time. We will re-evaluate the possible re-introduction at a later date. If you currently have the single serve pouches on your Monthly Subscription, your order template will be automatically updated to include the canisters.
For more information, please visit us at mannatech.com.
---
不变的美泰营养代餐粉。全新的包装。
美泰坚信,我们应该提供至为卓越的客户体验。我们听说美泰营养代餐粉的方形袋对于客户而言不够方便时,当即决定接受意见,做出改变。从 12 月首周开始,奶油香草口味 (SKU 16301) 和浓香巧克力口味 (SKU 16201) 美泰营养代餐粉的包装将从方形袋转变为附赠长勺的包装罐。
美泰营养代餐粉的包装将会改变,但它的价格、质量、份量和美味都不会变。所有自动订单都将自动更新,您无需执行任何操作。如果您的订单里还没有美泰营养代餐粉,那么它将会是所有节日心愿清单的完美补充。
此外请注意,由于成本增加,而且从长期来看需求逐渐减少,现已决定停产小袋包装的美泰营养代餐粉。往后我们将重新评估是否再次将此包装投入使用。如果您当前的自动订单含有小袋包装美泰营养代餐粉,您的订单模板将会自动更新为罐装美泰营养代餐粉。
如需了解更多信息,请访问我们的网站 mannatech.com.
---
Misma Malteada TruPLENISH. Nuevo Empaque.
En Mannatech, creemos que la experiencia de nuestros clientes debe ser la mejor experiencia. Cuando escuchamos que las bolsas con cierre de la malteada nutricional TruPLENISH™ no eran completamente ideales para nuestros clientes, nosotros escuchamos y decidimos hacer el cambio. A partir de la primera semana de diciembre, haremos la transición de las bolsas con cierre a botes con una cuchara más larga para los sabores de Crema de Vainilla (SKU 16301) y Chocolate Intenso (SKU 16201).
El empaque de TruPlenish cambiará, pero el precio, la calidad, el volumen y el delicioso sabor seguirán siendo los mismos. No se requiere acción de tu parte, y cualquier pedido en la Suscripción Mensual se actualizará automáticamente. Si no tienes un pedido, una Suscripción de TruPLENISH es la adición perfecta para tu lista de deseos para las fiestas de temporada.
También, para que lo tengas en cuenta, los paquetes individuales se han descontinuado, esta decisión fue debido al incremento en los costos y la reducción en la demanda de los paquetes individuales con el tiempo. Reevaluaremos la posible reintroducción en una fecha posterior. Si actualmente tienes los paquetes individuales en tu Suscripción Mensual, tu formulario de pedidos se actualizará automáticamente para incluir los botes.
Para obtener más información, por favor, visítanos en mannatech.com.