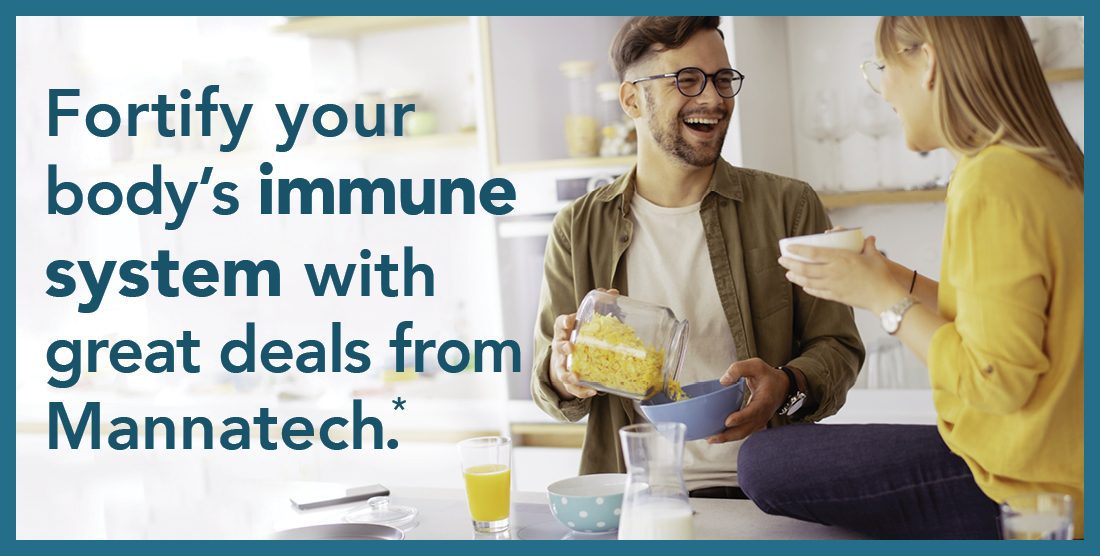 September Immunity Promos are here!
Americans are being more proactive regarding their immune systems, and Mannatech is here to help with the launch of the September Family Immunity specials!* Available to our Customers and Associates, these special offers will run until September 25th, or while supplies last, so don't miss out!
Take a look at what is available to you to help strengthen your family's immunity.*
---
Save 40% on Family Immunity Support Bundle-Item #30201 

$100 Associate/Preferred Customer price (one-time orders only)
PV 94 / $109.99 Retail price

It's getting to be that time of year when your family's immunity needs more support, and the Mannatech Family Immunity Bundle is now available for the promotional price of $100, a savings of 40%, to help you rise to that challenge.* To offer you 24/7 support, we have included ImmunoSTART® product.* For those times when your body's natural defenses may be especially challenged, we offer MannaBOOM® slimsticks on-the-go.* And then for immune protection at the gut level, Ambrotose LIFE® slimsticks, featuring the prebiotic fiber your body needs to keep your microbiome health in check.*

Buy 1, Get 1 Free Sleep Support – Item #58401

$34.99 Associate/Preferred Customer price (one-time & Auto Orders)
PV 33 / $38.99 Retail price

Did you realize that too little sleep can adversely affect your immune system? Mannatech's Sleep Support may calm and soothe the nervous system, help ease restlessness and maintain the deep sleep your body needs.* Rest easy and stock up now with this special offer.

The September Immunity Bundles are here for a limited time only, so take advantage of these great deals while you can!
While supplies last. Not for resale in Canada.
Not subject to Mannatech's Satisfaction Guarantee. All sales final. No returns or exchanges.
---
9 月免疫促销现已开启!
亲爱的重点顾客或经销商,
随着美国人民对免疫系统的重视程度不断提高,美泰现已开启 9 月家庭免疫大促活动!*这些大促活动仅面向我们的顾客与经销商们开放,并将持续至 9 月 25 日或售完为止。千万不要错过这个机会!
来看看有哪些产品可以帮助您和您的家人巩固免疫力吧。*
家庭免疫支持套组现可劲省 40%
货号 30201 /经销商/优惠顾客价(仅限一次性订单): 100 美元/ PV 94 /零售价: 109.99 美元
是时候为您的家人的免疫系统提供更多支持了。您可以选择美泰家庭免疫套组来帮助您和您的家人应对挑战,折价 40% 后仅需 100 美元!*本套装中加入了活性牛初乳咀嚼片,全天候 24 小时呵护您的健康。*在您的身体自然防御系统可能受到特殊挑战的时候,我们为您提供了美泰多醣免疫宝冲剂*。针对肠道免疫保护,新生代醣质营养素冲剂含有身体所需的益生元纤维,可保障微生物群系的健康。*
买 1 份美泰多醣免疫宝冲剂,送 1 份睡眠健康支持饮料
货号 58401 /经销商/优惠顾客价(一次性订单或自动订单): 34.99 美元/ PV 33 /零售价: 38.99 美元
您知道吗?睡眠不足会损害免疫系统。美泰睡眠健康支持饮料可以镇定并舒缓神经系统,帮助缓解躁动不安,维持身体所需的深度睡眠。*趁着大促囤货一番,帮助自己好好休息吧!
9 月免疫套组为限时出售,切勿错过特惠良机,趁着现在立刻订购吧!
售完为止。不得在加拿大转售。
不受美泰的满意度保证的约束。所有销售均为最终销售,一经售出恕不退款或换货。
*此说明尚未经过食品药物管理局评估。本产品不可用于诊断、治疗、治愈或预防任何疾病。
---
¡Las promociones para salud inmunitaria de septiembre ya están aquí!
Querido y Valorado Cliente o Asociado:
Los estadounidenses están siendo más proactivos cuando se trata de sus sistemas inmunitarios, ¡y Mannatech está aquí para ayudar con el lanzamiento de los especiales de septiembre para la Salud Inmunitaria de la Familia!
Echa un vistazo a lo que está disponible para ayudarte a fortalecer la salud inmunitaria de tu familia.*
Ahorra 40 % en el Paquete de Respaldo a la Salud Inmunitaria
Producto # 30201, Precio para Asociados/Clientes Preferenciales: $100.00  (solo para órdenes únicas) / PV 94 /Precio al Público $109.99
Está acercándose ese momento en el año en que las necesidades inmunitarias de la familia requieren de más ayuda, y el Paquete para la Salud Inmunitaria para la Familia de Mannatech ahora está disponible a un precio promocional de $100 dólares, un ahorro de 40 %, para ayudarte a enfrentar este reto. Para ofrecerte apoyo las 24 horas del día, los 7 días de la semana, hemos incluido el producto ImmunoSTART®.* Para esos momentos en que las defensas naturales de tu cuerpo puedan estar especialmente comprometidas, ofrecemos los paquetes individuales MannaBOOM® slimsticks, para llevarlos contigo a donde sea. Y luego, para protección inmunitaria al nivel gastrointestinal, los paquetes individuales Ambrotose LIFE®, que cuentan con la fibra prebiótica que tu cuerpo necesita para mantener la salud microbiana en orden.
Compra 1, Llévate 1 Gratis, Sleep Support 
Producto # 58401, Precio para Asociados/Clientes Preferenciales: $34.99  (órdenes únicas y Órdenes Automáticas) / PV 33 /Precio al Público $38.99
¿Sabías que dormir poco puede afectar adversamente tu sistema inmunitario? Sleep Support de Mannatech puede calmar y relajar el sistema nervioso, calmarte si te sientes inquieto, y ayudar a que mantengas el sueño profundo que tu cuerpo necesita.* Descansa, y súrtete ahora con esta oferta especial.
Los Paquetes para la Salud Inmunitaria de septiembre son solo por tiempo limitado, así que toma ventaja de estas maravillosas ofertas mientras puedes, ¡y haz tu pedido ahora!
Hasta agotar existencias. No para reventa en Canadá.
No están sujetos a la Satisfacción Garantizada de Mannatech. Todas las ventas son finales. No se aceptan cambios ni devoluciones.
*Estas declaraciones no han sido evaluadas por la Administración de Medicamentos y Alimentos de Estados Unidos. Este producto no tiene la intención de diagnosticar, curar, tratar o prevenir ninguna enfermedad.