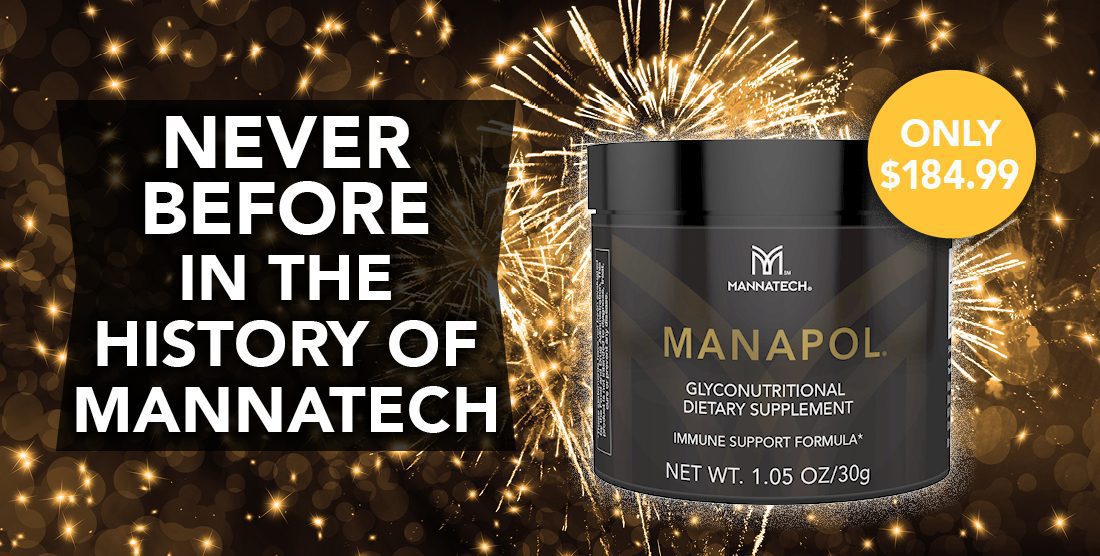 You Don't Want to Miss This! Mannatech's Premier Product Offered at Incredible Savings
Just in time for the holidays, take advantage of this unbelievable special price of only $184.99 on Manapol® powder!
Item # 15601
Associates/Preferred Customer $184.99
Retail $299.99
PV 185
This promotion is available for a limited time! November 29 – December 31 or while supplies last.
One Time Orders only. Not for Resale in Canada.
To learn more about Manapol, view the video.
---
您一定不要错过这次促销活动!美泰至尊女士保健营养素优惠空前
美泰醣质芦荟萃取粉仅需 184.99 美元,仅限假日期间,特价优惠不容错过!
货号 15601
经销商/优惠顾客价 184.99 美元
零售商价 299.99 美元
PV 185
促销活动限时供应!11 月 29 日 – 12 月 31 日,售完即止。
仅限一次性订单。不得在加拿大转售。
欲了解有关美泰醣质芦荟萃取粉的更多信息,请点击此处观看视频。
---
¡No te lo querrás perder! Uno de los principales productos de Mannatech a un precio de ahorro increíble
Justo a tiempo para las fiestas, ¡toma ventaja de este increíble precio de solo $184.99 dólares para el polvo Manapol®!
Producto #15601
Precios para Asociados / Clientes Preferenciales $184.99
Precio al público: $299.99
PV 185
¡Esta promoción está disponible solo por tiempo limitado! Del 29 de noviembre al 31 de diciembre, o hasta agotar existencias.
Solo para órdenes únicas. No para reventa en Canadá.
Para obtener más información, haz clic aquí para ver el video.