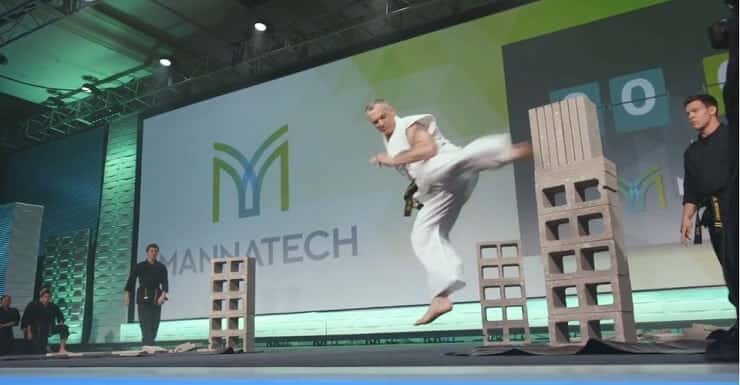 AVAILABLE NOW! EMPACT+™ Performance Drink Mix ( 中文 / Español)
Mannatech introduced its new performance drink mix, EMPACT+ at MannaFest™ 2018, as Chip Townsend set a new World Record, breaking 20 cinder blocks in just five seconds! Chip had been fueling with EMPACT+ for several weeks before setting his record on our stage.
EMPACT+ performance drink mix is the first sports drink to ever combine the major elements of fueling, hydration and recovery into a single drink.* It is a natural alternative to sports and energy drinks that contain stimulants, artificial colors and/or artificial sweeteners. This new drink is designed to increase endurance and shorten recovery time in elite athletes, but it also supports anyone with an active lifestyle.*
EMPACT+ performance drink mix is now available for purchase in North America.
Not for Resale in Canada
---
伴随 Chip Townsend 在 MannaFest™ 2018 大会上创造 5 秒钟连碎 20 块炉渣砖的世界纪录,美泰推出了全新的 EMPACT+ 活力能量饮料!Chip 在我们的舞台上创造纪录之前,饮用了数周 EMPACT+ 美泰活力能量饮料为自己补充能量。
EMPACT+ 美泰活力能量饮料首次将补充体力、保持水分和加快恢复的主要元素融为一体。* 它是含兴奋剂、人工色素和/或人造甜味剂的运动能量饮料的纯天然替代饮品。这款全新饮料虽是为增强优秀运动员的耐力,缩短他们的恢复时间而打造的,但它也可以供希望保持积极生活方式的任何人士使用。*
北美地区现在即可购买 EMPACT+ 美泰活力能量饮料
不得在加拿大转售
---
Mannatech presentó su nueva mezcla para bebida deportiva EMPACT+ en MannaFest™ 2018, cuando Chip Townsend estableció un nuevo Récord Mundial, ¡rompiendo 20 bloques de ladrillo en solo cinco segundos! Chip había estado alimentando su energía con EMPACT+ por varias semanas antes de establecer el nuevo récord en nuestro escenario.
EMPACT+ es la primera mezcla de bebida deportiva en la historia en combinar los elementos más importantes de energía, hidratación y recuperación en una sola bebida.* Es una alternativa natural a las tradicionales bebidas energéticas y deportivas, que contienen estimulantes, y colores y/o endulzantes artificiales. Esta nueva bebida está diseñada para incrementar la resistencia y reducir el tiempo de recuperación en atletas élite, pero también para ayudar a cualquier persona con estilo de vida activo.*
La mezcla para bebida deportiva, todo en uno, EMPACT+ está ahora disponible en Norte América.
No para reventa en Canadá.