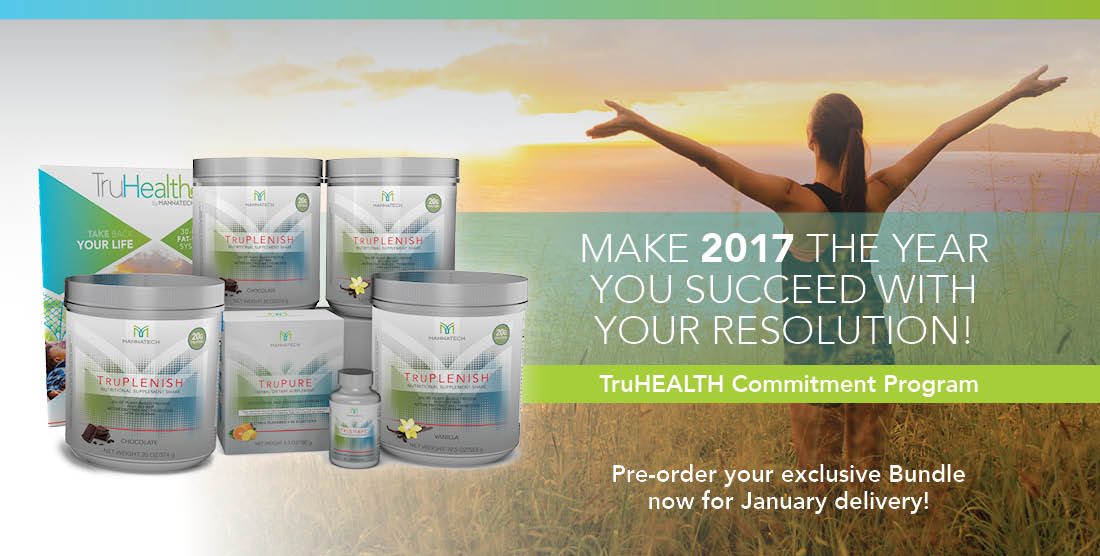 Build Your Business with TruHealth™: January is Boom Time in the Battle Against Fat
When you can offer a healthy option for people to lose fat and inches, January can be the biggest month of the year to build your business. Because so many people are looking for fat-loss help, kick your business off with a fast star, that is sure to help build a foundation for a successful 2017.
What does "fast start" mean? It means that there is an abundance of potential customers seeking a great fat-loss solution come January. For example, in the new year, more than 44 percent of Americans make weight related New Year's resolutions. This means that the businesses that cater to those resolutions will be booming in the New Year.  For example, in January, gym memberships double and weight loss companies stake most of the success for their entire year in the first few weeks of the New Year.
To top it off, it is estimated that consumers making weight loss resolutions have around $5.6 billion to spend, and overall, the weight loss industry in the United States is valued at $64 billion.
This results in a concentrated market in January, with customers who have billions of dollars to spend and a true motivation to live healthier lives, providing a prime audience for anyone with a path to help people battle the bulge.
For Mannatech Associates, this year marks the first time that the company has a full-fledged program dedicated to helping people lose fat. The TruHealth Fat-Loss System is one of the most unique programs available and challenges the status quo of the weight control industry by moving away from scale weight and the obsolete body mass index (BMI).*
Why are we different? The TruHealth Systemŧ provides a long-term solution to fat loss that focuses on developing lean muscle and losing inches.  The TruHealth System also supports metabolism maintenance, something that most weight loss programs fail to do, which limits the success of most diets.
The TruHealth System is unique. When followed, the results it can provideŧ, are unmatched. In short, it is a solution that is in great demand, and Mannatech and its Associates are the only place from which TruHealth can be obtained.
But the TruHealth System is just one tool available to Mannatech Associates seeking customers. Here are a number of other programs you can leverage to help you take advantage of the New Year's rush and build your business:
TruHealth Commitment Program
This holiday season, we're offering our first-ever pre-ordering program with the TruHealth Commitment Program. Jump start your health goals for 2017 with TruHealth Bundles and special incentives. Help alleviate some of the financial burden of the holidays with our buy now/pay later option.
Mannatech Wellness Rewards program rewards you for buying your favorite Mannatech products in 2016. For almost every one-time order placed† between November 21 and December 31, 2016, you will generate Wellness Rewards that act as cash credit toward your future product purchases. When you purchase a product during this time, you'll automatically earn Rewards.
Tools: Buy One Get One Free
Right now, Mannatech is offering a Buy One, Get One Free special on select tools at MannatechTools.com. This is designed to help you take advantage of these great sales tools during the most crucial time of the year. This BOGO sale is available for a limited time, so check out MannatechTools.com for awesome tools, such as business cards, apparel, brochures, banners, labels, CDs and so much more.
Holiday Promotions Continue
For the remainder of 2016, Mannatech's "Unwrap The Wellness" promotions continue with amazing discounts on products that will help you gain new customers, in the New Year.
If you are ready to take your place in the New Year's resolution market place, Mannatech has the products, the system and support to help you get your business off to a roaring start.
ŧ Always consult with your physician or other qualified healthcare provider before embarking on a new diet or program. This program is not recommended for pregnant or lactating women. If you are taking medications, have a health condition or are planning a medical procedure, consult your health professional before beginning this program. It is also not recommended for children under the age of 18. If you have any specific questions about these matters you should consult your doctor or other healthcare provider.
†Wellness Rewards will not be generated for TruHealth Bundles and Automatic Orders. Rewards cannot be used in conjunction with Loyalty Points