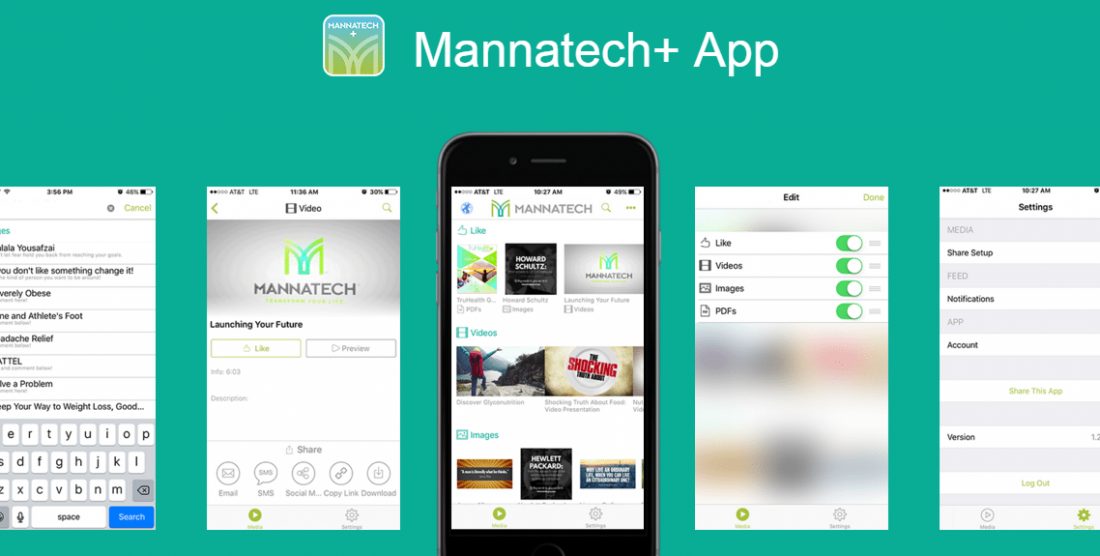 Business Tools: Champions Series Transforming to Mannatech+ App
Mannatech is introducing a powerful, yet simple innovation that will enable you to grow your business easier than ever—the Mannatech+ App. This smart phone app will allow you to share business-building tools directly from your smart phones as well as partake in a huge library of great self-development content from Mannatech and Achieve Today.
The New Mannatech+ App is replacing the former "Champions Series", which consisted of SUCCESS Magazine and Two Business Building CDs each month. In its place, Mannatech has partnered with Sound Concepts and Achieve Today to deliver a new self-development framework complete with:
Tool of the Month audios – Business-Building Tips, SUCCESS Stories and more.
Daily Coaching Calls
New courses and content posted weekly
Goal setting and journaling features
Master Mind Groups and Community Forums
Extensive Personal Development Library
Weekly Coaching Corner call
And much more
This same app also puts powerful prospecting and business development tools in the palm of your hand. The new Mannatech+ App makes available videos, brochures, presentations and documents that are perfect for sharing, all with just a few finger taps. Even better, the app will notify you when a prospect has opened an item, so you can follow up with them quickly.
The Mannatech+ App will help you grow personally and grow your business by leveraging the power of your  smartphone, and allow you to share these resources via email and text, as well as through the most popular social media networks.
The Mannatech+ App includes these valuable features to help you grow their business:
PDFs: Share Product Information Sheets, training tools, books and other promotions
Images: Literally hundreds of images to share on social media including product images, motivational quotes and graphics
Videos: Choose from dozens of Mannatech videos conveniently separated into categories
Instant Notification: Receive a text and/or email as soon as a prospect opens any of the content shared with them
The new Mannatech+ App is available for download on the Apple Store and Google Play store.  A monthly subscription to gain access to all of the self-development content and features is $9.99, or receive two months free when you subscribe for the entire year for $99.99.
The Mannatech+ App was developed through a partnership with SOUND CONCEPTS, a leader in direct sales marketing and technology support.
For more information on the Mannatech+ App, go to www.PoweredByMannatech.com.
Download the app at the following locations:
Apple App Store: https://geo.itunes.apple.com/us/app/mannatech+/id506574206?mt=8
Google Play Store: https://play.google.com/store/apps/details?id=com.soundconcepts.mannatech
To subscribe, go to: https://poweredbymannatech.mysecureoffice.com/signup#step2