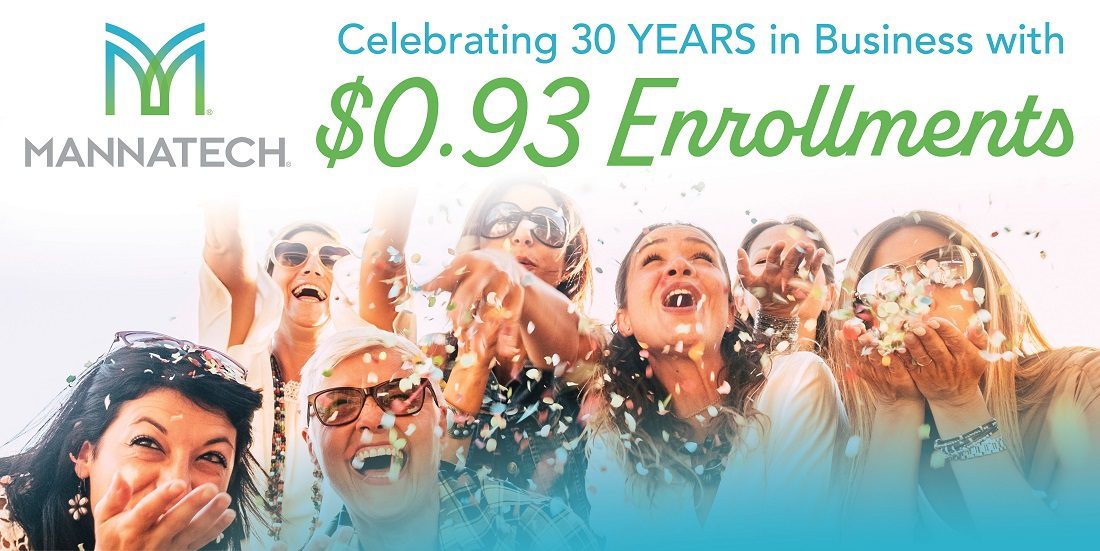 Celebrate 30 YEARS with $0.93 Enrollments
It's the perfect time to join Mannatech!
As we count down to MannaFest for an epic Mannatech 30th year Anniversary celebration, we are thrilled to announce a limited time offer that's bound to ignite your enthusiasm.
From now until MannaFest 2023, we are reducing our Associate enrollment fee to an unbelievable $0.93 with a purchase of $150+! Why? … because Mannatech began in 1993. Yes, you read that correctly—a remarkable opportunity to share and kickstart someone's journey with Mannatech at an incredibly affordable price.
You'll be able to share reduced enrollment fees and the opportunity to join a 30-year-strong company that has positively impacted the lives of millions around the globe.
Thank you for being a valued member of the Mannatech community and be sure to share with your teams and potential new Associates.
Together, let's continue to live our best lives.
ENROLLMENT INFORMATION – US ENROLLMENT INFORMATION – CA
FOR NEW ASSOCIATE ENROLLMENTS ONLY, WITH A PURCHASE OF $150 OR MORE. For renewal fees, please check the Mannatech Policies and Procedures.
---
注册费用低至 0.93 美元,共庆美泰成立 30 周年
现在就是加入美泰大家庭的最好机会!
欢庆美泰 30 周年盛典的 MannaFest 活动即将来临,值此之际,我们隆重宣布将推出限时优惠活动,诚邀您热情参与。
从此刻起,直到 MannaFest 2023 活动开始,只要消费满 150 美元,即可享受超低经销商注册费,仅需 0.93 美元!为什么是这个数字? … 因为美泰成立于 1993 年。您没看错——这次机会千载难逢,注册费低到难以想象,快和其他人分享喜讯并开启美泰事业吧。
快去分享注册费大减的喜讯吧,您将有机会成为这家造福了全球数百万用户的 30 年老牌企业的一员。
感谢您加入美泰社区,成为我们的宝贵会员。一定要和团队成员与潜在新经销商好好分享这个喜讯。
让我们携手同心,为生活再添精彩!
本次活动仅向新注册的经销商开放,消费满 150 美元即可享受优惠。如需了解续费事宜,
---
Celebra 30 AÑOS con Inscripciones de $0.93
Es un momento perfecto para unirse a Mannatech!
En la cuenta regresiva para MannaFest para la épica celebración del 30 aniversario de Mannatech, estamos súper emocionados de anunciar una oferta de tiempo limitado que encenderá tu entusiasmo.
¡A partir de ahora y hasta MannaFest 2023, estamos reduciendo nuestra cuota de inscripción a una cantidad increíble de $0.93 dólares con la compra de $150 o más! ¿Por qué?… porque Mannatech inició en 1993. Sí, leíste correctamente — una increíble oportunidad para compartir e iniciar el trayecto de alguien con Mannatech a un maravilloso y económico precio.
Podrás compartir las cuotas reducidas de inscripción y la oportunidad de ser parte de una compañía fuerte con 30 años de vida, que ha impactado de forma positiva las vidas de millones de personas en el planeta.
Gracias por ser un valioso miembro de la comunidad de Mannatech y asegurarte de compartir con tus equipos y con los posibles nuevos Asociados.
Juntos, continuemos viviendo nuestras mejores vidas.
SOLO PARA INSCRIPCIONES DE NUEVOS ASOCIADOS, CON UNA COMPRA DE $150 O MÁS. Para las cuotas de renovación, por favor, consulta las Políticas y Procedimientos de Mannatech.
---
30주년 기념 등록비 인하 $0.93
매나테크에 등록할 최고의 기회!
매나테크 30주년을 기념하는 MannaFest를 앞두고 있는 지금 여러분들에게 엄청난 기회가 될 한정 이벤트를 알려드립니다.
지금부터 MannaFest 2023이벤트까지, $150 이상 구매 시 어소시에이트 등록비를 $0.93으로 인하합니다. 왜일까요? 매나테크가 1993년에 시작되었기 때문입니다. 예, 읽으신 내용이 사실입니다. 믿을 수 없을 정도의 놀라운 금액으로 매나테크와 함께 삶의 여정을 공유하고 시작할 수 있는 기회를 놓치지 마십시오.
지난 30년 간 전 세계 수백만 명의 사람들에 긍정적인 영향을 미친 이 회사에 합류할 수 있는 기회를 인하된 등록비와 함께 널리 알려 주십시오.
매나테크의 소중한 구성원이 되어 주셔서 감사합니다. 여러분의 팀과 신규 어소시에이트 예정자들에게 정보를 공유해 주십시오.
함께 최고의 삶을 이어가 주십시오.
$150 이상 구매 시 신규 어소시에이트 등록에만 해당됩니다. 갱신 수수료는 매나테크 정책 및 절차를 확인하십시오.