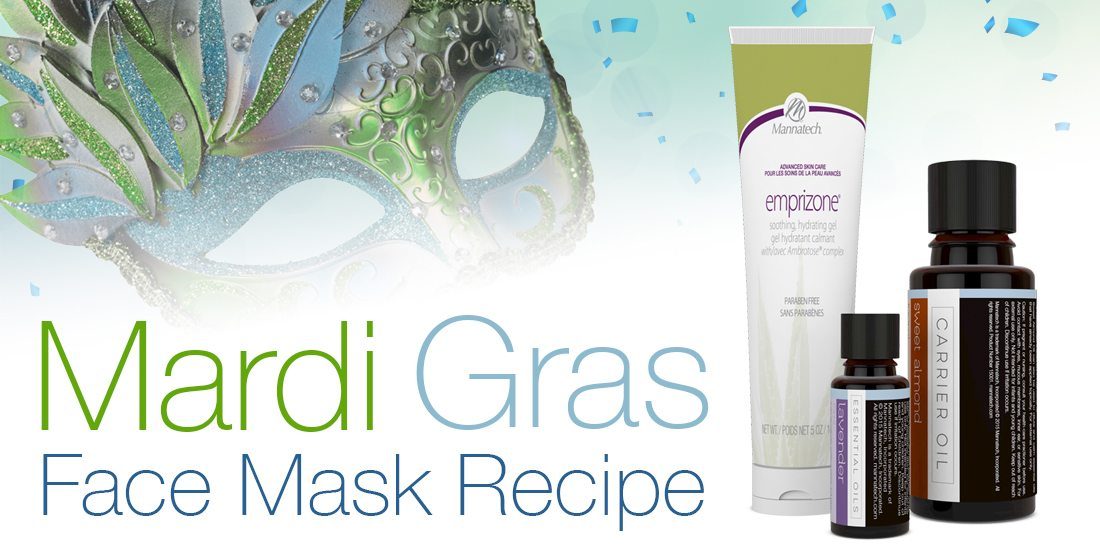 Celebrate Your True Beauty with Mannatech's Mardi Gras Gel Mask Promotion
Take care of the face behind the mask. For a limited time only, purchase the ingredients for our Mardi Gras Mask with a special 10% discount when you purchase all three products together, plus get FREE SHIPPING.
Mannatech's Mardi Gras Mask is made up of Emprizone® gel and Mannatech 100% Lavender and Sweet Almond Essential Oils™ to create an aromatic and hydrating solution for the skin. See below for instructions on how to prepare this facial mask for a soothing spa experience.
Ingredients:
Approximately 2-3 tablespoons, or 1-1.5 ounces, of Emprizone gel
3-5 drops of Mannatech 100% Lavender Essential Oil
And/or 3-5 drops of Mannatech 100% Sweet Almond Essential Oil
Directions:
In a small mixing bowl, combine the Emprizone gel with the Mannatech 100% Lavender and/or the Sweet Almond Essential Oils. Remember, the Sweet Almond Essential Oil is used for dilution, so for every two drops of a scented Essential Oil, we recommend using one drop of the Sweet Almond Essential Oil. For external use only. Keep away from eyes.
After you have created your customized mask, follow these simple steps for optimal results:
First, cleanse the skin using Mannatech's Ūth™ Cleanser. You'll always want to apply your mask to fresh, clean skin.
Avoiding the eye area, apply the mask generously to the face, neck and décolleté using your fingertips. Let the mask sit for approximately 10-20 minutes.
Remove the excess mask by rinsing the face with warm water and a warm, wet cloth.
Apply Ūth Rejuvenation Crème to nourish the skin.
Lastly, moisturize with Ūth Moisturizer to lock in hydration.
Choose a more natural mask this Mardi Gras season that complements your beautiful skin, and customize your own face mask for your next Mannatech skincare party. Purchase the ingredients for the Mardi Gras Mask today. This promotion ends on February 13 or while supplies last.
Mardi Gras Mask Ingredients for 10% off – U.S. order item #95801. Associate price – $62.99. Free shipping applies to one-time orders only. Not available on automatic order. Does not apply to loyalty redemption orders. Not for resale in Canada.