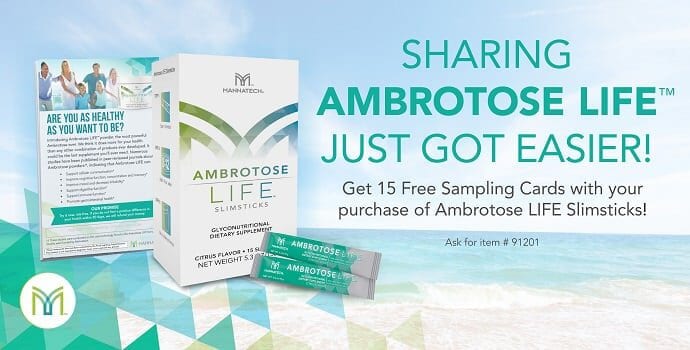 Get FREE Ambrotose LIFE Sample Cards ( 中文 / Español)
Sharing Ambrotose LIFE™ just got easier! Starting June 25th, when you buy one box of Ambrotose LIFE Slimsticks, you will also receive a FREE pack of 15 Ambrotose LIFE sampling cards. Available in English, Spanish and Chinese, these cards are a great sales tool to help you share the great taste of Ambrotose LIFE Slimsticks with prospective customers. Each card includes detailed information about Ambrotose LIFE, as well as a space to provide your contact information. Simply affix the slimstick to the card and start sharing.
Providing samples of new Ambrotose LIFE Slimsticks is a powerful way to grow your business! Place your order now while supplies last!
To receive your 15 free sample cards, you must order Ambrotose LIFE using promo #91201 for sample cards in English, promo #90201 for sample cards in Spanish and promo #91301 for sample cards in Chinese.  Available for one time orders only. Available in the U.S. only.  Retail price: $98.99 / Associate or Preferred Customer Price: $89.99 / PV 84; Offer good while supplies last.
Available in US only.
---
免费新生代醣质营养素样品卡
分享新生代醣质营养素变得轻而易举!从 6 月 25 日开始,购买一盒新生代醣质营养素,您还将免费获得一包 15 张新生代醣质营养素样品卡。样品卡有英语、西班牙语和中文版本,这些样品卡是非常出色的销售工具,能够帮助您将新生代醣质营养素的美味分享给潜在客户。每张样品卡上均印有新生代醣质营养素的详细信息,而且还留有空白处供您填写联系信息。只需将独立小包装新生代醣质营养素粘贴到卡片上即可开始分享。
提供全新的新生代醣质营养素样品是提升您业务的强有力方式!请立即下单,售完即止!
您必须使用以下促销代码订购新生代醣质营养素来获取 15 张免费样品卡:#91201(英语)、#90201(西班牙语)、#91301(中文)。仅适用于一次性订单。仅美国境内提供。零售价:98.99 美元/经销商或优惠顾客价: 89.99 美元/ PV 84;优惠提供,售完为止。
仅在美国提供
---
Tarjetas de Muestra de Ambrotose LIFE, GRATIS
¡Compartir Ambrotose LIFE™ es ahora más fácil! A partir del 25 de junio, cuando compres una caja de los paquetes individuales, Slimsticks, de Ambrotose LIFE, también recibirás una caja de 15 tarjetas de muestra de Ambrotose LIFE, GRATIS. Disponibles en inglés, español y chino, estas tarjetas son una maravillosa herramienta de venta para ayudarte a compartir el delicioso sabor de las Slimsticks de Ambrotose LIFE con tus clientes prospecto. Cada tarjeta incluye información detallada sobre Ambrotose LIFE, así como un espacio para que incluyas tu información de contacto. Simplemente pega o engrapa a la tarjeta el paquete individual, Slimstick, y empieza a compartir.
¡Ofrecer muestras del nuevo Ambrotose LIFE es una manera simple pero poderosa de crecer tu negocio! ¡Ordena hoy mismo antes de que se agoten!
Para recibir tus 15 tarjetas de muestra, debes ordenar Ambrotose LIFE usando el número de promoción #91201 para las tarjetas en inglés, el número de promoción #90201 para las tarjetas en español y el número de promoción #91301 para las tarjetas en chino. Disponible solo para órdenes únicas. Solo disponible en EE. UU. Precio al Público: $98.99 / Precio para Asociados/Clientes preferenciales: $89.99 / PV 84. Hasta agotar existencias.
Solo disponible en los Estados Unidos