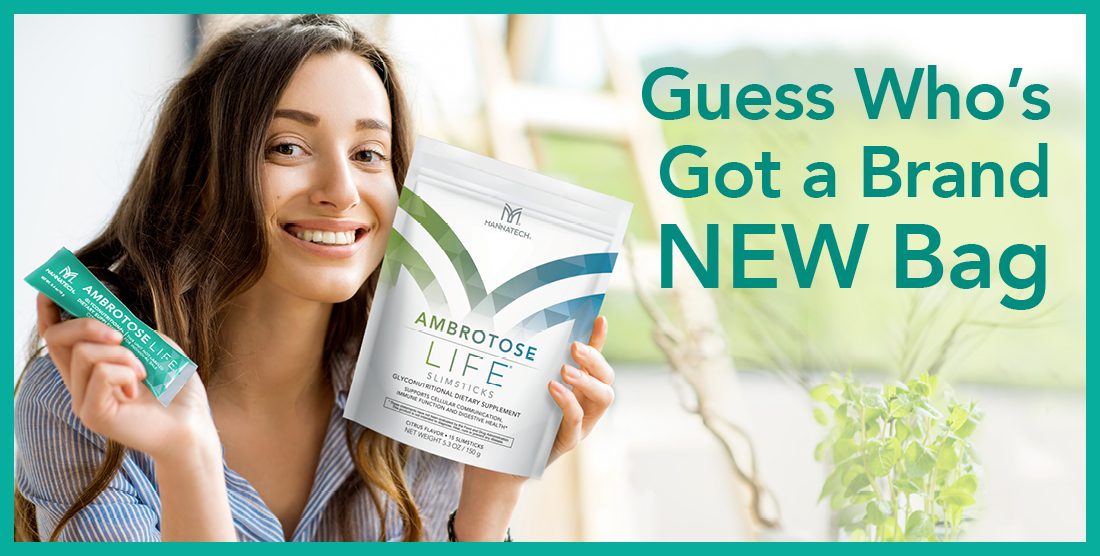 Guess Who's Got a Brand-New Bag
Ambrotose LIFE® slimsticks have gone from its former box packaging to a new travel-friendly recyclable gusseted bag. Talk about thinking outside the box – we did, and now it's in the bag!
So, what's in the bag? — Ambrotose LIFE slimsticks have a new look with the same great quality you know and love. We have simplified the stick by widening and shortening the package. Don't worry! You're getting the same number of slimsticks in the bag and the same amount of powder in each slimstick (10g.)
The same great price you are accustomed to now has the benefits of a versatile gusseted bag. Plus, it's recyclable to be earth-conscious…Win-Win!
Your health and the health of our planet are important to us here at Mannatech.
---
猜猜谁收到全新包装的产品
独立粉条包装的新生代醣质营养已经从原来的纸盒包装更新为携带方便并可回收的新的立式塑料袋包装。我们常常提到的"跳出盒子外面"思考,我们做到了。那么现在是我们想想"袋子里面"的时候了!
那么,袋子里面是什么样的改变?我们新生代醣质营养素塑料包装里面的独立粉条外包装也有了一些新改变,但内涵还是一样,同样是大家一如既往喜爱的优质产品。我们通过缩短独立粉条长度从而简化包装。但请放心,和以往一样,每袋里面的独立粉条数量和每一支独立粉条包含的重量克数(10克)都保持不变。
同样享受大家熟悉的价格,但采用焕然一新的立式塑料包装,而且可以回收,保护地球环境。可以说是双赢!
美泰珍视您的健康和我们地球的健康。
---
Adivina quién tiene una bolsa completamente nueva
Los paquetes individuales Ambrotose LIFE® slimsticks han pasado de su antiguo empaque en caja a una nueva bolsa con cierre fácil de llevar y reciclable. Nos salimos del molde; lo hicimos dejando la caja en el pasado, ¡y ahora el producto está en la bolsa!
Entonces, ¿qué hay en la bolsa? — Los paquetes individuales Ambrotose LIFE slimsticks tienen un nuevo "look" con la misma maravillosa calidad que conoces y que te encanta. ¡No te preocupes! Recibirás la misma cantidad de slimsticks en el bolsa y la misma cantidad de polvo en cada paquete individual (10g).
El mismo precio maravilloso al que estás acostumbrado y con los nuevos beneficios de una versátil bolsa con cierre. Además, es reciclable, para ser conscientes con la Tierra… ¡todos ganan!
Tu salud y la salud de nuestro planeta son importantes para nosotros en Mannatech.