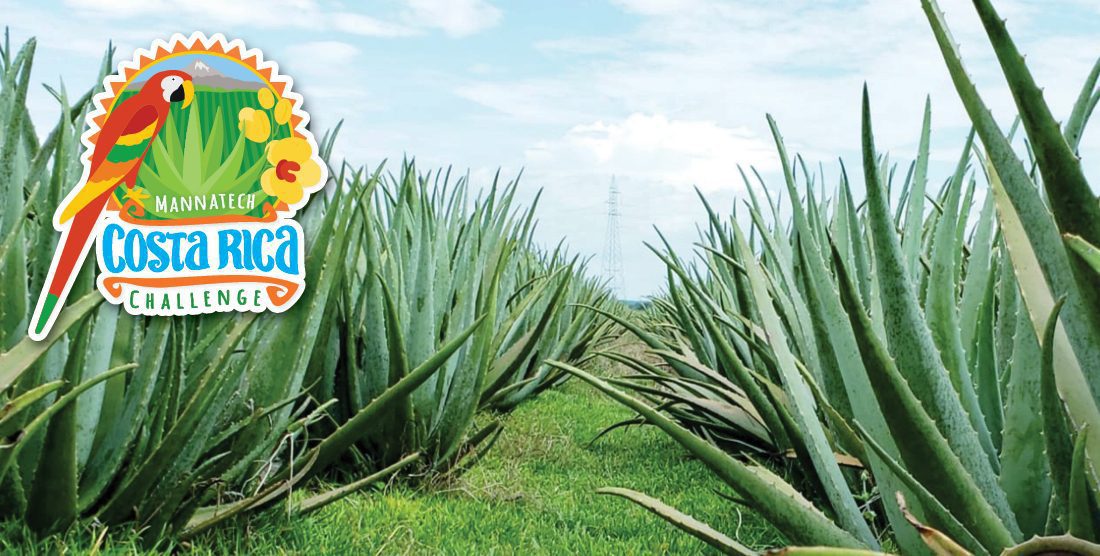 Join Us in Costa Rica and Tour Where True Acemannan Comes From
You will be in for a special treat when you and other top Mannatech Leaders and Corporate Executives visit Natural Aloe Costa Rica during the Costa Rica trip November 29 to December 4, 2020.± We will get a personal tour of the Aloe fields and the processing plant where True Acemannan and our exclusive Manapol® powder is made.
Our Aloe grows in Costa Rica's rich volcanic soils, ensuring the Acemannan content is very high. The leaves are harvested and processed all within the same day, and are shipped immediately to the factory for processing. As a guest, you will see the fascinating manufacturing process behind making the proprietary formula for Manapol.
Start working toward earning your incentive trip to Costa Rica today.
Access the rules in your preferred language:
±The earnings or lifestyle indicated are not necessarily representative of what you may earn or achieve. Your individual earnings and lifestyle as an Associate are strictly dependent upon your respective area, skills, and effort. Mannatech makes no guarantee of earnings or lifestyle.
Acompáñanos a Costa Rica y visita el lugar de donde proviene el Acemanano Verdadero
Tendrás un día muy especial cuando tú y otros de los más importantes líderes de Mannatech y ejecutivos corporativos visiten Natural Aloe Costa Rica durante el viaje a Costa Rica del 29 de noviembre al 4 de diciembre de 2020.± Tendremos un recorrido personal de los campos de aloe y de la planta de procesamiento en donde el Acemanano Verdadero y nuestro exclusivo polvo Manapol® se produce.
Nuestro aloe crece en los ricos suelos volcánicos de Costa Rica, asegurando que el contenido de Acemanano sea muy alto. Las hojas se cosechan y se procesan en el mismo día y se envían inmediatamente a la fábrica para procesamiento. Como invitado, verás el fascinante proceso de manufactura detrás de la exclusiva fórmula de Manapol.
Empieza a trabajar para ganar tu viaje de incentivo a Costa Rica hoy mismo.
Da clic aquí para obtener las reglas en tu idioma de preferencia:
±Las ganancias y el estilo de vida indicados no representan necesariamente lo que tú puedes ganar o lograr. Tus ganancias individuales y estilo de vida como Asociado dependen directamente de tu área, habilidades y esfuerzo. Mannatech no garantiza un estilo de vida o ganancias.
---
我们一同前往哥斯达黎加,游览纯正乙酰化甘露聚糖的来源之地
2020 年 11 月 29 日至 12 月 4 日,哥斯达黎加之行期间,您和其他顶级美泰领导者和企业高管参观 Natural Aloe Costa Rica 时将得到特别招待。± 我们将亲自参观芦荟田和生产纯正乙酰化甘露聚糖和我们独家美泰醣质芦荟萃取粉加工厂。
我们的芦荟生长在哥斯达黎加富饶的火山土壤中,确保了极高的乙酰化甘露聚糖含量。这些叶子在同一天内收获并处理,然后立即运至工厂加工。作为客人,您将看到制作美泰醣质芦荟萃取粉专有配方背后迷人的生产过程。
今天就开始努力赢得哥斯达黎加的奖励之旅吧。
单击此处以您的首选语言了解规则:
±所指收入或生活方式未必代表您可能获得或实现的收入或生活方式。您作为经销商的个人收益和生活方式主要取决于您的相关领域、技能和付出的努力。美泰不保证每个人都能达到期望的收入或实现所向往的生活方式。