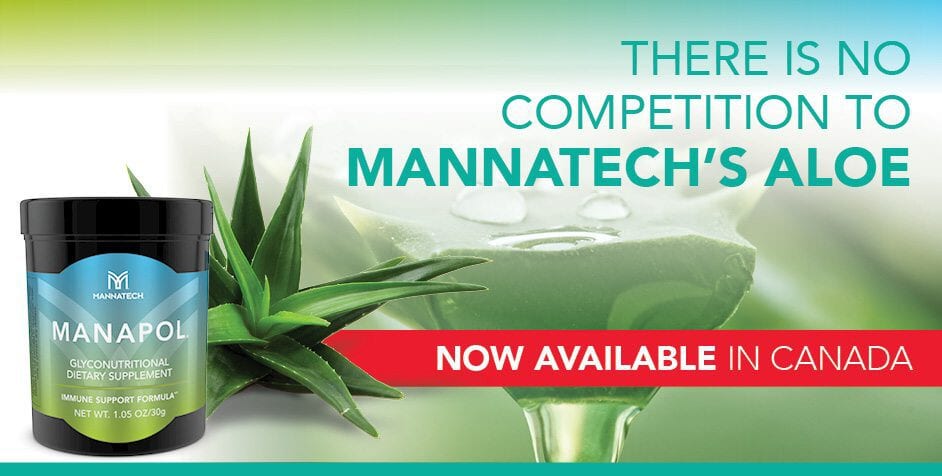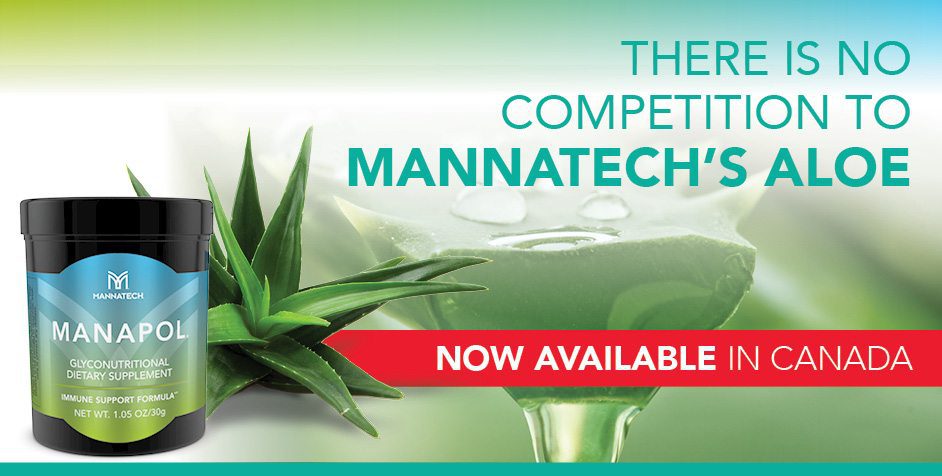 Mannatech Brings Highest Grade Aloe Product in the World to Canada (+中文)
Mannatech recently launched its most legendary ingredient, Manapol® powder, to its Canadian market. Manapol is the highest quality aloe vera gel extract in the world.
Manapol powder is a pure, premium, 100 percent aloe vera gel extract that is abundant in acetylated, mannose-rich polysaccharides, or acemannans. The acemannans in Manapol powder have a guaranteed molecular weight of more than one million Daltons[1], testing the highest of any other aloe gel extract. As the most cutting-edge Glyconutritional product available, Manapol powder supports cellular communication and may provide gastrointestinal benefits.
"We've reached an exciting milestone by providing our most potent ingredient as a stand-alone product to our Canadian market," said Mannatech's Regional President of EMEAA and the Americas, Christopher Simons. "Manapol is our core technology at Mannatech and something that the Canadian market has been especially passionate about and supportive of for years. I know they can't wait to share the world's highest quality aloe vera product with everyone around them."
For more than 20 years, Manapol powder has been an essential ingredient in other Mannatech products. Mannatech's Advanced Ambrotose® product and Ambrotose® complex are among the company's top-selling products containing the aloe gel extract, and are known for their immune and gastrointestinal benefits. Recently Mannatech announced it has secured its continuing source of premium Manapol powder with an exclusive deal with Natural Aloe Costa Rica. With this agreement, Mannatech provides its customers with transparency about where exactly the aloe in its products comes from.
To begin changing your life and the lives of those around you, please visit Mannatech.com.
[1]The Chemical Abstract Society (CAS) has defined acemannan as requiring a molecular weight of one million Daltons or more.
---
Mannatech世界最高品级的芦荟产品进入加拿大
Mannatech®公司(纳斯达克股票代码:MTEX)是一家致力于改变生活以创造更美好世界的全球健康和保健公司,最近向其加拿大市场推出了最具传奇色彩的醣王(Manapol®)。是世界上最高质量的芦荟凝胶提取物。
醣王粉(Manapol)是一种纯净,优质的100%芦荟凝胶提取物,富含乙酰化甘露多醣(polysaccharides)或乙酰化甘露聚醣(acemannans)。 醣王粉(Manapol)中的乙酰化甘露聚醣(acemannans)具有超过一百万道尔顿的有保证的分子量,经测试证明是所有任何其他芦荟凝胶提取物中含量最高的。作为最先进的多醣(Glyconutritional)产品,醣王粉(Manapol)支持细胞之间的沟通,并可能对胃肠道健康有益。
Mannatech EMEAA北美域总监Christopher Simons说:"我们通过为加拿大市场提供具有强力有效的成分的独特产品,达到了令人兴奋的里程碑"。"醣王(Manapol)是Mannatech的核心技术,加拿大市场多年来一直非常热衷和支持这一产品。我知道他们迫不及待地与周围的人们分享世界上最高品质的芦荟产品。"
二十多年来,醣王粉(Manapol)一直是Mannatech其他产品的重要组成部分。 Mannatech的加强型复方醣质营养素(Advanced Ambrotose®)产品和醣质营养素复合物(Ambrotose® complex)是含芦荟凝胶提取物的公司最畅销的产品之一,因其免疫和胃肠道益处而闻名。最近Mannatech宣布(Mannatech announced)已经获得了与哥斯达黎加天然芦荟独家交易以作为高品级醣王粉的持续来源。根据这一协议,Mannatech向客户公开了有关其产品中芦荟的来源。
要开始改变您的生活和周围人们的生活,请访问Mannatech.com。