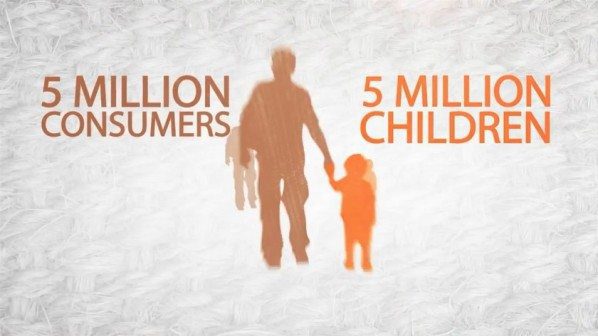 Mannatech Donates More Than $1 Million in Support to M5M℠ Foundation for 2015
Mannatech announced the results of its charitable giving to the M5M℠ Foundation during 2015, which amounted to more than $1 million.
In total, these donations enabled more than 17 million servings of the company's nutrient-dense PhytoBlend™ product to be given to more than 48,000 children in need in nine countries around the world on a daily basis.
Donations from Mannatech to the M5M Foundation are triggered directly from individual product orders. When anyone orders nutritional products for themselves from Mannatech, they are also helping fight global malnutrition.
"It is an honor to partner with the M5M Foundation to help combat childhood malnutrition; and in 2015 we made great strides in that effort," said Mannatech CEO and President and M5M Foundation Board Member, Al Bala. "The Mission 5 Million cause is the heart behind so many Mannatech businesses. This year we will be increasing our efforts by beginning clinical trials on PhytoBlend to gain additional insight into how it improves quality of life. We will also enhance the PhytoBlend formula to contain even more nutrients. I look forward to seeing this movement gain more ground in 2016 with Mannatech's continued support."
Mannatech Associates and vendors will be invited to attend an exclusive M5M gala at the company's global MannaFestSM event in Dallas, Texas on April 9. Associates will also learn about opportunities to visit M5M partners in other countries and deliver PhytoBlend.
The M5M Foundation is an independent 501c (3) non-profit charity organization. It officially launched on January 1, 2015 in partnership with Mannatech to help link five million consumers of Mannatech's Real Food Technology supplementation with five million children in need. The M5M Foundation acts as an ambassador for these children by delivering the gift of better nutrition which Mannatech provides through its PhytoBlend product.
Mannatech's PhytoBlend powder is designed to help in the fight against global malnutrition by providing children in need with valuable, supplemental nutrition that mixes easily into the foods they're already eating. PhytoBlend powder contains nutrients from plants and other natural sources, allowing children to receive standardized and nutritionally beneficial amounts of vitamins, minerals and phytonutrients in a natural form unique to the industry.
"I couldn't be more proud of the M5M Foundation's accomplishments in its first year," said M5M Executive Director, Sarah Bowen. "With Mannatech's help, we were able to efficiently distribute 41 percent more PhytoBlend than previous years due to a new structure and streamlined process that we have found to be more effective. I can't wait to see what we can do together in this next year, and I look forward to reaching even more children with help from all of our partners."
---
Mannatech dona más de 1 millón de dólares para la Fundación M5M para el año 2015.
Mannatech anunció los resultados de sus donativos para la fundación M5M otorgados durante el año 2015, cantidad que sumó 1 millón de dólares. En total, estos donativos permitieron que se otorgarán más de 17 millones de porciones del nutritivo polvo PhytoBlend de la compañía a más de 48 000 niños necesitados en nueve países alrededor del planeta, para su alimentación diaria.
Los donativos de Mannatech a la Fundación M5M surgen directamente de las órdenes individuales de productos. Cuando cualquier persona ordena a Mannatech productos nutricionales para su propio consumo, también están ayudando a combatir la desnutrición global.
"Es un honor tener una asociación con la Fundación M5M para ayudar a combatir la malnutrición infantil; y en 2015 hicimos grandes logros en este esfuerzo", dijo el presidente y CEO de Mannatech, Al Bala, quien también es miembro de Consejo de la Fundación M5M. "La causa de Mission 5 Millon es el corazón que da vida a muchos de los negocios Mannatech. Este año incrementaremos nuestros esfuerzos al iniciar estudios clínicos del PhytoBlend para entender de mejor forma la manera en la que mejora la calidad de vida. También mejoraremos la fórmula PhytoBlend para que contenga aún más nutrientes. Espero pronto poder ver crecer a este movimiento en 2016, con el continuo apoyo de Mannatech".
Los asociados y proveedores de Mannatech estarán invitados a asistir a la gala exclusiva M5M en el evento mundial de la compañía, MannaFestSM que tendrá lugar en Dallas, Texas, el 9 de abril. Los Asociados aprenderán sobre las oportunidades para visitar a socios M5M en otros países, para llevar PhytoBlend.
La Fundación M5M es una organización independiente 501c (3), caritativa y sin fines de lucro. Fue oficialmente lanzada el 1 de enero de 2015 en sociedad con Mannatech para ayudar a asociar a 5 millones de consumidores de los suplementos de Real Food Technology de Mannatech con cinco millones de niños necesitados. La Fundación M5M actúa como embajadora para estos niños al entregar el obsequio de una mejor nutrición que Mannatech otorga a través del producto PhytoBlend.
El polvo PhytoBlend de Mannatech está diseñado para ayudar en la lucha en contra de la malnutrición global al ofrecer a los niños necesitados una valiosa nutrición suplementaria que se mezcla fácilmente con los alimentos que ya están consumiendo. El polvo PhytoBlend contiene nutrientes derivados de plantas y de otras fuentes naturales, que permiten que los niños reciban cantidades estandarizadas y nutricionalmente benéficas de una forma natural única en la industria.
"No podría estar más orgulloso de los logros de la Fundación M5M en su primer año", dijo la directora ejecutiva de M5M, Sarah Bowen.  "Con la ayuda de Mannatech logramos distribuir de forma eficiente 41 por ciento más PhytoBlend que en años pasados, debido a una nueva estructura y a un proceso simplificado que ha resultado más eficiente.  No puedo esperar a ver lo que podemos lograr juntos el año que viene, y quiero que lleguemos a más niños con la ayuda de nuestros socios".