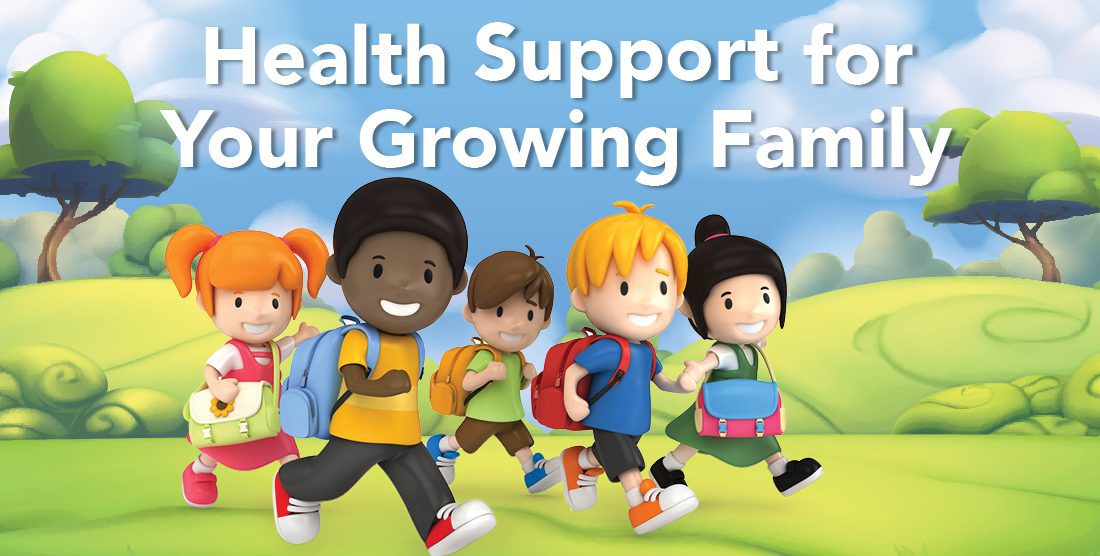 Products to Keep Your Children—and Entire Family— Healthy
We all love our children. I mean, who doesn't? They are adorable and the best part of our day. Sadly, that adorable quality can also make them contrarians when it comes to eating the food you want them to eat in order to get the nutrition they need.
In recent years, scientists and doctors have gained a greater understanding of the early years of human development and how this can have an impact on long-term health. This is why children need specific nutrients in order to grow, develop, and gain intellectual capacity and cognitive abilities. One common conception about development is that most children are fed well enough during their growing years. This view is more often than not proven wrong when examining nutrition alone.
There are countless factors we have limited control over that play a major part, such as environment, genes, and biology. However, there are also factors we do have control over that can have a dramatic impact on the general health and wellbeing, not just during childhood but lasting into adulthood.
Factors We Have Control Over
Nutrition—Today, approximately 40 million Americans and 12 million children are food insecure, meaning they are often forced to skip meals and buy cheap non-nutritious food1. More disturbing, empty calories from added sugars and solid fats contribute to 40% of daily calories for children and adolescents age 2–18 years, affecting the overall quality of their diets.
Exercise—With the ease of technology and comfort, most ingredients for a growing family's healthy lifestyle are forgotten, including exercise. In fact, only one in three children are physically active every day.2
Sleep—There is no way around it, getting a good night's sleep is essential if we are able to function at our highest level. Getting the required amount of sleep is critical for physical growth and cognitive development and for social, emotional, and behavioral health. Yet, today's technology is playing a crucial role in hampering our circadian sleep rhythms.
Learn About Our Wide Selection of Products to Keep Your Entire Family Healthy
At Mannatech, we believe that a family is the most important investment you'll ever make. Our products and resources are specifically designed to help improve your overall health, not just one aspect. Mannatech cares about your family and would like to share the beneficial products we offer that are suggested for the whole family to help keep them healthy!*
Tasty, Healthy Alternative to Junk Food
MannaBears™ are formulated specifically for children and naturally sweetened. These colorful, chewy, pectin bear-shaped gummies are designed to not only be delicious, but also to support cellular communication through Glyconutrients and to provide antioxidant support from vitamin C in a 4-gummy serving.*
 Build Balance for Your Gut Bacteria
Tasty and convenient, GI-ProBalance® slimsticks are designed to nourish your gut with 8 strains of probiotics and rich prebiotic fibers.* GI-ProBalance supports the natural balance of good bacteria in your gut microbiome and helps to maintain healthy digestion.*
 Snack on This  Healthy, Natural Shake
A plant-based, supplement option full of vitamins, minerals and 10 grams of protein per scoop. TruPLENISH™ is unlike other nutritional shakes on the market. Mannatech's TruPLENISH Shake contains prebiotics and probiotics, which help to nourish the microbiome.*
 Ignite Your Immune System
The second you're feeling stressed or run down, support your immune system with our convenient and delicious, plant-based, citrus flavored, immune support product, MannaBOOM® slimsticks!*
Support Your Body's Natural Defense All Day
Stress, poor diet, lack of sleep and sometimes life in general can take a heavy toll on your immune system, and your body can have a hard time keeping up. ImmunoSTART® is a year-round supplement supporting immune modulation, the healthy ratio of immune cells, in order for your body to defend itself naturally.*
Provide the Support Your Eyes Need
Eye Support is specifically formulated with the clinically studied ingredient Lutemax® 2020, which provides two pigments, Lutein and Zeaxanthin, that fortify and support the macula's ability to protect against blue light as well as promote healthy sleep and relaxation.*
Fill in Where Your Food Falls Short
It has been proven that most people consume a diet that does not provide enough of the nutrients we need. NutriVerus™ was formulated with a powerful blend of Glycans, antioxidants, vitamins, and minerals to support immune, digestive, and cardiovascular health systems.*
Clean, Healthy Energy
EMPACT+® – For the first time ever, the major elements of fueling, hydration, and recovery have been combined into a single fitness product.* EMPACT+ performance drink mix provides safe energy that you can enjoy anytime.* You'll be able to do more—and recover faster.*‡
Shop Now at Mannatech.com
1https://www.focusforhealth.org/malnutrition/
2https://www.hhs.gov/fitness/resource-center/facts-and-statistics/index.html#footnote-1
‡When consumed prior to and following workouts
---
选对产品,才能时刻守护孩子与全家人的健康
伴随家人成长的健康支持秘籍
我们都爱孩子。可爱烂漫的孩子点亮了我们的日常生活,谁都不能割舍对孩子的浓浓爱意。然而遗憾的是,为了让孩子获得所需营养,一味地要求他们吃我们指定的食物,再可爱乖巧的孩子也会产生逆反心理。
近年来,科学家和医生对人类早期成长阶段的认识愈发深入,逐渐了解到这一阶段对长期健康的重大影响。因此,要想让孩子更好地成长和发育、提高智力水平与认知能力,就必须为他们补充所需的特定营养物质。说到发育,人们常常认为大多数孩子在成长阶段吃得很好。但如果从营养学的角度加以审视,便会发现是这种观点往往是错的。
以环境、基因和生理为代表多种因素对人体影响显著,但我们对它们的掌控极其有限。不过,我们也可以掌握一些对整体健康影响巨大的因素,守护孩子长大成人。
我们能够掌控的因素
营养—如今,大约 4000 万美国人和 1200 万儿童无法获得食物保障,也就是说,这些人不能保障一日三餐,或者不得不购买毫无营养的廉价食品 1。更令人担忧的是,2 – 18 岁的儿童和青少年每日从添加糖和固体脂肪中摄取的热量占总热量的 40%,影响了整体膳食质量。
锻炼—随着科技的发展,人们享受到了越来越多的便利与舒适,反而忘记了促进全家健康生活最有力的方式,比如锻炼。实际上,只有三分之一的儿童每天进行锻炼。2
睡眠—睡眠无可替代。要想人体实现最佳运转,必须保持良好的夜间睡眠。充足的睡眠时长对身体成长、认知发育、实现社交、情感和行为健康具有至关重要的意义。然而,迅速发展的科技正成为破坏当下睡眠节律的罪魁祸首。
了解美泰丰富的健康产品,时刻守护全家健康
在美泰,我们坚信对家庭的投资才是最有意义的投资。我们的产品和资源专门为改善整体健康而设计,关注健康的每一方面。美泰关心您的家庭,特此向您介绍我们专为守护全家健康而推出的健康增益产品!*
健康美味软糖,告别垃圾食品
美泰小熊糖醣质果胶软糖专为儿童设计的配方,口味天然香甜。美泰小熊糖醣质果胶软糖是色彩缤纷且 耐嚼的果胶小熊形状软糖,不仅美味可口,而且四粒的份量所包括的醣质营养素可支持细胞沟通,所含的维生素 C 可提供抗氧化支持。*
 平衡肠道细菌
美泰益生菌粉美味方便,含有 8 种益生菌和丰富的益生元纤维,专为滋养肠胃而研制。*美泰益生菌粉能促使人体肠道微生物群系中的益生菌保持自然平衡,有助于维持消化系统健康。*
 天然营养奶昔,优质健康零食
植物性营养代餐粉,富含维生素和矿物质,每袋含超过 10 克蛋白质,是不可多得的营养之选。不同于市场上的其他营养奶昔,美泰营养代餐粉奶昔富含益生元和益生菌,有助于滋养微生物菌群。*
激发免疫系统潜能
您是否感到压力太大、身体虚弱?请立刻使用美泰多醣免疫宝冲剂呵护免疫系统。本产品萃取自天然植物,使用便捷,柑橘风味,美味可口!*
全天候支持身体的自然防御能力
压力、不良的饮食、缺乏睡眠和过度劳累都会对您的免疫系统造成严重负担。ImmunoSTART 活性牛初乳咀嚼片是一款可长年食用的营养补品,能够支持人体免疫调节,维持免疫细胞比例平衡,从而实现人体自我保护。*
产品图满足眼部健康需求
美泰 Essentials™ 眼健康支持胶囊经悉心研发,采用临床研究成分 Lutemax® 2020,提供叶黄素和玉米黄质两种色素,从而提升和增强黄斑功能,避免蓝光伤害。*
 全面丰富营养,最佳膳食拍档
经证实,大多数人的膳食都不能为人体提供充足的营养物质。美泰醣质果蔬营养粉配方富含多种功效强大的聚醣、抗氧化剂、维生素和矿物质,有益免疫系统、消化系统和心血管系统健康。*
清洁、健康的能量来源
EMPACT+ 美泰活力能量饮料 – 有史以来第一次将补充能量、保持水分和加快恢复的重要元素融合在同一款健身产品中。*EMPACT+ 美泰活力能量饮料提供可以随时补充的安全能量。*让您可以承受更大强度的锻炼,而且恢复起来会更快。*‡
1https://www.focusforhealth.org/malnutrition/
2https://www.hhs.gov/fitness/resource-center/facts-and-statistics/index.html#footnote-1
---
Productos para mantener saludables a tus hijos, y a toda la familia
Respaldo para la salud de tu creciente familia
Todos amamos a nuestros hijos. ¿Quién no? Son adorables y son la mejor parte de nuestro día. Tristemente, esa adorable cualidad también puede hacer que nos lleven la contraria cuando se trata de comer lo que nosotros queremos que coman para que obtengan la nutrición que necesitan.
En años recientes, científicos y doctores han obtenido un mejor entendimiento sobre los primeros años del desarrollo humano, y sobre cómo puede esto tener un impacto en la salud a largo plazo. Esta es la razón por la cual los niños necesitan nutrientes específicos para crecer, desarrollarse, obtener capacidad intelectual y habilidades cognitivas. Una concepción común sobre el desarrollo es que la mayoría de los niños reciben buena información durante sus años de crecimiento. Este punto de vista es a menudo incorrecto cuando solo examinamos la nutrición.
Hay un sinnúmero de factores sobre los que tenemos un control limitado y que tienen una influencia importante, tales como el medioambiente, los genes y la biología. Sin embargo, también hay factores sobre los cuales sí tenemos control y que pueden tener un impacto dramático sobre la salud y el bienestar general, no solo como niños pero que se llevan hasta la edad adulta.
Factores sobre los que sí tenemos control
Nutrición—Hoy, aproximadamente 40 millones de estadounidenses y 12 millones de niños experimentan inseguridad alimenticia, lo que quiere decir que a menudo se ven obligados a saltarse alimentos y a comprar comida barata carente de nutrición1. Lo más grave son las calorías vacías que vienen de los azúcares agregados y grasas sólidas, que representan un 40 % de las calorías diarias para niños y adolescentes entre las edades de 2 y 18 años de edad, afectando la calidad en general de sus dietas.
Ejercicio—Con la facilidad de la tecnología y la comodidad, la mayoría de los ingredientes para un estilo de vida saludable para una creciente familia, a menudo se olvida, incluido el ejercicio. De hecho, solo uno en tres niños es físicamente activo todos los días.2
Sueño—No hay sustitutos para esto, obtener una buena noche de sueño es esencial si vamos a funcionar en nuestro nivel más alto. Obtener la cantidad requerida de sueño es de importancia crítica para el crecimiento físico, el desarrollo cognitivo, social, emocional y para la salud de la conducta. Sin embargo, la tecnología de hoy en día juega un rol de suma importancia afectando nuestros ritmos circadianos del sueño.
Aprende de nuestra amplia selección de productos para mantener a toda tu familia saludable
En Mannatech, creemos que una familia es la mejor inversión que harás en tu vida. Nuestros productos y recursos están específicamente diseñados para ayudar a mejorar tu salud en general, no solo en un único aspecto. ¡A Mannatech le importa tu familia y quiere compartir los productos benéficos que ofrecemos y que se recomiendan para toda la familia para ayudarles a mantener su salud!*
Una alternativa deliciosa y saludable para la comida chatarra
Las gomitas MannaBears están formuladas específicamente para niños y endulzadas naturalmente. Estas coloridas gomitas de pectina con forma de oso, están diseñadas no solo para ser deliciosas, sino también para respaldar la comunicación celular a través de Gliconutrientes y para otorgar respaldo antioxidante de vitamina C en cada porción de 4 gomitas.*
Construye el Equilibrio para tu Bacteria Gastrointestinal
Deliciosos y convenientes, los paquetes individuales GI-ProBalance® slimsticks están diseñados para alimentar tu tracto gastrointestinal con 8 cadenas de ricas fibras de probióticos y prebióticos.* GI-ProBalance respalda el equilibrio natural de bacteria benéfica en el microbioma de tu tracto gastrointestinal y ayuda a mantener una digestión saludable.*
Disfruta este batido saludable y natural
Es una opción de suplementos cargada de vitaminas y minerales y 10 gramos de proteína por cada medida. TruPlenish a diferencia de otras malteadas nutricionales en el mercado, la malteada TruPLENISH contiene prebióticos y probióticos que ayudan a nutrir tu microbioma.*
 Impulsa tu sistema inmunitario
En el segundo que te sientas estresado o sin energía, respalda a tu sistema inmunitario con nuestros conveniente y delicioso producto, con sabor a cítricos, para el respaldo inmunitario, ¡los paquetes individuales MannaBOOM slimsticks!*
 Respalda las defensas naturales de tu cuerpo todo el día
El estrés, la mala alimentación, la falta de sueño, y, en ocasiones, la vida en general, pueden pasarle una cara factura a tu sistema inmunitario y tu cuerpo puede tener dificultades para mantener la marcha. ImmunoSTART® es un suplemento para todo el año que respalda la modulación inmunitaria, la proporción saludable de células inmunitarias, para que tu cuerpo pueda defenderse naturalmente.*
Dales a tus ojos el respaldo que necesitan
Eye Support de Mannatech EssentialsTM ha sido formulado específicamente con el ingrediente Lutemax® 2020, clínicamente estudiado, que ofrece dos pigmentos, Luteina y Zeaxantina, que fortalecen y respaldan la habilidad de la mácula para proteger en contra de la luz azul.*
Compensa Cuando tus Alimentos se Queden Cortos
Se ha probado que la mayoría de las personas consume una dieta que no ofrece los suficientes nutrientes que necesitamos para una salud óptima. NutriVerus fue formulado con una poderosa mezcla de glicanos, antioxidantes, vitaminas y minerales para el respaldo inmunitario, digestivo y de la salud del sistema cardiovascular.*
Energía Limpia y Saludable
Por la primera vez en la historia, los principales elementos de energía, hidratación y recuperación han sido combinados en un solo producto deportivo.* La bebida deportiva EMPACT+ ofrece energía segura que puedes disfrutar en cualquier momento.* Podrás hacer más — y podrás recuperarte más rápido.*‡
1https://www.focusforhealth.org/malnutrition/
2https://www.hhs.gov/fitness/resource-center/facts-and-statistics/index.html#footnote-1