This Woman Dropped 2.5 Dress Sizes, Lost 11 inches and 21.5 Pounds Using Mannatech's TruHealth™ Fat-Loss System
Name: Jackie Bullivant
Rank: Presidential Director
Location: Canada
Jackie Bullivant and her husband, Bryan, began using Mannatech's TruHealth Fat-Loss System and after 10 weeks, Jackie has dropped 2.5 dress sizes and has lost 11 inches and 21.5 pounds.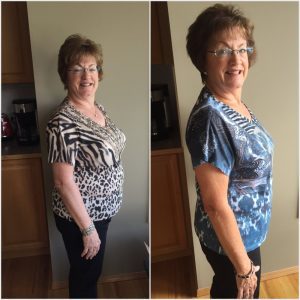 But at age 73, becoming slim, fit and healthy has not always been easy. In the past, she had fallen for crazy diet fads that didn't work, and she abused her body with various diets and unhealthy eating plans. Looking back, she realizes how silly some of her diet regimens were.
"I tried every diet fad that came up," said Jackie. "My routine was to eat everything I wanted for the whole year and then start a diet in April so that I could lose some of the fat that I had gained before the summer started. I can hardly believe I did that! My body began resisting change, and it was a very discouraging journey."
This past year she claims she was in the worst shape of her life, and she knew she had to do something to make a significant change. She had a hard time getting motivated and was put off by all the work that many weight loss programs require.
When Jackie heard about Mannatech's new TruHealth Fat-Loss System, she liked what she heard; but she was still skeptical as to whether it would work for her. After all, she had tried so many different programs with little success.
"I can attest to the TruHealth Fat Loss System," she said. "It is the most amazing program and it really does work, even for me. I lost eight inches and 13 pounds in the first 28 days. I am now wearing some of the clothes I wore last year! †*"
Jackie says Mannatech's TruHealth Fat-Loss System has helped her to not only become slimmer, more fit and healthier, but feel better too.
"The system is the easiest program I have ever followed," she said. "It is not hard and not a ton of work. Also, we have found that we have saved some money on groceries since we started on TruHealth; so the system doesn't even cost much."
†When used in conjunction with a calorie-controlled diet and exercise. Always consult with your physician or other qualified healthcare provider before embarking on a new diet or program. This program is not recommended for pregnant or lactating women. If you are taking medications, have a health condition or are planning a medical procedure, consult your health professional before beginning this program. It is also not recommended for children under the age of 18. If you have any specific questions about these matters you should consult your doctor or other healthcare provider.  When following this program, sustained lifestyle changes are needed to experience long term results and results may vary.