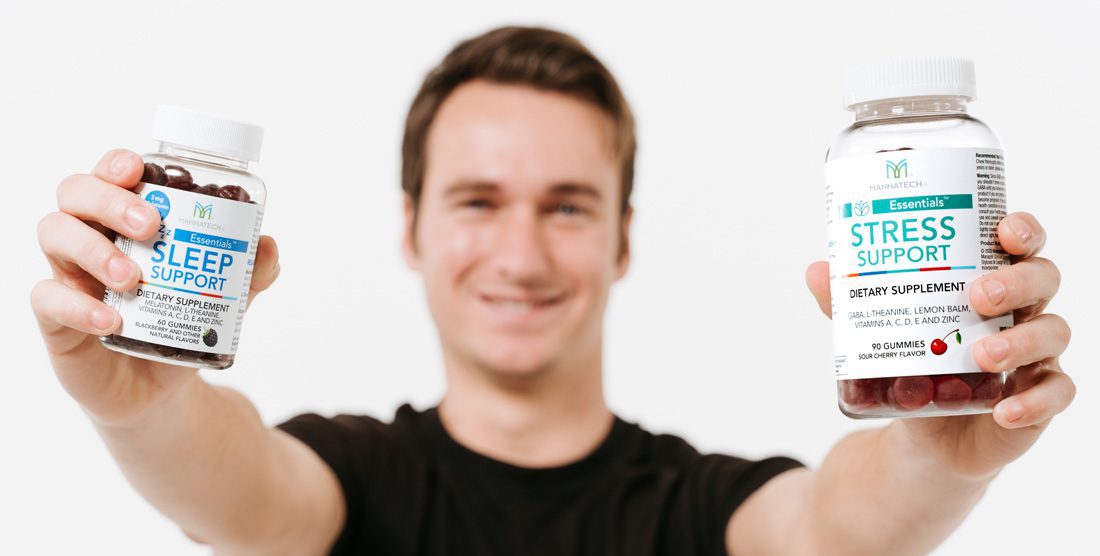 Your days and nights just got better.
The perfect super duo.
Stress happens to us all, and it doesn't take much to show up. It can impact our mood, energy level, and awareness, leaving us feeling tired and unmotivated. But did you know stress can also affect our quality of sleep? Poor sleep can have a serious impact on our stress levels. From feeling tired and unmotivated to having difficulty concentrating, it all adds up so quickly. However, it doesn't have to.
Introducing Mannatech Stress and Sleep Support gummies, a safe, effective, and fast-acting Stress and Sleep self-care duo.
 Stress and Sleep Support gummies can help achieve calm and great sleep when we need it most and are perfect for stressful days and restless nights. *
The sour cherry Stress gummies include nutrients such as GABA, L-Theanine, and Lemon Balm to help soothe tension and improve your mood. *
The blackberry Sleep gummies contain Melatonin and L-Theanine so that you can rest easy. *
They're also packed with vitamins A, C, D, and E and Zinc, which are important for supporting cardiovascular, immune system, eye, brain, skin and bone health. *
Stressing less and getting a restorative night's sleep can unlock a whole new you and help lead to better concentration, an overall improved mood, and increased energy levels – making each day much easier to tackle.
Better days lead to better nights, giving our bodies a chance to recharge for whatever challenges come next! Reclaim your Zen and get a blissful night's sleep with Mannatech Stress and Sleep Support gummies today!
---
改善白天和夜晚状态。
完美的超强组合。
每个人或多或少都会面临压力。压力会影响我们的情绪、精力水平和意识,让我们感到疲劳和乏力。但您是否知道压力也会影响我们的睡眠质量?睡眠质量不佳会严重影响我们的压力水平。只要出现疲劳和乏力的感觉,就可能会迅速发展成注意力难以集中的状态。然而,这种情况是可以改变的。
现为您隆重推出美泰解压和睡眠支持软糖,其成分安全、功效显著、见效迅速,是专门针对压力和睡眠问题的自我护理组合。
 解压和睡眠支持软糖可以帮助我们解决燃眉之急,给我们带来安稳的优质睡眠,非常适合在备受压力的白天和心神不宁的夜晚食用。*
酸樱桃味解压软糖内含 GABA、茶氨酸和香蜂叶等多种营养成分,可有效缓解紧张状态,改善情绪。*
黑莓味助眠软糖内含褪黑素和茶氨酸,可助您轻松安睡。*
软糖还富含维生素 A、C、D 和 E,更特含锌成分,这些都是心血管、免疫系统、眼部、脑部、皮肤和骨骼健康的重要支持元素。*
无论是调节压力,还是通过睡眠恢复状态,都可以让您焕然一新,助您改善注意力、整体情绪和精力水平,让您的每一天都更加轻松自在。
安睡的夜晚离不开状态良好的白天,有安稳的睡眠才能帮助我们的身体恢复状态,更好地迎接未来的任何挑战!立即使用美泰解压和睡眠支持软糖,助您恢复内心平和,尽享舒心睡眠!
*此说明尚未经过食品药物管理局评估。本产品不可用于诊断、治疗、治愈或预防任何疾病。
---
Tus días y tus noches ahora son mejores.
El súper dúo perfecto.
El estrés nos ocurre a todos, y no se necesita de mucho para que aparezca. Puede afectar nuestro estado de ánimo, nuestros niveles de energía y de conciencia, dejándonos sintiendo agotados y sin motivación. ¿Pero sabías que el estrés también puede afectar nuestra calidad de sueño? La falta de sueño puede tener serios impactos sobre nuestros niveles de estrés. Desde sentirnos casados y sin motivación, hasta tener dificultades para concentrarnos, todo se acumula rápidamente. Sin embargo, no tiene que ser así.
Presentamos las gomitas Stress y Sleep Support, una manera segura, efectiva y de acción rápida, son el dúo de cuidado personal para el Estrés y el Sueño.
 Las gomitas Stress y Sleep Support pueden lograr la calma y un sueño maravilloso cuando más lo necesitamos y son perfectas para los días estresantes y las noches intranquilas.*
Las gomitas Stress de cereza ácida incluyen nutrientes como GABA, L-Teanina y Bálsamo de Limón, para ayudar a aliviar la tensión y mejorar el estado de ánimo.*
Las gomitas Sleep de zarzamora contienen Melatonina y L-Teanina para que puedas descansar plácidamente.*
También están cargadas de vitaminas A, C, D, y E, y Zinc, que son importantes para respaldar los sistemas cardiovascular e inmunitario, y la salud de los ojos, el cerebro, la piel y los huesos.*
Estresarte menos y tener noches de sueño más reparadoras puede ser la llave para revelar un nuevo tú y puede dar pie a una mejor concentración y a un mejor estado de ánimo, y a niveles más altos de energía — haciendo más fácil enfrentar el día.
¡Mejores días dan pie a mejores noches, dándole a nuestros cuerpos la oportunidad de recargarse para los siguientes retos! ¡Recupera tu Zen y las noches plácidas de sueño con las gomitas Stress y Sleep Support de Mannatech, hoy mismo!
"Obtén la calma y sigue durmiendo"
*Estas declaraciones no han sido evaluadas por la Administración de Medicamentos y Alimentos de Estados Unidos. Estos productos no tienen la intención de diagnosticar, tratar, curar o prevenir ninguna enfermedad.