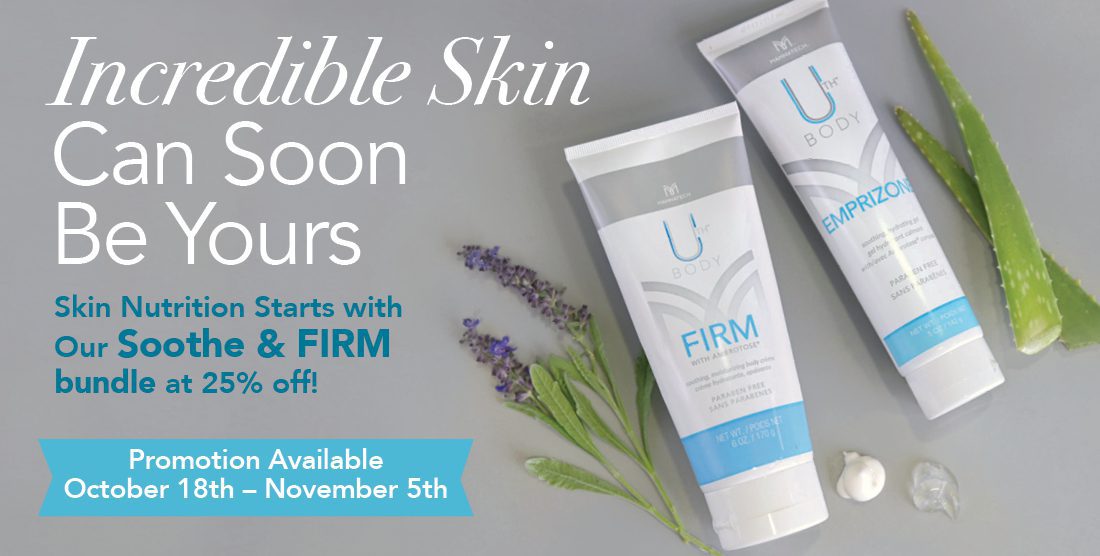 You're One Step Away from LOVING the Skin You're In
This powerful duo will wrap your body in healthy, hydration and natural ingredients to visibly tighten and smooth the body.
Soothe and calm stressed skin with Uth Emprizone® gel. This water-based gel formula, enriched with Aloe vera, vitamin E and A, hydrates and soothes skin while creating a protective barrier. This unique formula is ideal for after sun exposure, waxing, shaving or any sensitive dry, irritated skin.
Hydrate and soothe skin with this silky, moisturizing body crème. Powered by natural ingredients, like Aloe vera, lavender oil and vitamin B-complex, Uth FIRM with Ambrotose® is a nutrient-rich formula blending science and nature to bring you the ultimate in all-over radiant hydration.
Details:
SKUs: 44001 (US) and 55211 (CA)
Associate/Preferred Customer Price: $41.99
PV 39
Also Enjoy Free Ground Shipping for ONE TIME orders placed at $199.99 or over!†
† FOR ONE TIME ORDERS ONLY. WHILE SUPPLIES LAST. FREE GROUND/STANDARD SHIPPING FOR ORDERS $199.99 USD AND OVER, PLACED BETWEEN OCTOBER 4th and DECEMBER 31st. EXCLUDES STANDARD SHIPPING METHODS REQUIRING A SIGNATURE. ORDERS MAY BE REDEEMED USING LOYALTY POINTS, BUT WILL NOT GENERATE LOYALTY POINTS. THERE WILL BE NO FIRST ORDER BONUS FOR FIRST ORDERS OF THIS PROMOTIONAL ITEM DURING THIS PROMOTIONAL PERIOD. THIS SPECIAL PROMOTION IS NOT SUBJECT TO MANNATECH'S SATISFACTION GUARANTEE. ALL SALES FINAL. NO RETURNS OR EXCHANGES.
---
爱上你的肌肤,从下一刻开始
 该强效组合能改善您的皮肤健康与水合作用,富含天然成分,可令您的肌肤更加紧致光滑。
利用 Uth Emprizone 多醣芦荟胶舒缓肌肤压力。本产品是富含芦荟、维生素 E 和维生素 A 的水基凝胶,能够在舒缓皮肤的同时建立起保护屏障。这款配方独特的产品适合敏感皮肤和干燥受损皮肤,在日晒、蜜蜡除毛、剃须之后使用效果尤佳。
选用本款丝般触感的身体精华乳霜,滋润舒缓肌肤。Uth FIRM with Ambrotose 多醣润肤霜富含芦荟、熏衣草油、维生素 B 复合物等天然成分,营养配方丰富,秉持科学与天然相结合,滋润您的全身肌肤。
详细信息:
库存量单位:44001 (US) 和 55211 (CA)
经销商/优惠顾客价:$41.99
PV 39
价值在 199.99 美元及以上的订单可同样享受免费陆运,仅限一次性订单。†
† 仅适用于一次性订单。售完为止。在 10 月 4 日和 12 月 31 日之间且价值在 199.99 美元及以上的订单可享受免费陆运/标准配送,仅限一次性订单。不包括需要签名的标准运输方式。本次促销可使用忠诚度积分购买,但此次购买将不会产生忠诚度积分。在此促销期间,订购此促销产品将不享受首单优惠。此特惠促销不受美泰满意度保证的约束。所有销售均为最终销售。一经售出恕不退款或换货。
---
Estás a un paso de ENAMORARTE de tu piel
Este poderoso paquete envolverá a tu cuerpo con ingredientes saludables, hidratantes y saludables para visiblemente reafirmar tu cuerpo y dejarlo más suave.
Alivia y calma la piel estresada con el gel Uth Emprizone®. Esta fórmula con base de agua, enriquecida con Aloe, vitaminas E y A, hidrata y calma la piel al mismo tiempo en que crea una barrera protectora. Esta fórmula única es ideal para después de la exposición al sol, la depilación con cera, afeitado o para cualquier piel sensible, seca o irritada.
Hidrata y alivia tu piel con esta sedosa crema corporal humectante. Con el poder de ingredientes naturales, como aloe, aceite de lavanda y la vitamina complejo B, Uth FIRM with Ambrotose® es una fórmula rica en nutrientes que mezcla la ciencia y la naturaleza al otorgarte lo mejor en hidratación completa, tonificación y alivio.
Detalles:
SKUs: 44001 (EE. UU.) y 55211 (CA)
Precio para Asociados/Clientes Preferenciales: $41.99
PV 39
También disfruta de envío terrestre gratis en PEDIDOS ÚNICOS de $199.99 o más. !†
¡Inicia sesión y haz tu pedido en Mannaech.com!
† DISPONIBLE SOLO PARA ÓRDENES ÚNICAS. HASTA AGOTAR EXISTENCIAS. ENVÍO TERRESTRE/ESTÁNDAR GRATUITO PARA PEDIDOS DE $199.99 DÓLARES O MÁS, LEVANTADOS ENTRE EL 4 DE OCTUBRE Y EL 31 DE DICIEMBRE. EXCLUYE MÉTODOS ESTÁNDARES DE ENVÍO QUE REQUIEREN FIRMA. LOS PEDIDOS PUEDEN COMPRARSE USANDO PUNTOS DE LEALTAD, PERO NO GENERARÁN PUNTOS DE LEALTAD. NO HAY BONO DE PRIMERA COMPRA PARA LOS PRIMEROS PEDIDOS CON ESTE ARTÍCULO PROMOCIONAL DURANTE ESTE PERIODO DE PROMOCIÓN. ESTA PROMOCIÓN ESPECIAL NO ESTÁ SUJETA A LA SATISFACCIÓN GARANTIZADA DE MANNATECH. TODAS LAS VENTAS SON FINALES. NO SE ACEPTAN CAMBIOS NI DEVOLUCIONES.