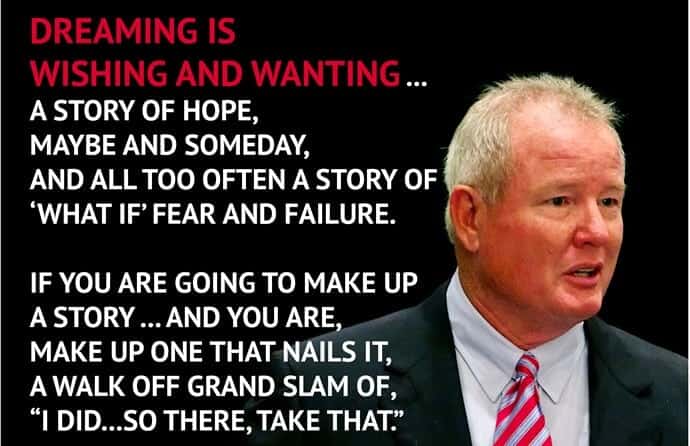 Business-building Training with Richard Brooke on Oct 6 ( 中文 / Español)
Join Richard Brooke on Saturday, October 6 from 9am to Noon (Central) for the introduction to a six-week series of live, business-building trainings. Richard will provide live training on successful business-building mindsets and the daily application of the principles in his book, The Four Year Career (often referred to as "The Bible of Network Marketing").
Richard was the first Network Marketer to appear on the cover of Success magazine and has helped change thousands of lives through his books and training programs. We are so pleased that Richard is working with Mannatech to help train up our Associates to greater success!
This training event will take place at Mannatech headquarters and can be viewed live on https://allaboutmannatech.com/mannatechlive. The event is open to local Associates who want to attend in person.
Join us on the following dates for Richard's full training curriculum "The Four Year Career Learning Series. Give yourself an unfair advantage!"
You won't want to miss Richard's powerful training sessions!
---
10月6日,Richard Brooke将主讲系列培训:业务构建
美国中部时间10月6日星期六上午9点,Richard Brooke将围绕"业务构建"这个主题,现场主讲培训课程。这个系列的培训将持续6周,Richard将就成功的业务构建思维模式、《职业四年》书中提到的日常应用原则等内容,进行现场培训。《职业四年》一书由Richard Brooke所著,常被誉为是网络营销圣经。
Richard是第一个登上《成功》杂志封面的网络营销家,他的著作及培训课程曾帮助过数以千计的人的生活。我们很高兴能请到Richard帮助美泰培训经销商,助力我们的伙伴取得更大的成功!
培训将在美泰公司的总部举行,同时也将通过网络进行直播,直播网址:https://allaboutmannatech.com/mannatechlive 培训免费向本地的经销商开放,欢迎大家到场参加。
诚邀您参加Richard主讲的"职业四年学习系列,给自己一个不公平的优势!",完整培训课程时间安排如下:
Richard的培训内容实用有效,您一定不愿意错过!
---
Entrenamiento para construir tu negocio con Richard Brooke el 6 de octubre
Acompaña a Richard Brooke el sábado, 6 de octubre de 9:00 a. m. a 12:00 p. m. (hora de Dallas) para la presentación de una serie de seis semanas de entrenamiento para construir tu negocio.  Richard otorgará entrenamiento en vivo sobre las actitudes exitosas para construir negocio y la aplicación cotidiana de los principios en su libro La Carrera de Cuatro Años ("The Four Year Career"), que a menudo se le llama "La Biblia de la Mercadotecnia de Redes".
Richard fue la primera persona en mercadotecnia de redes en aparecer en la portada de la revista Success y ha ayudado a miles de personas con sus libros y programas de entrenamiento.  ¡Estamos encantados de que Richard esté trabajando con Mannatech para ayudar a entrenar a nuestros Asociados sobre cómo lograr mayor éxito!
El evento de entrenamiento tendrá lugar en la sede de Mannatech y puede verse en vivo en https://allaboutmannatech.com/mannatechlive. El evento está abierto para Asociados locales que quieran asistir en persona.
Acompáñanos en las siguientes fechas para obtener el entrenamiento completo de Richard "Serie de Entrenamiento de la Carrera de Cuatro Años. ¡Obtén una Ventaja Competitiva!"
¡No querrás perderte las poderosas sesiones de entrenamiento de Richard!