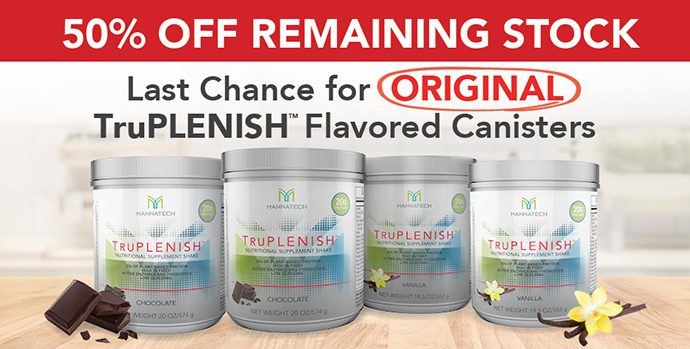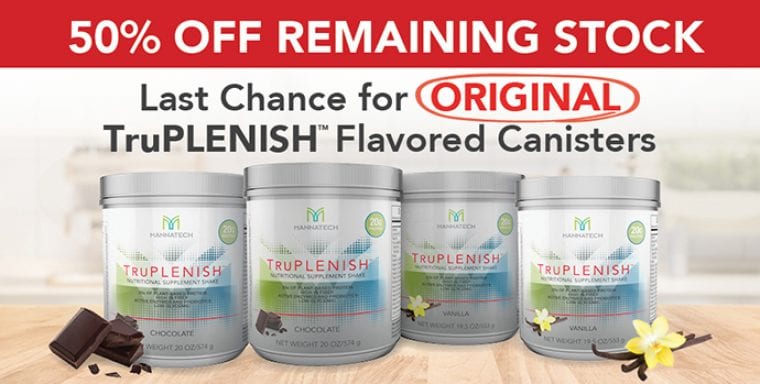 Fall Clearance. 50% Off Original TruPLENISH™ Flavored Canisters

Hurry While Supplies Last! Beginning October 14, you can order the original Chocolate and Vanilla canisters of TruPLENISH™ nutritional shake at a whopping 50% off! To make room for the new Rich Chocolate and Creamy Vanilla flavors, we are clearing out the original flavors and making them available for one-time orders only. This is your last chance to purchase these two delicious and nutritious flavors!   
98201 Chocolate
98301 Vanilla
Purchase your nutritional meal replacement shakes today as these are expected to fly off the shelves fast! 
Associate/Preferred Customer Price: $29.99. Retail Price: $32.99. PV 30
100% Satisfaction Guarantee! If you try our products and are not completely satisfied for any reason, you can return them within 180 days of purchase for either an exchange of like products or a 100% refund.
---
上一代美味的罐装美泰营养代餐粉半价优惠
赶快行动,售完即止!从 10 月 14 日起,订购上一代罐装巧克力味和香草味美泰营养代餐粉将享受半价优惠!为了给全新的浓香巧克力味和奶油香草味产品腾出空间,我们将对上一代产品清仓处理,但仅适用于一次性订单。这是您购买这两种美味营养产品的最后机会!
这些营养代餐粉即将下架,尽快购买吧!
经销商/优惠顾客价:29.99 美元。零售价:32.99 美元。PV 30
100% 满意保证!如果试用我们的产品后不完全满意,无论出于何种理由,均可在购买后 180 天内退货,或换取同类产品,或获得全额退款。
---
Liquidación de Otoño 50 % de descuento en los botes del Truplenish™ Original de sabores 
¡Apresúrate mientras tenemos existencias! ¡A partir del 14 de octubre, puedes ordenar los botes de los sabores originales de chocolate y vainilla de la malteada nutricional TruPLENISH™ con un impresionante 50 % de descuento! Para hacer espacio para los nuevos sabores de Chocolate Intenso y Crema de Vainilla, estamos agotando el inventario de los sabores originales y ofreciéndolos solo para órdenes únicas. ¡Esta es tu última oportunidad de comprar estos dos deliciosos y nutritivos sabores!   
98201 Chocolate
98301 Vainilla
Compra tus malteadas nutricionales de remplazo de alimentos hoy mismo, ¡ya que volarán de nuestros anaqueles! 
Precio para Asociados/Clientes Preferenciales: $29.99 Precio al Público: $32.99. PV 30
¡100 % satisfacción garantizada! Si pruebas nuestros productos y no estás completamente satisfecho, puedes devolverlos en un plazo de 180 días de la compra para cambiarlos por un producto similar o para obtener la devolución del 100 % de tu dinero.