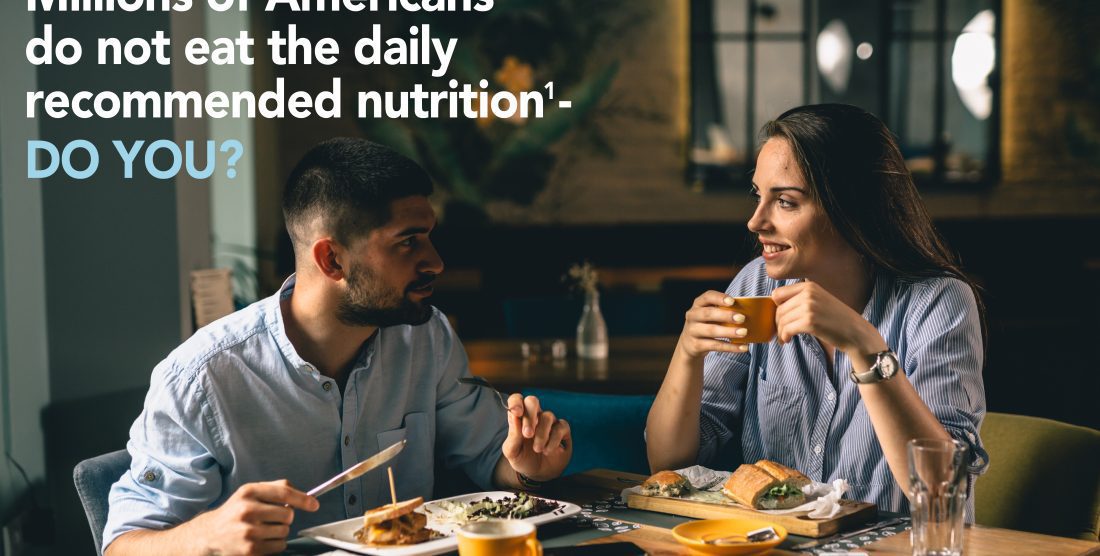 Good Science. Good Sense. (October)
There's a gap between the healthy, balanced nutrition we know we need for overall health and the actual foods most of us eat.
Many adults feel that they can get all of their required nutrients through a healthy diet, but that may not be realistic given our actual lifestyles. While 60% of Americans report they eat a very healthy diet, unfortunately, many fall short of daily recommendations. With our high-carb, high-sugar, highly caffeinated diets, it's clear that perception and reality often vary greatly.
"We may have good intentions when it comes to eating well, but the truth is that many of us fall short of an ideal diet — and … even when we do our best to eat well, it is extremely difficult to get all the nutrients we need on a regular basis with diet alone."1
From growth and development to maintaining strength and flexibility, every system and organ in our body needs the proper nutrition to function at the optimal level. Don't we all want to function at our best? Then why do 94% of us typically fall short when it comes to eating healthy?1 On top of that, how many of us follow daily recommendations for healthy hydration?
To fill the nutritional gap you might be experiencing, we bring you Superfood Greens and Reds powder for pure, plant-based nutrition and Blue Water™ with Aloe Vera Pulp for premium hydration.* Add these healthy, balanced nutritional supplements to your Monthly Subscription today.
---
Minimizing the Nutritional Gap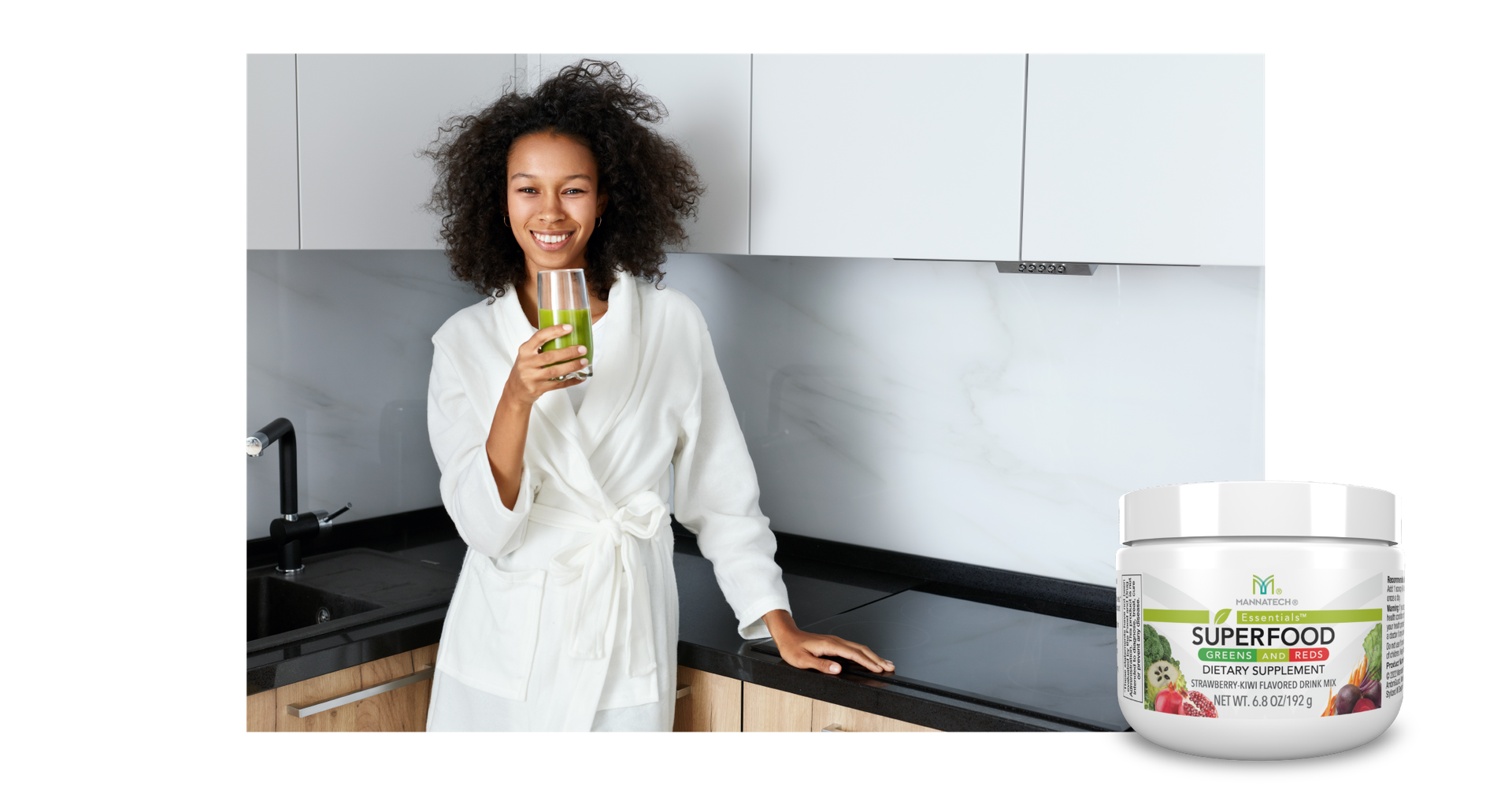 If we were to be honest with ourselves, most of us would agree that we could do a lot better with our food choices and daily nutrition. Let's face it, proper nutrition not only keeps us healthy, but it also gives us the essential nutrients needed to successfully power through our day, rather than trudge through it.
To help with this, we're bringing you Superfood Greens and Reds — a comprehensive blend containing vitamin C, Aloe and 20 plant extracts, fruits and vegetables (including soursop, an ancient, powerful superfruit) PLUS Glycans for even more health benefits.* This kiwi-strawberry flavored drink mix provides nutrients to help reduce the gap and allow you to conquer your day.
---

Why Superfood Greens and Reds?
Because it goes far beyond basic green powders and tastes as good as you'll feel.
Superfood contains some unique ingredients your average green powders do not. For example, soursop is a powerful superfruit. Betaine, which is sourced from beet root, is well known as a robust amino acid. And finally, it contains our proprietary Glyconutrient blend featuring AmbroGuard®.
---
COMING SOON!
Blue Water Is Reinventing Hydration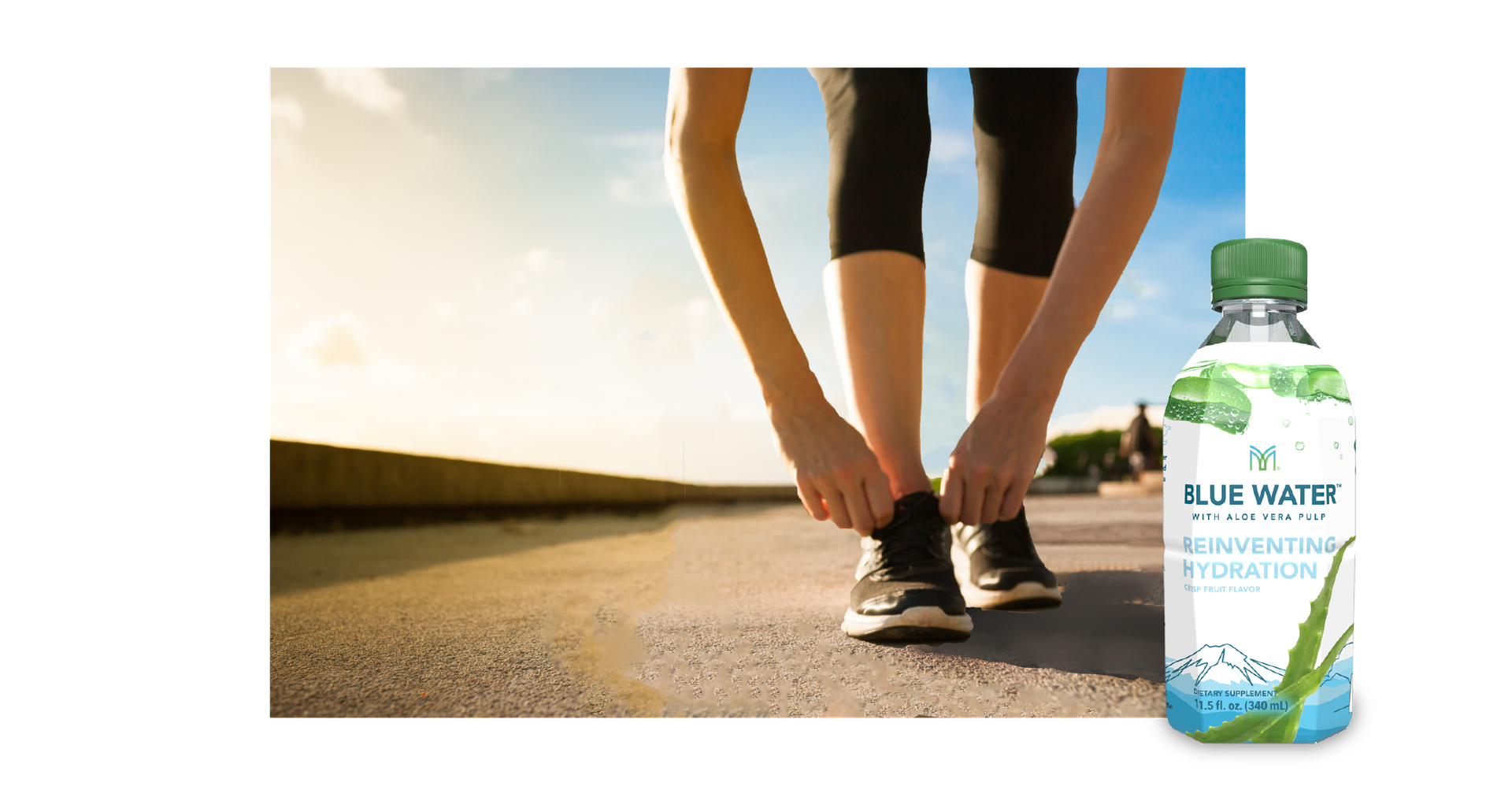 Blue Water is sourced from a proprietary Costa Rican volcanic aquifer located in one of the world's rare "blue zones," global regions known for having exceptionally longer living and healthier populations. The water is naturally filtered by its long journey through igneous rock, then it's infused with a crisp fruit flavor and fresh, juicy Aloe vera pulp. The Aloe contains polysaccharides and prebiotics to help hydrate, soothe and benefit overall well-being through the support of cellular hydration, immune function and digestive health.*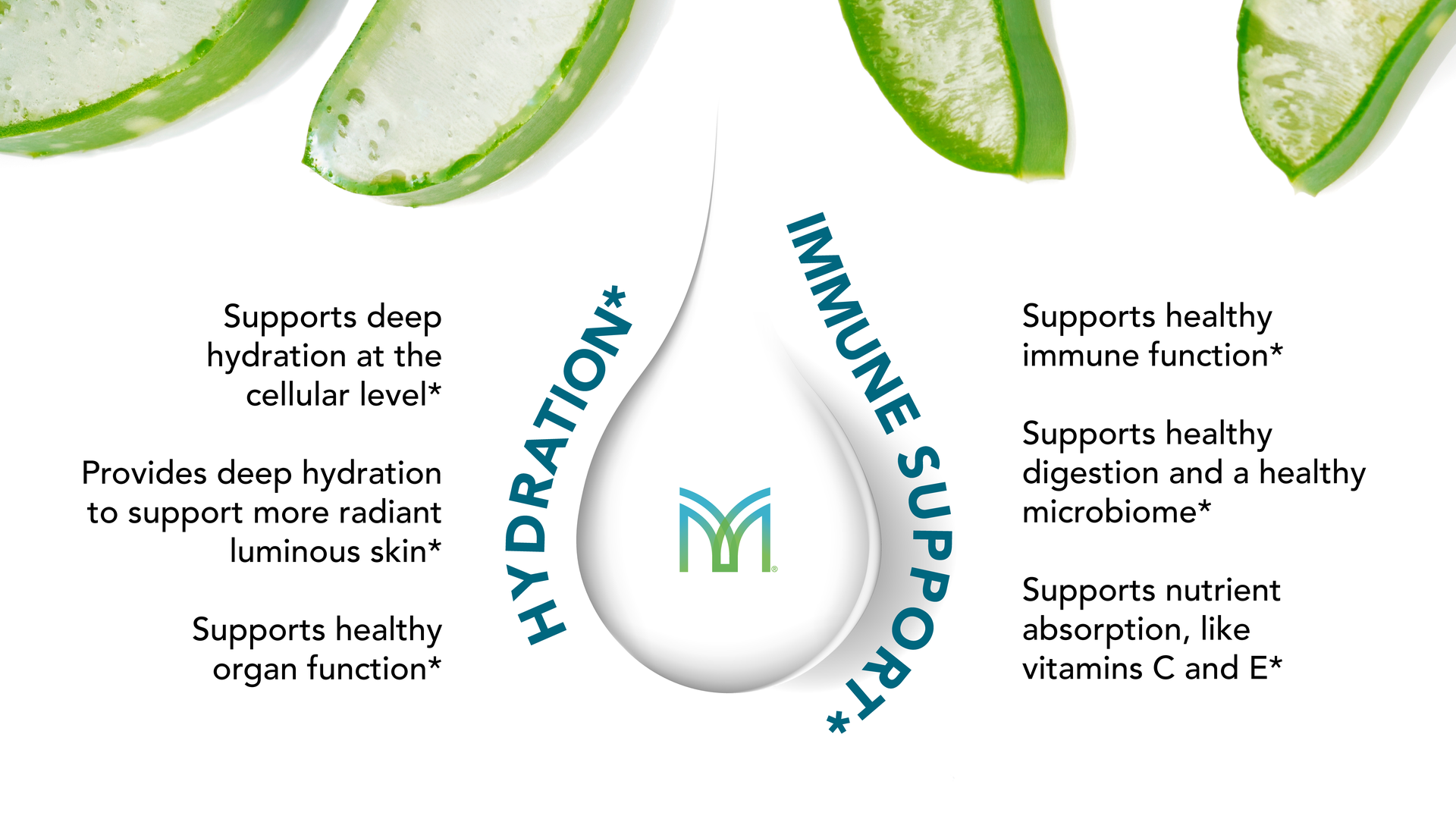 ---

Why Blue Water?
Because it's sustainably sourced from a volcanic aquifer + infused with Aloe vera & minerals to support higher level hydration.*
More than 100 inches of annual rainfall in Costa Rica continually renew this centuries-old, sustainable aquifer, making it a viable and valuable source for both the water and the Aloe in Blue Water. During the drier seasons, when the pesticide-free Aloe is not watered by fresh rain, this same deep-water volcanic aquifer is used to irrigate the volcanic, nutrient-rich soils of this uniquely well-cultivated crop. The leaves are then harvested and fileted by hand to preserve the polysaccharides and prebiotics to further support the body's immune health, overall health and optimal hydration.*
With all this refreshing naturalness, we can confidently say, Blue Water is the world's best water for your best you.
---
To supplement your diet and reduce its current nutritional gap, add Superfood and Blue Water to your Monthly Subscription now!*
---
A healthy blend of vitamins and minerals is important for children everywhere. However, many of the foods being given to those in underdeveloped countries are not meeting the minimum nutritional criteria. Your participation in the M5M program makes it possible for us and our partners to provide nutrients to enrich the lives of children all over the world. 
1https://www.healthstatus.com/health_blog/pre-workout-supplement/americas-nutrition-gap-although-60-americans-report-eat-healthy-diet-94-fall-short-daily-recommendations/