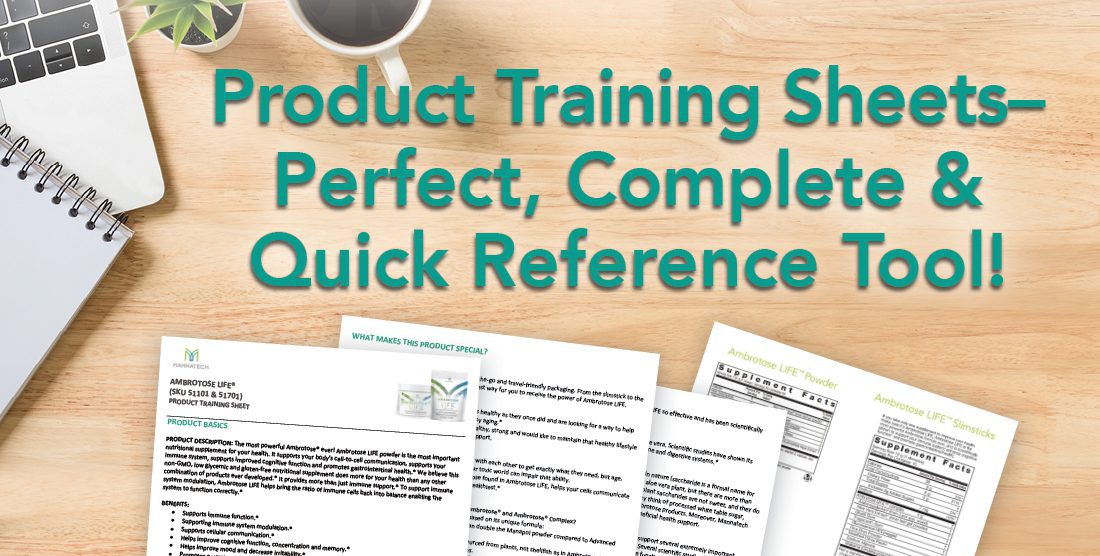 Introducing Product Training Sheets in Resource Library!
Get access to our full collection featuring unique information to educate and help you sell such as who is the target consumer, what makes the product unique or fun facts to support the formula.
We are excited to announce the introduction of our new Mannatech Product Training Sheets located in the Resource Library!
Get the Details You Need… All In One Place
The new Product Training Sheets help simplify the learning curve about Mannatech products by gathering the most important and beneficial information in one easy to read tool. There is one document for each individual product in the Mannatech lineup as well as each system.
Product Training Sheets: All-in-One Info Tool
Easy, convenient and compliant. One location to find all the product details. 
Learn About All the Products…Fast – They can be great refreshers for our older products as well as an opportunity to gain a stronger understanding of our newer products and how they work together.
Simple to Share – Easy to download, print, or you can send the link
Talking Points for Presentations – These info nuggets can be used to put together presentations and emails.
Great Conversation Starter Topics – They provide fun facts, statistics and unique information that can be great conversation starters.
Answers Your Top Questions – We answer the questions like who the ideal candidate for each product for is, what makes it unique, what the product is NOT, top FAQs and what is the cost per daily dose.
How to Get Started
Select Category: "Product Training Sheets" in the first drop-down menu
Click "Update Results"
Product Training Sheet Example
At the top left, you will see the name of the product and accompanying SKU.
Section #1: PRODUCT BASICS – Here you will find:

General description of the product
Benefits and Features
Supporting Information – Fun facts about ingredients or statistics about the product
Section #2: WHAT MAKES THIS PRODUCT SPECIAL – Here you will find:

Point of convenience – Is there is a benefit to how the product is packaged?
Who is it for? – A description of the target consumer
What makes the product unique?
Top FAQs about the product
Usage Directions
Includes Associate pricing and price per dose
Supplement Panel
Access Product Sheets to Expand Your Knowledge!
These sheets can be downloaded or printed so they can be referenced quickly as your compliant go-to for product knowledge.
Helpful tip: Print and add to a binder to keep at your desk so that you can reference when on calls with prospects or when preparing your next social post.