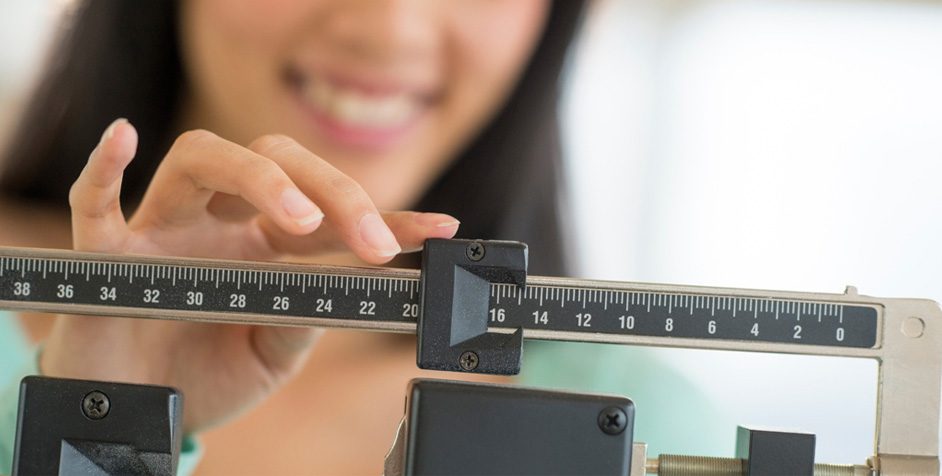 When it comes to weight loss, listen to your gut.
Below your stomach lies a little-known secret weapon—your gut. When thinking of our guts, we're more inclined to think of what comes out of it and not necessarily what goes into it. But our intestines are way more complex than that. Many good fungi and bacteria are inside it to absorb the nutrients necessary to help us live our healthiest lives. It can even affect our bodily functions and, ultimately, our health goals. Speaking of goals, what if we told you that the same fungi and bacteria might be the key to maintaining a healthy weight? Sound interesting? Well, it should be! Get ready because, for this piece, we're going way more than skin deep. We're getting intestinal.
What the gut?
We'll start with the gut microbiome. Gastrointestinal tracts are made of a ton of single-celled microorganisms that are either good for you or bad for you. So, the normal structure microbiome (bacteria, fungi, viruses) lives inside our gut naturally. The norm for gut health is when your body can adequately digest and absorb food and nutrients and promote an effective immune system.
This function is important because when the gut microbiome is not at its optimal level, your gut may be affected.
What's the benefit of a healthy gut? It can help your overall health. Foods containing fiber, probiotics, prebiotics, and fermented foods are the best to help your gut stay healthy and happy. Fiber, fermented foods, and prebiotics can be found inside fruit, vegetables, and grains that help to feed healthy gut bacteria. What doesn't help is adding fast food, sugar, and other processed foods that can take your gastrointestinal system from gut to what.
Bacteria and weight management, is that really a thing?
Not sure where to start when it comes to weight management? Check your gut. Your gut helps with digestion and metabolism, so you want it functioning at its optimal level. Diets high in fat and sugar have been linked to weight gain and metabolic changes. A recent National Institutes of Health study has identified the ties between weight and gut microbes using mice. During this study, researchers placed a group of mice on a diet high in fat and sugar and another on a low-sugar diet. Yes, mice and humans have very different anatomies, but the findings in the study could help draw a connection between gut health and weight.
Researchers noticed that after only a week, the mice with a high fat and sugar diet had changes in their guts and fewer T helper 17 immune cells (known as Th17), which help maintain a healthy weight and metabolism3. Segmented filamentous bacteria, which are good bacteria typically found in the guts of rodents, fish, and chicken, saw a sharp drop in T helper 17 production. As a result of the study, they found that without the T helper 17 cells, fat absorption and gut irritation increased.
So, what does this mean to you? While there isn't a definite relationship between gut health and weight, it does provide an association between both, giving some validity to the case of gut health and weight management.
The great thing about gut health, as it relates to weight, is that you don't have to jump through hoops to see results. Here are a few simple ways to keep your gut and weight in check:
Broaden your fruits and veggies color pallet.
Don't get us wrong. Leafy greens are amazing, but you benefit more from eating vegetables and fruits of all shades. Adding more color increases your chances of absorbing more than one type of nutrient, which is great for feeding the good bacteria in your gut4. It's also a safe way and healthy way to lose weight5. Eating yellow bananas, green peppers, and red grapes in addition to your tasty salad is a great example.
More fiber? Yes, please.
Fiber can help keep your bowels "regular" and your gut giddy. But are you consuming enough of it? Men's and women's recommended daily fiber intake is 35 grams and 25 grams, respectively. There are two types of fiber, soluble and insoluble. Soluble fiber dissolves in water, and insoluble fiber doesn't. For example, oatmeal liquefies when water is added, and nuts tend to do nothing at all. Each food contains a high level of fiber yet behaves very differently. Both types of fiber are essential to gut health4.
Fermented foods are fantastic.
The word ferment may sound gross; yet, if you're a yogurt or kombucha fan, consider yourself fermented, but don't worry; it's a good thing. Fermented foods can produce vitamins like B12 and K (an undervalued participant in gut health), giving your gut some of the good bacteria it needs, lowering the PH levels in your intestines, and reducing the survival rate of bad-acting bacteria4.
Stressing doesn't help.
Stress can affect your mental and physical health, and your gut is no exception. Tension triggers cortisol, a hormone released during stress. Cortisol can also restructure your gut's good bacteria, releasing toxins and neurohormones (hormones secreted by the nervous system) and encouraging poor diet choices and eating habits, which can trigger weight gain or loss6. You can reduce stress by doing something that brings you calm, like going for a walk, reading a book, or getting more sleep. If you can't shake off your stress monster, here are a few more options that may help.
Circadian rhythms don't just apply to sleep.
Believe it or not, even microbiomes are on a schedule too. Eating late throws them off because they are not used to metabolizing at that time of night4. When your food is slow to metabolize, it may make your weight management journey that much harder. There is a way around it, though, to try and consume well-balanced meals consistently each day4.
Are you team pre or probiotic?
Both are winners in our book. Probiotics and prebiotics are types of fiber that can be found in food and or supplements. Prebiotics supports the growth of good bacteria in your gut4. Apples and artichokes are great examples of natural prebiotics. Probiotics are good live bacteria that balance your gut's microbe levels and digestion4. Foods such as yogurt with live cultures, kombucha, and miso are categorized as probiotics. Different types of probiotics can help promote naturally healthy gut flora and can impact overall health4. The most important thing, however, is choosing the one that is best for you.
Foods that can hurt or help your gut.
The same good "fuel" (food) you need to maintain a healthy weight is exactly what is required for optimal gut health. Prebiotics such as fruits and vegetables of all colors that are rich in fiber, like asparagus, bananas, beans, berries, oatmeal, onion, garlic, leafy greens, and wheat, are excellent for feeding your gut healthy bacteria. Probiotics such as sourdough, kimchi, kombucha, and yogurt with live cultures are great for aiding your gut microbiome. If the mention of beans and fruits isn't fascinating enough for you, not to worry. Your gut and weight health journey is what you make of it!
For breakfast, maybe you could try an apple cinnamon baked oatmeal, chocolate chip banana pancakes or an easy one pot red beans and rice that can cleverly and deliciously satisfy your savory cravings as a way to incorporate good bacteria into your diet.7
Making healthy food choices can be more challenging than it sounds. From food inflation to busy schedules, sometimes, you have the best intentions regarding gut and weight health, but it's an uphill battle. We get it. It happens to all of us. It's awareness of what we're putting into our bodies that can change the way we eat. The occasional fast-food trip or chocolate bar isn't bad. Regular visits to your favorite burger joint, fructose or sugar binges and excessive drinking can set your weight goals back and impact intestinal health. Foods high in fructose are commonly found in processed foods that we eat and drink and can do a number on our intestines. Even healthy foods like apples, pears, and dried fruits can be naturally high in fructose8, so like everything else, moderation is the key. Surprised? Here's something that may have way less shock value. Fizzy feel-good beverages like soft drinks, seltzer water, and caffeine (not limited to coffee or tea but also chocolate and over-the-counter pain relievers) can be a punch to your gut if consumed often8.
Keep it moving, for gut's sake.
If you need extra motivation to get moving these days, do it for your gut. That's right. Studies have shown that regular exercise isn't just for getting back into shape; it can also change your gut for the better! But how? Exercise enhances the number of good gut microbes, that in turn increases microflora (bacteria and fungi growth living freely in your gut) and improves the growth of good bacteria, essential to maintaining healthy intestines. Let's revisit the importance of microflora in this process. It not only provides the nutrients and tissue development found in the gut, but it also affects our immune system. It's like having an organ inside another organ, making it… an organ's organ, keeping your gut running smoothly9. The verdict? Exercise is critical to maintaining a healthy weight and gut.
Be good to your gut, and it'll be good to you.
When thinking about health, your gut may not register high on your radar. The fact is, your gut affects more than just your digestion. It can directly affect your immune system, skin, brain, and heart, improving mood and promoting healthy sleep.
If you have ever felt your emotions in your gut, it's not in your head (no pun intended). Your brain is responsible for it10. Thus, the connection between your brain and your intestines. Consider them confidants. If something happens in your gut, it quickly sends signals to the brain, and vice versa, especially when stressed. Cortisol (stress hormone) can affect your mood, sleep quality, and gut. So, it is not far-fetched that you're affected by bad mood and lack of sleep.
A few tips for a top gut.
Healthy guts make for better digestion and nutrient absorption. Getting the proper nutrients from your food significantly impacts your physical and mental well-being11. Eating colorful fruits, veggies, fermented foods, prebiotics, and probiotics, managing your stress levels, and getting a great night's rest are great starts to improving your gut health and launching you toward your weight goals. It's a dietary win-win!
Sources
1 Microbiome – National Institutes of Health
2 Building a healthy gut microbiome – Mayo Clinic
3 How diet may disrupt gut microbes to promote weight gain – National Institutes of Health
4 How your gut microbiome impacts your health – Cleveland Clinic
5 How to use fruits and vegetables to help manage your weight – Centers for Disease Control
6 Stress, diet, and the gut microbiota: human – bacteria interactions at the core of psychoneuroimmunology and nutrition – National Library of Medicine
7 Recipes – Academy of Nutrition and Dietetics
8 5 Foods to avoid – John Hopkins Medicine
9 Exercise modifies the gut microbiota with positive health effects – National Library of Medicine
10 The gut-brain connection – Harvard Health Publishing / Harvard Medical School
11 How to improve your gut health – MD Anderson Center