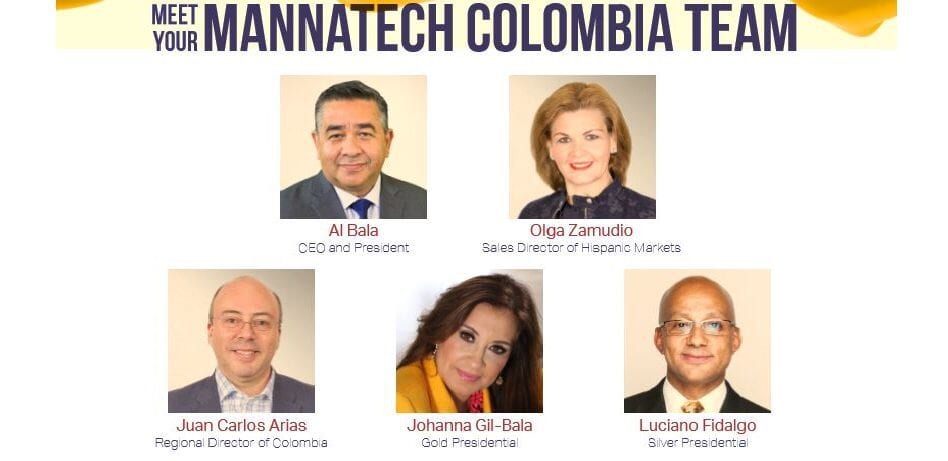 Mannatech Colombia: Aquí están las fechas de la Gira de Noviembre
Mannatech se complace en anunciar las fechas de la Gira de Noviembre con motivo de la pre-apertura de operaciones de Colombia. Ejecutivos de la compañía y Asociados líderes serán los encargados de presentar la Compañía, su Misión, y hablarán de los productos y la oportunidad que Mannatech ofrece en varias ciudades del país.
Los asistentes podrán compartir tanto con los líderes como con el equipo corporativo sobre esta gran oportunidad que llega a Colombia.
Adicionalmente los asistentes podrán intercambiar entre ellos sus opiniones sobre este negocio y empezar a establecer alianzas.
Colombia representa el inicio de operaciones en Sur América y su apertura está prevista para Enero de 2016. Contacta ya a tus amigos y familiares en Colombia y acompáñanos en esta gira.
Date/Fecha
City/Ciudad
Location/Lugar
Address/Dirrección
Time/Hora
Wednesday, November 18

miercoles, noviembre 18

Bogotá
Mannatech Colombia Office
Avenida Carrera 45, No. 108-27 (Centro Empresarial Paralelo 108), Oficina 1206 Torre Dos
3-5 p.m.

6-9 p.m.

Thursday, November 19

jueves, noviembre 19

Medellín
Hotel San Fernando
Carrera 42A No. 1-15
3-5 p.m.

6-9 p.m.

Friday, November 20

viernes, noviembre 20

Cali
Movich Hotel
Avenida Carrera 9N No. 9-24 Sector B
3-5 p.m.

6-9 p.m.

Saturday, November 21

sábado, noviembre 21

Barranquilla
Four Points by Sheraton
Carrera 53 No. 79-212
3-5 p.m.

6-9 p.m.
Mannatech Colombia: November Tour Dates are Here!
Mannatech is excited to announce the November tour dates for the Colombia pre-launch! Corporate executives and Associate leaders will be presenting the company, its mission, and Mannatech's products and opportunity in selected cities.
Attendees will have the opportunity to interact with executive leaders and learn about the exciting opportunity coming to Colombia! There will also be opportunities to mix and mingle with other attendees to network and discuss the Mannatech business.
Colombia will be the first operation in the South America market and is set to launch in January of 2016. Contact your friends and family in the Colombia area and join us on the tour!