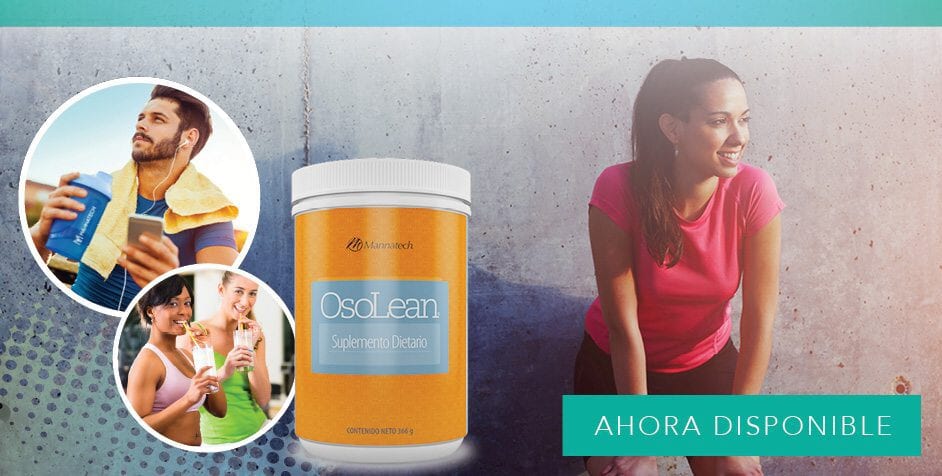 Mannatech Colombia: Prepárate para el Verano con el Suplemento de Proteína OsoLean de Mannatech (+English)
El polvo OsoLean® de Mannatech está ahora disponible en el mercado de Colombia, justo a tiempo para la temporada de vacaciones.
El polvo OsoLean es una mezcla de proteína proveniente de suero de leche especialmente formulado y que incluye tecnología avanzada de proteína de péptidos.
OsoLean es libre de gluten y se mezcla bien con la mayoría de las bebidas, como café, jugo de frutas e incluso agua. Mezcla 1 medida (2 gramos) con 8 onzas de líquido o agrégalo a los alimentos dos veces al día. Para mejores resultados, toma el polvo OsoLean con 8 onzas de líquido 20 minutos antes del desayuno y 20 minutos antes de la cena.
Lanzamiento Oficial Colombia
miércoles, el 24 de mayo de 2017 19:00 – 19:30 -05
Invitadas Especiales: Dr. Lilibeth Paniagua  Entrenadora de Productos Mannatech y Olga Zamudio- Directora de Ventas
Puede unirse a la reunión desde su equipo, tablet o smartphone.
https://global.gotomeeting.com/join/992696277
También puede acceder desde su teléfono.
Estados Unidos: +1 (872) 240-3311
Código de acceso: 992-696-277
¿Es su primera sesión de GoToMeeting? Participe en una sesión de prueba.: https://care.citrixonline.com/g2m/getready
*Este es un suplemento dietario. No es un medicamento y no remplaza una nutrición balanceada.
---
Mannatech Colombia: Get Summer Ready with Mannatech's OsoLean Protein Supplement
Mannatech's OsoLean® powder is now available in its Colombia market just in time for vacation season.
OsoLean powder is a specially formulated whey protein blend that includes an advanced protein peptide technology.
OsoLean is gluten free and mixes well with most beverages, such as coffee, milk, fruit juice or even water. Mix 1 serving (2 scoops) in 8 fluid oz. of liquid or add to food twice daily. For best results, take OsoLean powder with 8 fluid oz. of liquid 20 minutes before breakfast and 20 minutes before dinner.*
*This is a dietary supplement. It is not a medication and does not replace balanced nutrition.