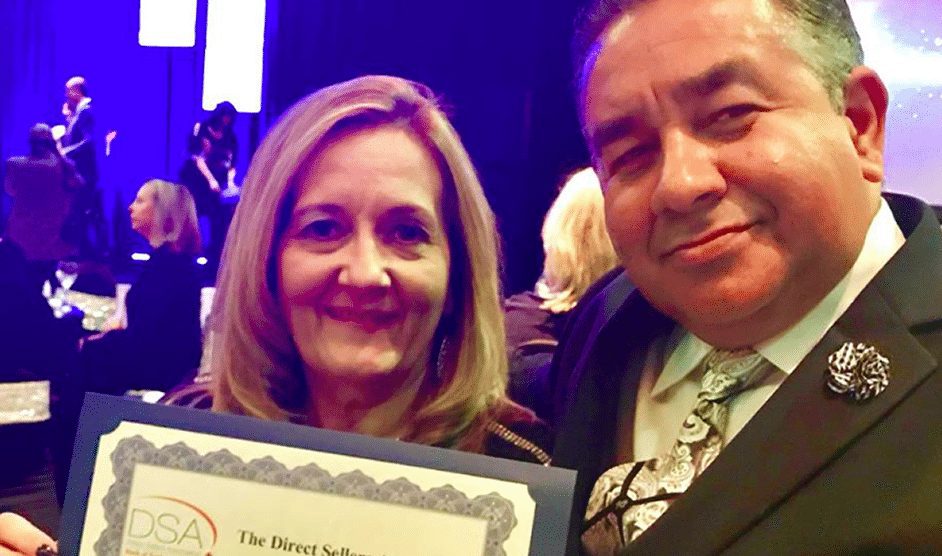 Mannatech Receives Ethics Award from Canadian Direct Sellers Association (中文 / Español)
Mannatech President & CEO Al Bala and VP Group Sales and GM of Mannatech Canada, Angela Manuel received recognition from the Canadian DSA for Mannatech's commitment in promoting the DSA Code of Ethics
The Direct Sellers Association of Canada provided special recognition to Mannatech, Incorporated, for Mannatech's on-going commitment in promoting the Direct Sellers Association's Code of Ethics. The award was presented at the 2018 Canada DSA Conference in St. John's, Newfoundland, Canada.
"Compliance is sexy," said Mannatech President and CEO, Alfredo "Al" Bala. "Compliance and ethics ensure long-term viability and success. We are very pleased that the DSA of Canada has seen our efforts to promote and ensure integrity and high ethics within our company and our industry. People do business with people they trust, and this recognition is additional proof that people trust Mannatech and Mannatech Associates in Canada."
The DSA Code of Ethics is an annual pledge that companies and independent sales contractors follow in product sales, consumer care, recruitment and sales force relations. Consumers can trust that members of the DSA will clearly inform who they are and what they are selling and provide truthful information on pricing, quality, performance, quantity and the availability of their products or services.
"We very much appreciate the recognition," said Angela Manuel, VP Group Sales and GM of Mannatech Canada. "Our Associates work hard and follow the rules, and it is wonderful that the DSA recognizes our efforts and the way we promote ethical business practices. We are grateful for the collegial, work-together culture that Peter Maddox is fostering as the new president of the DSA here in Canada. This organization really helps to edify the members and I certainly feel hope and optimism about where the DSA is going."
---
El presidente y CEO de Mannatech, Al Bala, y la vicepresidenta de ventas en grupo y gerente general de Mannatech Canadá, Angela Manuel, recibieron el reconocimiento de la DSA de Canadá por el compromiso de Mannatech con la promoción del Código de Ética de la Asociación de Ventas Directas.
La Asociación de Ventas Directas de Canadá, otorgó un reconocimiento especial a Mannatech, Incorporated, por el continuo compromiso de Mannatech en promover el Código de Ética de la Asociación de Ventas Directas. El premio fue presentado en la conferencia del 2018 de la Asociación de Ventas Directas (DSA, por sus siglas en inglés) en St. John's, Newfoundland, Canadá.
"Cumplir con las normas es sexy", dijo el presidente y CEO de Mannatech, Alfredo "Al" Bala.  "El cumplimiento y la ética aseguran la viabilidad y el éxito a largo plazo. Estamos muy contentos de que el DSA de Canadá ha visto nuestros esfuerzos para promover y asegurar la integridad y la alta ética dentro de nuestra compañía y nuestra industria.  Las personas hacen negocios con personas en las que confían, y este reconocimiento es prueba adicional de que las personas confían en Mannatech y en los Asociados de Mannatech en Canadá".
El Código de Ética de la Asociación de Ventas Directas es una promesa anual hecha por las compañías y los contratistas de ventas independientes, sobre la venta de productos, la atención a clientes, el reclutamiento y las relaciones con la fuerza de ventas. Los consumidores pueden confiar en que los miembros del DSA informarán claramente quiénes son y qué están vendiendo y otorgarán información verdadera sobre precios, calidad, desempeño, cantidad y disponibilidad de los productos o servicios".
"Apreciamos mucho el reconocimiento", dijo Angela Manuel, la vicepresidenta de ventas en grupo y gerente general de Mannatech Canadá. "Nuestros Asociados trabajan fuerte y siguen las reglas, y es maravilloso que la DSA reconozca nuestros esfuerzos y la forma en que promovemos las prácticas éticas de negocios. Estamos agradecidos por la cultura de cooperación y de trabajo en conjunto que Peter Maddox ha promovido como nuevo presidente de la DSA aquí en Canadá.  Esta organización realmente ayuda a edificar a los miembros y ciertamente siento esperanza y optimismo sobre a dónde va la DSA".
---
美泰总裁兼首席执行官 Al Bala 和集团销售副总裁兼美泰加拿大总经理 Angela Manuel 接受加拿大直销协会 (DSA) 为表彰美泰在推广直销协会道德准则方面所做贡献而颁发的奖项。
加拿大直销协会就美泰公司为推广直销协会道德准则所做的持续努力而授予美泰特别贡献奖。该奖项是在加拿大纽芬兰圣约翰的 2018 年加拿大 DSA 会议上颁发的。
"合规很迷人",美泰总裁兼首席执行官 Alfredo "Al" Bala 说,"合规和遵循道德能够确保企业长期的生存能力和成功。我们很高兴加拿大的 DSA 看到我们在公司和我们行业内推广和确保诚信及奉行高度道德准则所做的努力。人们愿意与他们信任的人做生意,而这一奖项是人们相信美泰和加拿大美泰经销商的的另一个证据。"
DSA 道德准则是各公司和独立销售承包商在产品销售、消费者服务、招聘和销售人员关系方面遵循的年度诺言。消费者可以相信,DSA 的成员将明确阐明他们是谁、他们在销售什么,以及提供关于其产品或服务的定价、质量、性能、数量和可用性的真实信息。
"我们非常荣幸获此殊荣",集团销售副总裁兼加拿大美泰公司总经理 Angela Manuel 表示。"我们的员工努力工作,遵守规则,DSA 认可我们的努力和我们推广道德商业行为的方式,这真是太棒了。我们感谢 Peter Maddox 作为加拿大 DSA 新任总裁期间所倡导的合作式文化。该协会真的是在帮助成员发展,我对 DSA 未来的发展充满希望并感到乐观。"