Mannatech's VP of Global Sales Systems, Ben Mayo, Achieves Personal Best at Ironman 70.3 Buffalo Springs Lake Half Triathlon
Ben Mayo, Mannatech's Vice President of Global Sales Systems, recently competed in the Mannatech-sponsored Ironman 70.3 Buffalo Springs Half Triathlon in Lubbock, Texas on June 26. After intensive training and taking Mannatech's health and wellness products for a few months, Mayo finished the race with a personal-best time compared to his previous triathlon finishes.
"When I came to work for Mannatech, I knew the company was known for having great products," said Mayo. "What I didn't know was how they were going to positively impact the sport I am most passionate about, triathlons."
Ben started focused training for the Ironman three months before the race.  At the same time, he decided to increase his Mannatech supplement intake and put some of his favorite products to the test. His regimen consisted of:
"What I experienced over the following three months made me into a firm believer that Mannatech has the best nutritional supplements I've ever taken," said Mayo. "The guys I train with have all asked about Mannatech because the improvements I've made in the past three months outweigh those I've made in the last year. Recovery times have been reduced and my weight is back to what it was in high school.* When it came time to race at Buffalo Springs, I was more excited than I've ever been. I really felt like I could compete instead of just participating and finishing."
On race day in Lubbock, conditions were perfect. Temperatures were down and the sky was overcast following rain the previous day. Due to the popularity of the race, athletes began the race in waves of intervals of a few minutes to accommodate all the competitors. Mayo was in the fourth or fifth wave.
The race began with a 1.2-mile swim, which Mayo completed in a personal best time of 33 minutes and 26 seconds. Following the swim, he started the 56-mile bike course that spread through the West Texas countryside. After 2 hours and 48 minutes of riding in optimal weather conditions, Mayo entered the transition tent to prepare for the 13.1 mile run. Typically, this is the most dreaded part of the race for Mayo as he has never considered himself to be a strong runner. But this time, he had a completely different experience.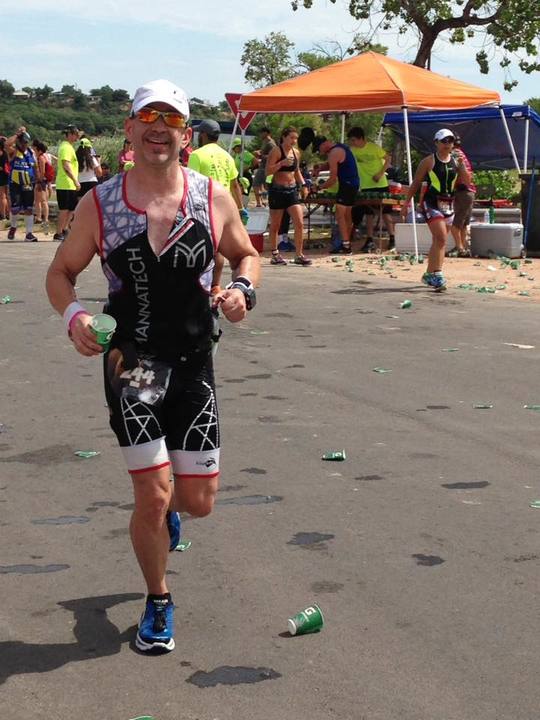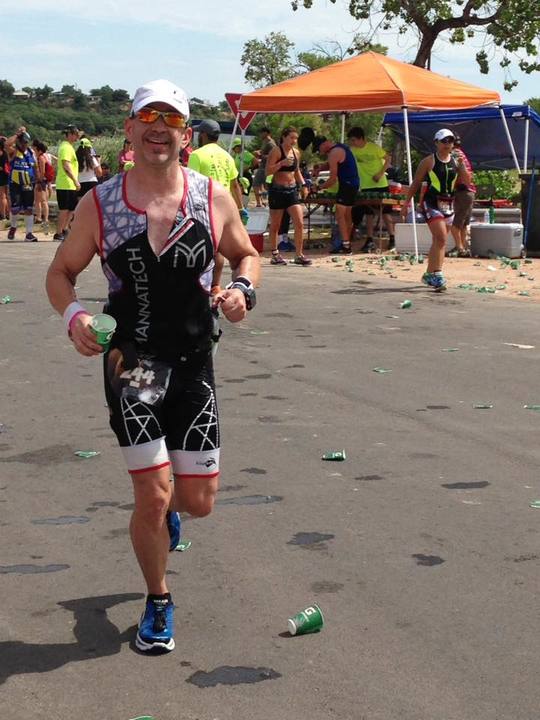 "Immediately as I exited transition, there was a large group of Mannatech employees and Associates cheering me on. Another quarter of a mile down the road, I ran by my wife and daughter. This was the first Ironman race my daughter has been able to witness out of the six I've completed. It made my heart full to see my family, friends and co-workers there cheering me on," said Mayo.
With a little extra encouragement and confidence boosting his stride, Mayo continued the run, which circled around Buffalo Springs Lake with rolling hills and a couple of challenging uphill sections. Everything seemed to click this day as Mayo succeeded in running a personal best.
"After 2:13:09 on the running course, I was able to complete the Ironman in 5:42:08 – a thrilling personal best record," said Mayo. "The family, friends and Mannatech support was unbelievable. And as for the Mannatech products that I take daily to support my training and racing, I can't imagine training without them. I'm a firm believer."