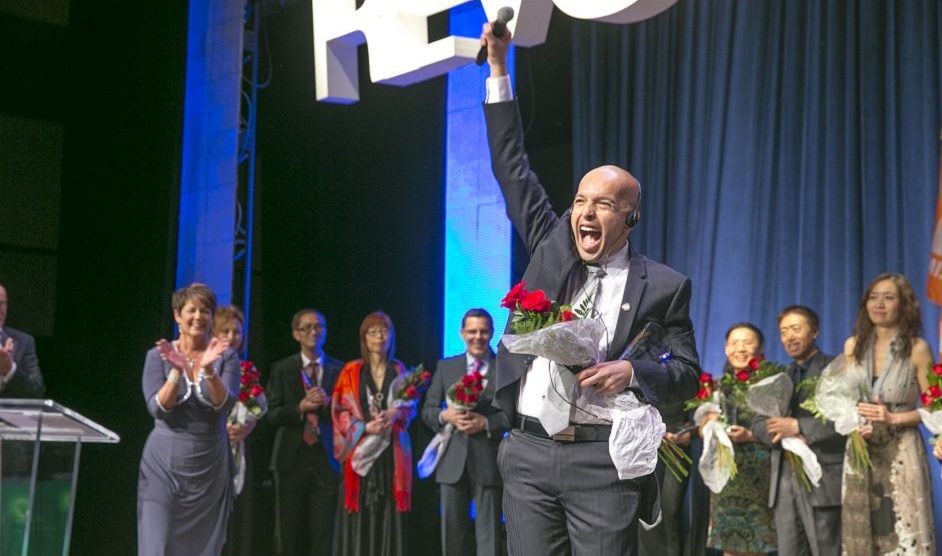 Needing to Lift His Family, Mannatech was the Best Decision of His Life
Name: Germain Vaca Rodriguez
Rank: Bronze Presidential Director
Location: Mexico
Germain Vaca Rodriguez worked hard. He worked hard every day of the week. He worked hard on the weekends. He worked hard in the evenings. But no matter how hard he worked he couldn't elevate his family's financial condition.
Enter Mannatech Presidential Director Johanna Gil Bala. Rodriguez met with Bala who introduced him to Mannatech's innovative glyconutritional products. Rodriguez perceived immediately the potential of these products and quickly seized upon the Mannatech opportunity.
"Before Mannatech I felt very frustrated by not being able to have a good enough economic situation for my son," Rodriguez said. "I would work to be able to get the income that would help me pay the school and the basic needs of my eldest son. It was then when Johanna Gil Bala came into my life.  She gave me the opportunity to make the best decision to change my future, and that opportunity enabled me to begin with this blessed company that is so great and noble."
Today Rodriguez is a Bronze Presidential Director in Mexico and has been able to lift his family up thanks to the choices he now has based on his success with Mannatech. How he got there was based solely on his experience with Mannatech products. Starting with PLUS™ caplets, Rodriguez felt his overall wellness improving* and he began to share his new outlook with others. He felt passionate about how his own life was transformed and had a powerful desire for others to share in his experience.
"The first product that I took from Mannatech was PLUS and it worked spectacularly," Rodriguez said. "I felt better and I felt I had much more energy.* I was so excited that I wanted to share my amazing experience with those around me."
Rodriguez' personal experience with Mannatech products helped him build a strong network organization in Mexico. He is now expanding his efforts beyond Mexico, but his product message is still the same and has generated amazing rewards.
"After I began forming my organization of Associates in Mexico, money began to roll in and I earned trips, bought my first car, renovated my home, but most importantly, I had power to send my children to a better school**," Rodriguez said.
His success gained him access to incentive and leadership travel, which has taken him to Hawaii three times, the Dominican Republic as well as Cabo San Lucas and the Mayan Riviera.**
"I know that greater things are yet to come that will be exciting, and I feel prepared and very involved to take our message and the love that we feel for the children around the world.  We can take this message to other countries, and I know that we will be the largest company in this industry," Rodriguez said.
**This is not a representation of what you may or will earn. Actual earnings depend on your individual efforts and skill, the customer base available to you, and the time devoted to your business. All commissions, bonuses, and incentive awards are earned through the sale of Mannatech products. Please view the Mannatech Career and Compensation Plan at http://us.mannatech.com/real-possiblities/real-income-within-reach/compensation-plan/ and the Income Averages Statement at https://mannatech2.s3.amazonaws.com/mtlibrary/101182562909792.pdf.