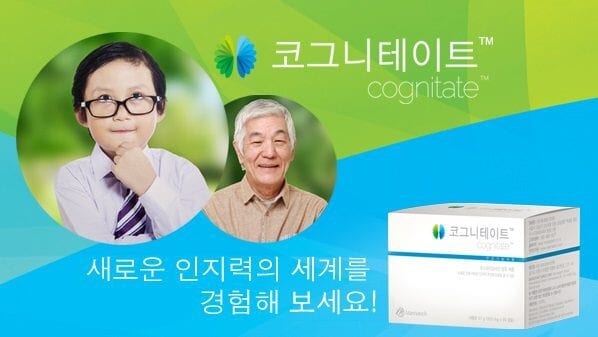 New Brain-supporting Cognitate™ Supplement to Launch in Korea at Asia MannaFest
Mannatech Korea will officially launch its newest brain health product, Cognitate, tomorrow, October 31. Cognitate is designed to help improve memory and protect against age-related cognitive decline.* This supplement is especially intended for families with older members, busy parents, business professionals and high-achieving students.
Cognitate will be available in Korea only and will be launched at Mannatech's Asia MannaFest event in Seoul. Mannatech's Regional President of Asia, Patrick Park, will unveil the product before an expected audience of more than 10,000 people.
"We are honored to release such a groundbreaking new Mannatech product exclusively in Korea," said Regional President of Asia, Patrick Park. "I believe it is exactly the kind of product our market has been waiting for, and I'm sure the crowd's excitement at the launch will demonstrate their enthusiasm for Cognitate."
Mannatech's Cognitate supplement is specially designed to support the brain. The unique formulation helps facilitate the activity of neurotransmitters, which are involved in learning and memory. Cognitate specifically helps to improve cognitive ability.
"Cognitate is an example of our innovative wellness technology that has meaningful impact on people's lives," said Mannatech CEO and President, Al Bala. "Our growing Associate-base in Korea can use Cognitate, and other state-of-the-art nutritional supplements Mannatech provides, to make a difference in the lives of people around them. Korea represents a high-achieving population that is making health and wellness a priority, which makes Cognitate a great fit for those seeking to enhance healthy cognitive function for themselves and their family members."
Asia MannaFest is Mannatech's biggest global annual event and is expected to welcome more than 10,000 guests. Attendees will listen to Mannatech leaders share their stories of success, receive real business and product training and witness the recognition of Associates who have achieved new levels of sales accomplishment and leadership in the past year. Cognitate will be available to order at the event, and additional Cognitate formulations will launch in other global markets in 2016.
For more information on Cognitate in Korea, please visit kr.Mannatech.com.
*Product claims are specific to Korea Cognitate formulation.