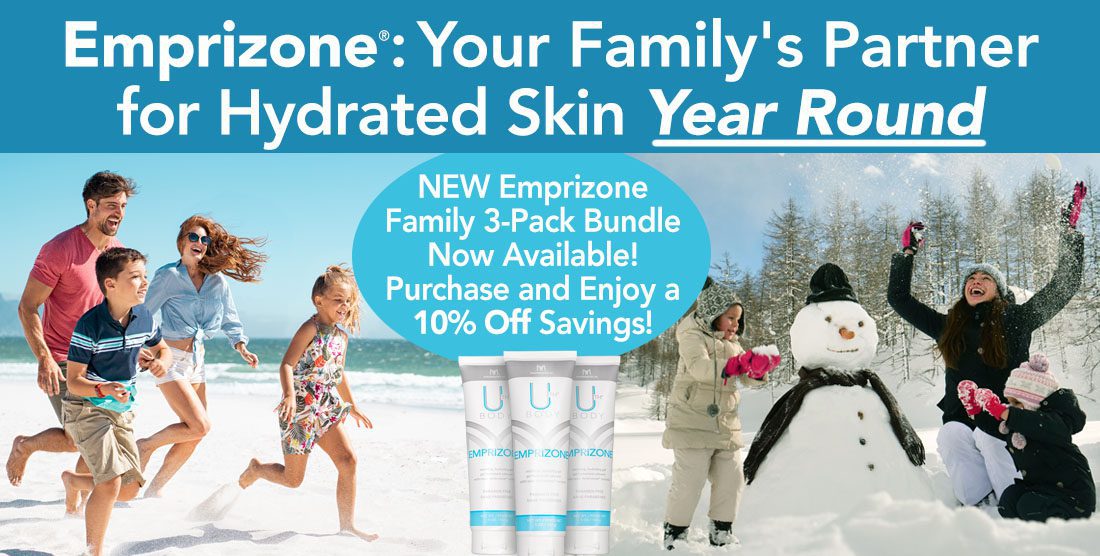 NEW Emprizone Family Bundle has arrived!
We're proud to announce the launch of the NEW Emprizone® Family Bundle as part of our skincare lineup!
We know how busy your life gets, and we want to help you take care of your family—and yourself—as easily as possible. Emprizone's Aloe vera-infused hydration formula was designed with you and your family in mind. It's the perfect daily moisturizing gel for all skin types, from dry and flaky to oily, and everyone in between. And since it's fragrance-free, it won't irritate sensitive skin.
Whether you're looking for an aloe-based solution for the inevitable scrapes, burns, and other skin issues that come with summer—or you're looking for something to help soothe dry, wind-chapped skin in winter, Emprizone has you and your family's back ALL YEAR ROUND!
Emprizone Family Bundle
Includes 3 tubes of Emprizone
For US (59001) and Canada (SKU 59011)
Associate Price/Member Price: $75.99 (10% Off Savings)
Retail Price: $83.99
PV 71
For One-Time and Auto Orders
With three Emprizone tubes in the bundle, you can keep one at home, in your purse and in your kids' backpack!
---
全新 Emprizone 多醣芦荟胶家庭套组现已上市!
我们很自豪地宣布,全新 Emprizone® 多醣芦荟胶家庭套组现已正式加入我们的护肤产品阵容!
我们深知您的生活忙碌,并希望尽可能帮助您减轻因照顾自己和家人所带来的压力。Emprizone 多醣芦荟胶注入芦荟精华的补水配方专为您和您的家人设计。这是一款绝佳的日常保湿凝胶,适合所有肌肤类型,从干性和干裂肌肤,到油性肌肤,以及在此之间的肌肤类型均可使用。本品不含任何香料,因此不会对敏感肌肤造成刺激。
无论您是为了解决夏天难以避免的擦伤、灼伤和其他肌肤问题而正在寻找芦荟基底解决方案,还是正在寻找有助于应对冬季肌肤干燥和风裂问题的舒缓方法,Emprizone 多醣芦荟胶均可满足您的需求,为您和您的家人一年四季带来支持!
Emprizone 多醣芦荟胶家庭套组
内含 3 支 Emprizone 多醣芦荟胶
美国地区 (59001) 和加拿大地区 (SKU 59011) 适用
经销商价/会员价:75.99 美元(10% 优惠折扣)
零售价:83.99 美元
PV 71
适用于一次性订单和自动订单
每个套组将包含三支 Emprizone 多醣芦荟胶,您可以在家里备一支,自己随身带一支,在孩子的包里也放上一支!
立即到 Mannatech.com 订购
---
¡El NUEVO Paquete Emprizone para la Familia ya está aquí!
¡Nos enorgullece anunciar el lanzamiento del Nuevo Paquete Emprizone® para la Familia como parte de nuestra nueva línea de cuidado de la piel!
Sabemos lo ocupada que puede ser la vida, y queremos ayudarte a que cuides de tu familia (y te cuides a ti) de la manera más fácil posible. La fórmula de hidratación con aloe de Emprizone fue diseñada contigo y con tu familia en mente. Es el gel hidratante ideal para todos los días para todo tipo de piel, desde piel seca hasta la piel grasosa, y para todos los tipos de piel mixta. Y dado que no tiene fragancias, no irrita la piel sensible.
Ya sea que estés buscando una solución basada en aloe para las inevitables raspaduras, quemaduras y otros problemas de la piel que vienen con el verano — o si estás buscando algo para ayudar a suavizar la piel seca, dañada por el viento, Emprizone será el apoyo para ti y tu familia, ¡TODO EL AÑO!
Paquete Emprizone para la Familia 
Incluye 3 tubos de Emprizone
Para EE. UU. (59001) y Canadá (SKU 59011)
Precio para Asociados/Precio para Miembros: $75.99 (Ahorros de 10 %)
Precio al Público: $83.99.
PV 71
Para Pedidos Únicos y Órdenes Automáticas
¡Con tres tubos de Emprizone en el paquete, puedes mantener uno en casa, uno en tu bolso y otro en la mochila de tus hijos!
Haz tu pedido hoy mismo en Mannatech.com
---