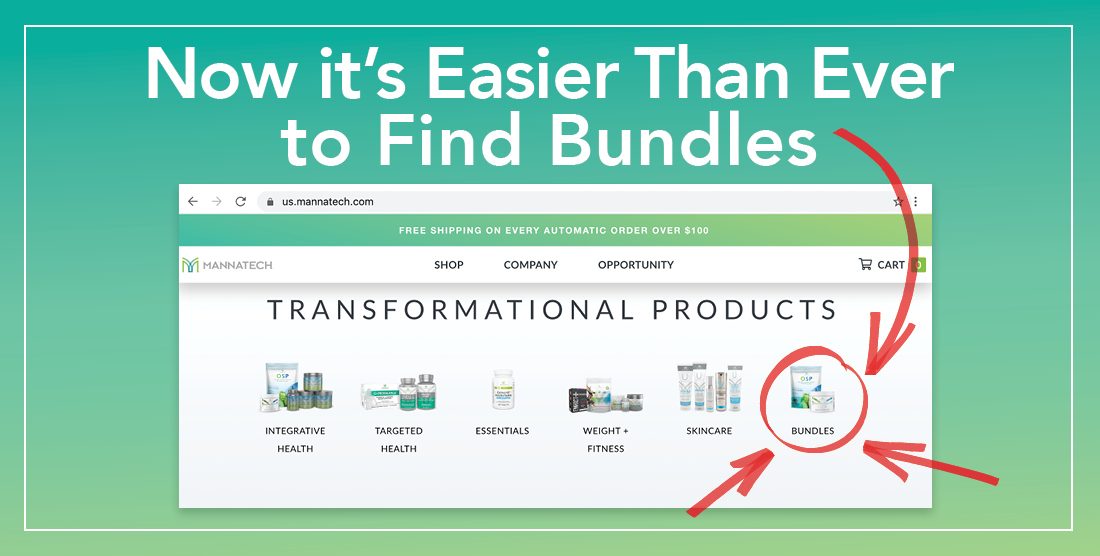 Now It's Easier Than Ever to Find Bundles
Some products are meant to be together. Mannatech.com now has a new shopping category on our public facing website for 'Bundles.' This makes it easy for customers to find our complementary products combined in groupings for added convenience!
Now instead of searching through our shopping pages to find our special bundles, they're all in one place. Achieve optimal results with our product bundles at Mannatech.com.
---
¡Ahora es más fácil que nunca encontrar paquetes!
Algunos productos van mano a mano. Mannatech.com tiene ahora una nueva categoría de envío en nuestra nueva sección de "Paquetes" en nuestro sitio web. ¡Esto hace que sea más fácil para los clientes encontrar productos complementarios combinados en conjuntos para más conveniencia!
Ahora, en lugar de buscar a través de nuestras páginas de compras para encontrar paquetes especiales, todos están en un mismo lugar. Logra resultados óptimos con nuestros paquetes de productos en Mannatech.com.
---
现在查找套组更加便捷
有些产品配套注定是相得益彰的。Mannatech.com 网站上现在展示给公众的新购物分类—"组套"。这使得客户能够很容易找到我们的配搭产品组合,从而增加购物便利性!
现在,我们不再需要搜索购物页面来查找精选套组,它们全都汇聚于一个页面内。通过 Mannatech.com 网站上的产品套组达到最优效果。