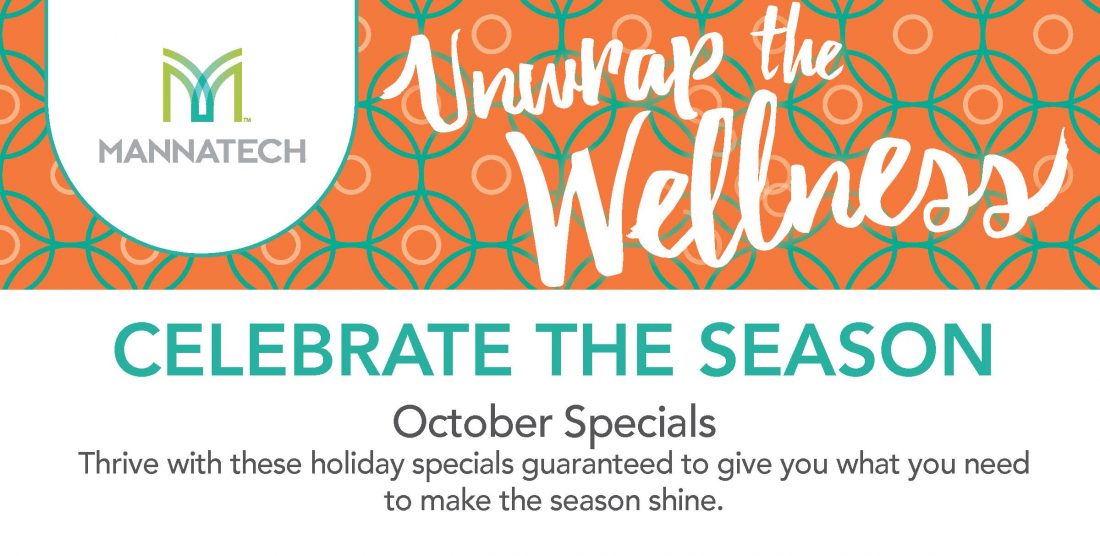 October Specials Are Here! Get Free Shipping While Earning Loyalty Points (video)
Unwrap the Wellness with Mannatech's October specials that include free shipping while earning Loyalty Points on eligible orders. See the video above for all the details!
Free Shipping and Loyalty Points
Free ground shipping is available for one-time orders, Auto Orders and NFR orders that contain a promotional item number. This excludes expedited orders and air shipments. Loyalty Points for one-time orders containing the promotion item number will be issued at the month-end closing of the purchased month. Loyalty Points will not be issued for orders redeemed using Loyalty Points.
TruPLENISH Pumpkin Spice is Back!
The new specials kick off with the return of one of Mannatech's most popular products, Pumpkin Spice TruPLENISH. TruPLENISH Pumpkin Spice is the healthiest pumpkin spice product you will likely ever see and it is a tasty way to fight the battle against fat during the holidays. Go HERE to order your TruPLENISH Pumpkin Spice today!
Buy any 5-piece Essential Oils Kit, Get a Free Personal Diffuser
Treat yourself or someone else with this amazing deal that gives you simple scents from nature. It's the perfect gift of fragrant aromas everyone needs in their life. Create an instantly relaxing environment with the Mannatech personal ultrasonic diffuser. The premium diffuser uses high-frequency vibrations to create an ultra-fine mist—without chemicals or heat—to maintain the integrity of Mannatech essential oils. This deal available while supplies last! Go HERE to order your 5-piece essential oils kit today!
Take advantage of these specials while supplies last:
Buy 1 Citrus AmbroStart, get a Cranberry AmbroStart Free
Double your energy with this amazing special where if you buy one Citrus AmbroStart drink mix, you get a Cranberry AmbroStart for free, while supplies last. See below for details on the special and go HERE to order your AmbroStart today!
Avoid the Holiday Body Blues, Get Lean Now with 20% off OsoLean
Get one of Mannatech's most effective tools in your battle against fat* with OsoLean at a 20% discount, while supplies last. See below for details on the special and go HERE to order your OsoLean today!
Make Your Home a Spa with the Serenity Diffuser and Eucalyptus Essential Oil Special
If you love essential oils but don't know where to start, try this great special where you can buy a Serenity Diffuser and receive a free bottle of eucalyptus essential oil, an $18.99 savings, while supplies last. Go HERE to order your Serenity Diffuser and eucalyptus essential oil today!
We can't wait to start the holidays. That's why we are rolling out exclusive promos and specials, so you can get a head start on your season of wellness.