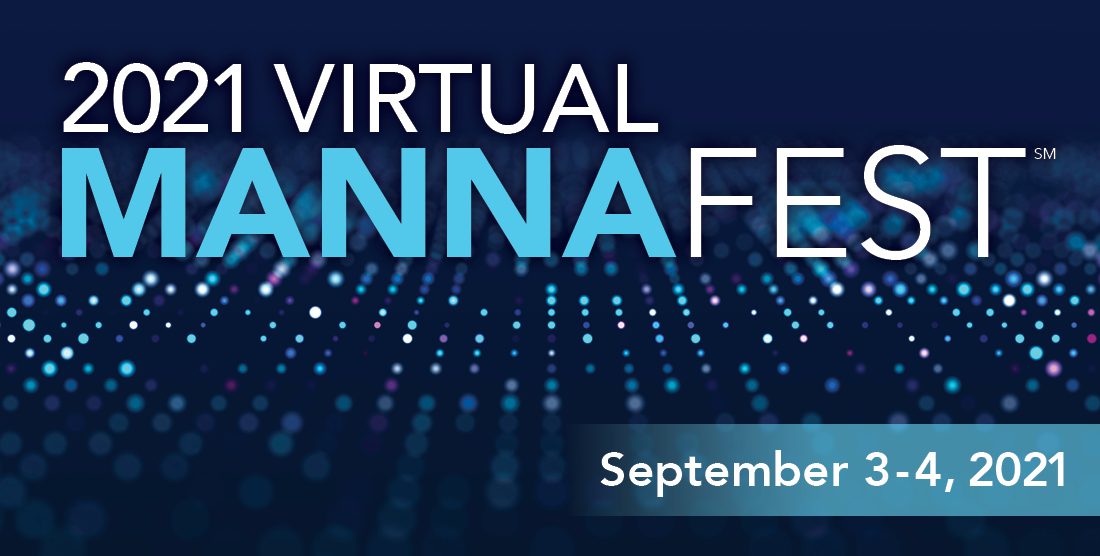 Plan to Be Part of the Event of the Year!
Mark Your Calendars for 2021 Virtual MannaFest– September 3-4
The year's biggest event is just four short months away! For one and half days, you'll get access to great content that will transform your business including:
top leaders sharing best practices from the field
personal development and business development strategies
new product launches
M5M updates
tons of recognition
And a whole lot more!
 MannaFest Special Guest – Bill Walsh
We're excited to welcome to venture capitalist and business coach Bill Walsh as the headliner for MannaFest 2021. Many of you know him from the recent Rainmaker training, but those who missed this event will love his message as he always delivers cutting edge content and some of the best resources that every business needs to learn about on how to survive and thrive in any economy.
What Associates are saying about Bill Walsh…
"The Rainmaker training gave me a definite realization and confidence in becoming a true "global business owner", not a mere distributor of one network marketing company.—Silver Presidential Director, Satoe Nammo
"I think that the Rainmaker experience was the very best and most meaningful event that corporate has ever put on. It's a way up and out of the old ways that allows you to step up and into new behaviors that are much more relevant and meaningful to today's global market."—Bronze Presidential Director, John Bianco
"Bill Walsh presented in such a way that even those of us who are unlearned in the skill of social media could grasp his training. He was an easy listen!"—Gold Executive Director, Patsy Sanders
More Details to Come – Register NOW
Register for FREE today to receive the most current updates on the agenda, featured speakers, and late-breaking news at events.mannatech.com
---
Prepárate para formar parte del Evento del Año!
Agenda en tu Calendario para este 2021. Mannafest Virtual 2021, 3 -4 de Septiembre
¡El Evento más grande del año está tan sólo a 4 meses de distancia! Será un día y medio, en los cuales tendrás acceso a gran contenido que transformará tu negocio, incluyendo:
Líderes Top compartiendo las mejores practicas a todo los Asociados
Estrategías de Desarrollo personal y de negocio
Lanzamiento de Nuevos Productos
Actualización de Fundación M5M
Miles de reconocimientos
Y mucho, mucho más!
MannaFest Invitado Especial – Bill Walsh
Nos complace dar la bienvenida al entrenador de capital riesgo y negocios Bill Walsh como cabeza de oradores de MannaFest 2021. Muchos de ustedes lo conocen por la reciente capacitación de Rainmaker, pero aquellos que se perdieron este evento adorarán su mensaje, ya que siempre ofrece contenido de vanguardia y algunos de los mejores recursos que toda empresa necesita conocer sobre cómo sobrevivir y prosperar en cualquier economía.
Lo que nuestros Asociados comentan sobre Bill Walsh…
"La capacitación de Rainmaker me dio la certeza y la confianza de convertirme en un verdadero" propietario de un negocio global ", no en un mero distribuidor de una empresa de mercadeo en red.—Líder Presidencial Plata, Satoe Nammo
"Creo que la experiencia Rainmaker fue el mejor y más significativo evento que jamás haya organizado una empresa. Es un camino hacia arriba y fuera de las viejas formas que le permite avanzar y adoptar nuevos comportamientos que son mucho más relevantes y significativos para el mercado global actual ".—Líder Presidencial Bronce, John Bianco
"Bill Walsh se presentó de tal manera que incluso aquellos de nosotros que no conocemos las habilidades de las redes sociales podríamos comprender su formación. ¡Fue fácil de escuchar! "—Líder Ejecutivo Oro, Patsy Sanders
¡Más detalles por venir- Regístrate ahora!
Regístrate GRATIS hoy para recibir las actualizaciones más recientes sobre la agenda, oradores destacados y noticias de última hora en events.mannatech.com
---
把它加入到您今年年度活动计划!
请在您的日历上标记这个日子——2021年9月3-4日,网上直播美泰年会
距今仅四个月之遥,将是今年本公司最盛大的活动! 在为期一天半的时间里,您将可以学习到如何拓展业务的精彩内容,包括:
业界顶尖领导人在现场来分享他们的最佳实战经验
个人发展和业务发展策略
发布新产品资讯
M5M的最新动态
表彰
还有更多!
美泰年会特别嘉宾– Bill Walsh
我们非常高兴地邀请到风投专家和商业培训专家Bill Walsh,他将会是2021 美泰年会的特邀嘉宾。或许你们中的许多人都从最近的Rainmaker培训中认识他,但是错过了参加Rainmaker培训的伙伴,相信将一定会喜欢他的演讲,因为他的演讲始终提供业界最前沿的内容和每个企业家都需要学习借鉴的最佳资源,从而了解如何在任何经济中生存和发展。
经销商对Bill Walsh的评价
"Rainmaker的培训让我明确地了解和让我更有信心地成为真正'全球业务发展者',而不仅仅是一家网络营销公司的经销商。"—银级总裁总监 Satoe Nammo
"我认为,Rainmaker的培训是公司有史以来办的最好,最有意义的活动之一。 这是一种摆脱传统的培训方式,让您更多加了解如何逐步与当今全球市场接轨以及最新商业的动向。"—铜级总裁总监 John Bianco
"Bill Walsh的演讲非常清晰易懂,即使我们当中那些不懂社交媒体的伙伴也可以明白理解他的培训。"
金级执行总监
更多详细信息稍后公布– 立即注册登记吧
注册完全免费,可以在events.mannatech.com的网页上查讯最新动态,活动特色和发言人以及其他最新消息。
---
올해 이벤트에  참여할 계획
9월 3일 – 4일 ,2021년 온라인 메나페스트 행사일 달력 표기하기
올해 가장 큰 행사가 4개월 앞으로 다가왔습니다! 하루 반 동안 다음과 같이 사업을 혁신할 수 있는 우수한 내용에 접할 수 있습니다
최고 리더들의 성공사례 나눔
자기 개발과 사업 개발 전략
새 제품 출시
M5M 업데이트
많은 인증식
그리고 훨씬 더 많습니다!
메나페스트 특별 연설자 – 빌 월시
벤처 투자가이자 비즈니스 코치인 빌 월시가2021 메나페스트의 주요 강연자를 맡게 된 것을 환영합니다
여러분 중 많은 분들이 최근 레인메이커 트레이닝에서 그를 아실 뿐아니라, 그런 행사를 놓친 분들은 그가 항상 최신 켄텐츠와 모든 사업이 어떤 경제에서 살아남고 번영하는 방법에 대해 배워야 할 최고의 정보를 제공하므로 그의 강연내용이 많은 도움이 될 것입니다.
빌 월시에 관한 어소시에트들의 소견을 다음과 같이 전합니다.
"레인메이커 트레이닝은 한 네트워크 마케팅 회사의 단순한 사업자가 아닌 진정한 "세게적 사업의소유자"이될 수
있다는 확신한 깨달음과 자신감을 주었다*—실버 프레지덴셜 디렉터, 사이토 남모
"저는 레인메이커의 경험이 기업이 지금까지 한 행사 중 가장 훌륭하고 의미있는 행사였다고 생각합니다
이는오랜 방식에서 벗어나 오늘날의 글로벌 시장에 훨씬 더 적합하고 의미있는 새로운 행동에 박차를 가할 수 있도록 합니다"—브런즈 프레지덴셀 디렉터,  존  비안코
"빌 월시는 소셜 미디어의 기술에 익숙하지 않은 사람들조차도 그의 훈련을 이해할 수 있도록 발표했다
그는 쉽게 들을 수 있는 강연자다 !"—골드 익그젝티브 디렉터, 페시 샌더스
향후 상세한 내용 – 지금등록
Events.mannatech.com에서  오늘 등록 하여 의제, 특별 연설자 및 최신 정보 , 뉴스를 받으십시오
---
今年最大のイベントへの参加を今から計画しよう!
カレンダーに印をつけよう!2021 バーチャル・マナフェスト – 9月3〜4日
今年最大のイベント開催まで僅か4ヶ月です!イベント中の1日半、あなたのビジネスを激変させる最高のコンテンツにアクセスできます!
現場で活躍するトップリーダーたちの実体験
自己啓発やビジネス発展戦略
新製品発表
M5M アップデート
たくさんの表彰
他にも、盛り沢山!
マナフェスト・スペシャルゲスト – ビル・ウォッシュ
今回、マナフェスト2021 のスペシャルゲストに、ベンチャーキャピタリストであり、ビジネスコーチである、ビル・ウォッシュ氏をお迎えします。多くの方は、先日開催された「レインメーカー・トレーニング」でご存知だと思いますが、参加できなかった方々も、ビル氏のメッセージに感動すること間違いなしです。ビル氏は、如何なる経済においても、ビジネスが存続するだけでなく、繁栄するために必要な最高のリソースや、最先端のコンテンツを提供してくださいます。
ビル・ウォッシュに関する、アソシエートの声…
「レインメーカー・トレーニングに参加して、自分が単なるネットワーク・マーケティング会社の製品のディストリビューターになるのではなく、『グローバル・ビジネスオーナー』になるという確かな自覚と確信を得ました。」
シルバープレジデンシャル・ディレクター、南茂聡恵
「レインメーカーでの経験は、会社主催のイベントで最も意味あるものだったと思いました。これまでの古いやり方から脱却し、現代のグローバル・マーケットにより適した、意味のある、新しいやり方へ、自分を向上する機会になりました。」
ブロンズプレジデンシャル・ディレクター、ジョン・ビアンコ
「ビル・ウォッシュのトレーニングは、私たちのようにソーシャル・メディアのスキルが無い人でも理解できるもので、とても聞きやすかったです!」
ゴールドエグゼクティブ・ディレクター、パッツィー・サンダーズ
今後も詳細を発表していきます – 今日、無料登録しましょう!
登録は無料です。登録された方は、events.mannatech.com にて、最新のアップデートやスケジュール、注目スピーカー、最新ニュース等の情報をご覧になれます。