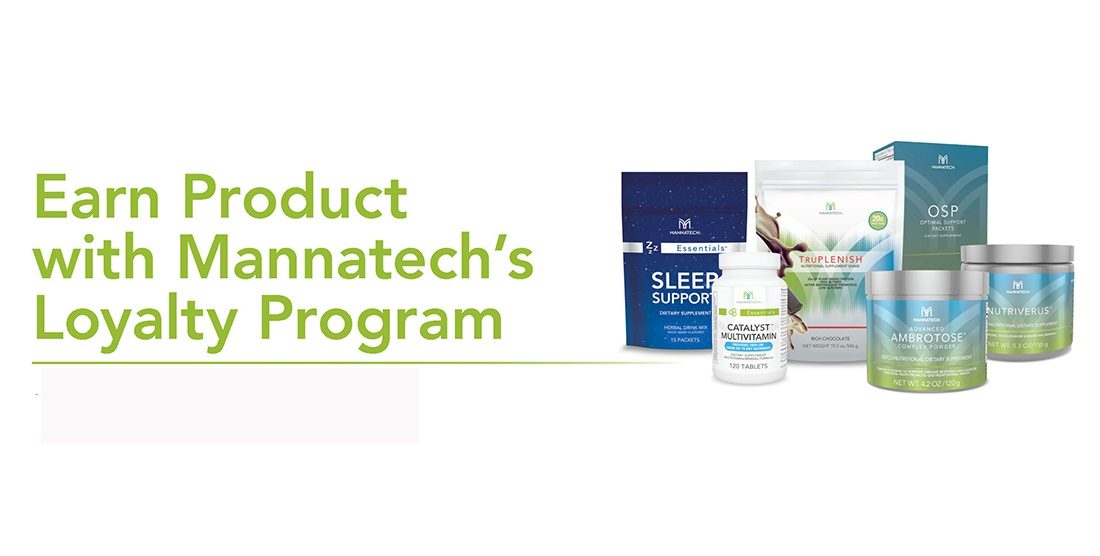 The Loyalty Program Just Got Better
Mannatech is happy to announce enhancements to the Loyalty Program. Preferred Customers can now earn Increasing Loyalty Points with a monthly Automatic Order (AO), just like Associates. Beginning February 1, existing Preferred Customers will automatically be vested in loyalty points based off their number of prior consecutive monthly AO's. New Preferred Customers simply need to set up an Automatic Order to start earning rewards.
Want to learn more? Click here to access the flyer and share with others:
Spread the good news! Loyalty Points give Preferred Customers a little extra toward the products they love (and they'll love you for it!).
With Mannatech's Loyalty Program, Everyone Wins!
---
忠诚有礼!忠诚度计划变得更具吸引力
美泰很高兴宣布升级忠诚度计划。现在,优惠客户与经销商一样可以通过每月自动订单 (AO) 赢得递增忠诚度积分。 从 2 月 1 日开始,现有的"优惠客户"将根据其先前连续的每月 AO 数量自动获得忠诚度积分。新的"优惠客户"只需要设置一个自动订单即可开始获得奖励。
想要了解更多吗?单击此处访问宣传单并与他人共享:
忠诚度计划宣传单:https://library.mannatech.com/9015
分享好消息!忠诚度积分是"优惠客户"购买钟爱产品可享受的额外优惠(他们会因此而喜欢您!)。
美泰的忠诚度计划会让人人受惠!
---
El Programa de Lealtad ahora es todavía mejor
Mannatech se complace en anunciar mejoras al Programa de Lealtad. Igual que los Asociados, los Clientes Preferenciales ahora pueden ganar Más Puntos de Lealtad con una Orden Automática mensual (AO, por sus siglas en inglés). A partir del 1.o de febrero, los Clientes Preferenciales existentes automáticamente recibirán puntos de lealtad en base a su número de Órdenes Automáticas mensuales consecutivas. Los Clientes Preferenciales Nuevos, simplemente necesitan configurar una Orden Automática para empezar a ganar recompensas.
¿Quieres más información? Da clic aquí para tener acceso al volante y compartirlo con otros:
Volante de Programa de Lealtad: https://library.mannatech.com/9015
¡Comparte la buena noticia! Los Puntos de Lealtad les dan a los Clientes Preferenciales un poquito extra sobre los productos que aman (¡y te amarán a ti por esto!).
Con el Programa de Lealtad Mannatech, ¡Todos Ganan!