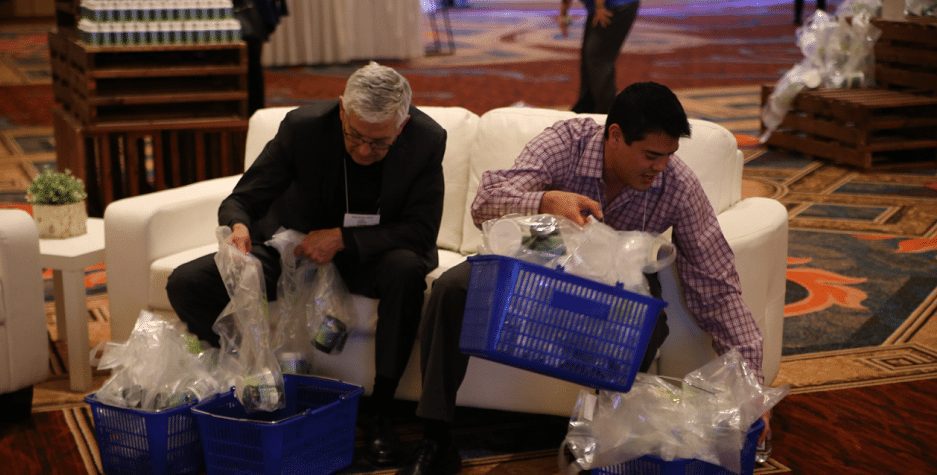 Associates, PDs to Get the Red Carpet Shopping Experience at MannaFest 2017 (+Español)
The shopping experience at MannaFest℠ 2017, April 6-9 at Caesars Palace in Las Vegas, will give attendees exclusive access to new products with an incomparable shopping experience for Mannatech Associates and Presidential Directors.
Product ordering for Presidential Directors will be simple and convenient. PDs will have the opportunity to place pre-orders onsite for all inventoried items except for the newly launching products.
PDs will receive an order form at the PD meeting on Thursday, April 6 at 1 p.m. in the Florentine ballroom. The order forms will be available in all of the languages represented at MannaFest. Mannatech PDs will simply complete the order form, drop it off at the Storefront before Friday, April 7 at 8:30 a.m., after which they will be notified by text or email when their order is ready to pick up.  All orders must be picked up no later than Sunday, April 9 by 2 p.m. And don't forget to specify if you want your order to count toward BP4 or BP5 on the order form.
Improving the shopping experience is the new Point of Sale checkout system in the Storefront to make your checkout experience quick and easy. There will be staff in the Storefront checkout that will provide service in languages spoken by all of Mannatech's Associates.
Signage will be in several languages throughout the Storefront to ensure Associates can find the products they are seeking. Each checkout lane will be designated by language and by currency to expedite service.
All lines will accept all major credit and debit cards (key it, swipe it, or chip it). Cash is also accepted in some lines, and Storefront staff will be checking bag contents against receipts to help confirm orders and ensure purchased products are not left behind.
Mannatech and M5M℠ Foundation branded materials, apparel and tools will also be on sale near the Storefront. Branded items will have a separate checkout process coordinated by Sound Concepts.
All orders placed on or before April 7 will be processed toward BP4 volume. 
All orders placed on April 8 or 9 will be processed toward BP5 volume. 
---
Asociados y PD tendrán una experiencia de alfombra roja para sus compras en MannaFest 2017
La experiencia de compras en MannaFest℠ 2017, del 6 al 9 de abril en Caesars Palace en Las Vegas, le dará a los asistentes el acceso exclusivo a los nuevos productos con una experiencia de compras incomparable para los Asociados de Mannatech y los Líderes Presidenciales (PD, por sus siglas en inglés).
Levantar pedidos de productos para los Líderes Presidenciales será simple y conveniente. Los PD tendrán la oportunidad de hacer sus prepedidos en el lugar para todos los productos en inventario, salvo para los productos de nuevo lanzamiento.
Los PD recibirán un formulario de pedido en la reunión de PD el jueves 6 de abril a la 1:00 p. m. en el salón de eventos Florentine. Los formularios de pedido estarán disponibles en todos los idiomas representados en MannaFest. Los PD de Mannatech simplemente necesitan llenar el formulario de pedido, dejarlo en la tienda antes del viernes 7 de abril a la 8:30 p. m., y luego serán notificados por texto o por correo electrónico cuando su pedido esté listo para que lo recojan.  Todos los pedidos deben recogerse a más tardar el domingo 9 de abril a las 2:00 p. m. Y no te olvides de especificar si quieres que tu pedido cuente para el BP4 o para el BP5 en tu formulario de pedido.
Mejorar la experiencia de compras es el nuevo sistema para el punto de ventas en la tienda, para asegurar que tu experiencia de compras sea fácil y rápida. Habrá personal en la tienda que te dará el servicio en todos los idiomas que hablan los asociados de Mannatech.
Los letreros estarán en varios idiomas en toda la tienda, para asegurarnos de que los Asociados puedan encontrar los productos que están buscando. Cada una de las líneas para pagar estará diseñada por idioma y por divisa, para agilizar el servicio.
Todas las líneas de pago aceptarán tarjetas de crédito y débito. También se acepta efectivo en algunas líneas, y el personal de la tienda verificarán los recibos contra los artículos para asegurar que las órdenes estén completas y para asegurar que los Asociados no dejen productos en la tienda.
Los materiales, herramientas y ropa con la marca Mannatech y de la Fundación M5M℠ también estarán a la venta cerca de la tienda. Los artículos de la marca tendrán un proceso para pago separado, coordinado por Sound Concepts.
Todos los pedidos levantados antes del 7 de abril, se procesarán para el volumen del BP4.  
Todos los pedidos levantados el 8 y 9 de abril, se procesarán para el volumen del BP5.