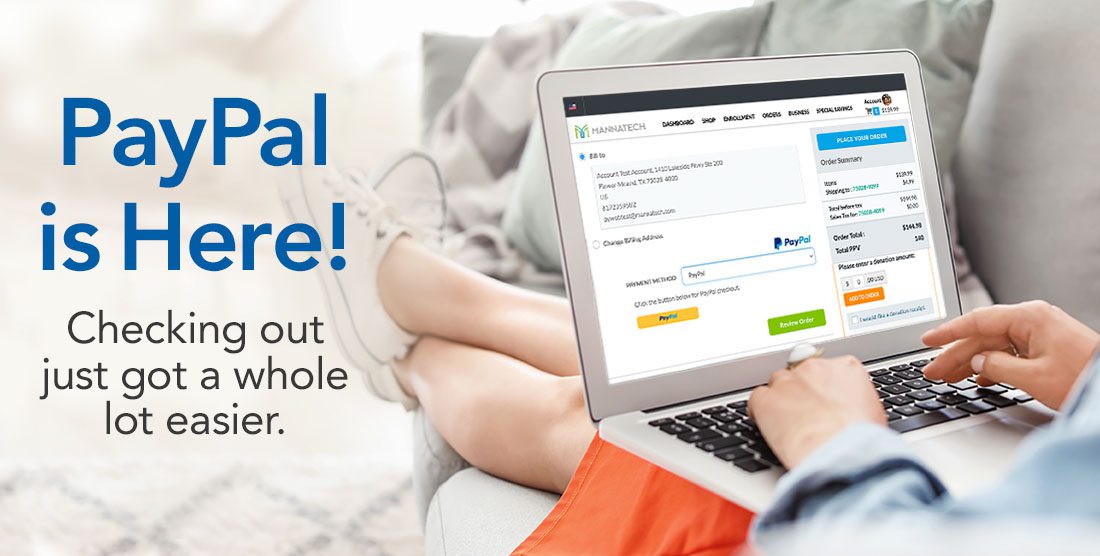 Forgot your wallet? It's okay, you can now pay with PayPal!
Part of Mannatech's Customer Obsession-focused initiative is to make it easier for our Associates and Customers to buy from us on any platform; and we know that checking out can be a painful, slow process. Having to input your credit card, billing and shipping address every time you place an order can get old real quick.
That's why we are happy to announce that Mannatech.com now takes PayPal—the popular payment service that allows anyone to pay with a digital wallet from your smartphone, computer, or other mobile devices.
Paying with PayPal is a Breeze
PayPal is on the rise because it makes ordering products easier, since the service already has safely stored your credit card information on file. You simply click the PayPal button and complete your purchase in a few clicks.
This should be welcome news for Associates as their customers will be able to use PayPal when they purchase from their Personal Mannatech Website. Be sure and tell your customers and team members so they can spread the word that checking out on Mannatech.com just got a lot easier.
Sign in to Mannatech.com now and give PayPal a try!
Please Note: The following markets are not set up to accept PayPal payments at this time: South Africa, Mexico, Japan, Korea or Taiwan.  In addition, PayPal is accepted for one-time orders only, not subscription orders, at this time.